Food For The Poor builds new homes, water project, community center
written by Michael Ireland December 16, 2021


COCONUT CREEK, FL. (ANS) — Just two months ago, Marcos de Jesus and his two sons, Marcos Andres and Thomas Felipe, lost their wife and mother from scleroderma, a cruel skin-hardening disease. Paying the rent was a challenge.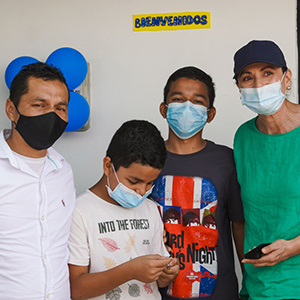 But now they have the security of a new home in Granada, Colombia, and don't live in fear of being evicted, thanks to the generosity of Food For The Poor (www.foodforthepoor.org) donors and Minuto de Dios, the charity's in-country partner.

"It is a dream come true because, thanks to God, I have a little job to feed my family," Marcos de Jesus said. "It is a blessing because before, we had to pay rent and sometimes, I didn't have the money and the landlord would threaten to kick us out."

Marcos de Jesus and his sons were among the 20 families who recently received the gift of a home in Palma Real.

Though their old home was just a few blocks away, Marcos de Jesus didn't feel it was safe for his children. But in Palma Real, a sense of community is building where neighbors look out for one another and children safely roam outside.

"It is a huge blessing, thanks to Food For The Poor. God bless, guard, and protect all of you," Marcos de Jesus said.

The first 20 homes of Palma Real were inaugurated in March. Twenty additional homes are under construction and are expected to be completed in the spring. Land for the homes was donated by the mayor of Granada.

A team from FFTP traveled to Colombia for the inauguration on Nov. 29 and to visit other projects.

One of those projects involves providing clean drinking water for two dozen families in the rural community of Charco Trece.

For more than 40 years, families living here have relied on collecting rainwater or making many daily trips to bring back buckets and cans of water to the community. Without a proper way to store the water, families are at risk of getting sick from stagnant water.

Because of the COVID-19 pandemic and the need for increased handwashing residents are in dire need of help. Water from the new potable water system may begin flowing just in time for the dry season.

In his inaugural address to the families at Palma Real, Fr. Mario Polo, Executive Director of Minuto de Dios, said the homes are a gift from God this Christmas.

"How beautiful is it to have a place to come to and a place where we can recline our heads," Fr. Polo said in a video posted on Minuto de Dios' Facebook page.

"He (Jesus Christ) didn't have a place to recline his head," he added. "Jesus Christ did not have a home; he was born in a stable but always lived united to the home of Jose and Maria. He lived in a loving home, loving humans."

The ceremony included families who received homes in March. Some held banners welcoming the newest families who are now neighbors.

For Edgar, his wife, Darly, and their two children, the gift of a home made this year one of the best in their lives. His children have friends their own age close by.

"Thanks to Food For The Poor and Minuto de Dios that gave us this little grain of sand and remembered this piece of our country," Edgar said. "All of this is thanks to God. God is the one that gives blessings."

In addition to the homes, a community center is being built where the families and potentially hundreds of others in the surrounding area will receive education, training and the tools to help them flourish on their own.

Over the next five years, an FFTP team will monitor and evaluate Palma Real to determine what's working or needs refining, while looking for tangible ways the lives of the families have changed for the better, and if they are on the road to overcoming poverty.

FFTP President/CEO Ed Raine said the partnership with Minuto de Dios is providing families of Palma Real with the training and skills they need to succeed, in addition to giving them a safe home.

"This is our shared vision with Minuto de Dios," Raine said. "In time, these families will have the ability to sustain themselves economically to cover the costs involved with the utilities in their homes and provide for generations to come."

FFTP began serving in Colombia in 2014. Since 2019, the charity has partnered with Minuto de Dios to bring relief to families, including tens of thousands of Venezuelan migrants who fled their country to escape shortages of food, water, and medicine.

The author of this story, Michael Ireland, is a self-supported media missionary with Assist News Service. Please click the link below to support him. 
Michael Ireland is an Internet journalist and Media Missionary serving as Chief Correspondent for the ASSIST News Service. He is also an ordained minister and an award-winning local cable-TV host/producer. Michael has served with Dan Wooding and ASSIST News Service (ANS) since its beginning in 1989. He has reported for ANS from Jamaica, Mexico, Nicaragua, Israel, Jordan, China, and Russia. Follow Michael on Facebook at MichaelIrelandMediaMissionary and on Twitter at @Michael_ASSIST. You may support Michael as a media missionary at https://actintl.givingfuel.com/ireland-michael