By Michael Ashcraft –
The day of reckoning wasn't when Kurt Warner was unexpectedly thrust on the field as the Rams' quarterback amid predictions of failure after the first-string QB was seriously injured.
The day of reckoning came years earlier when his wife's parents were killed by a tornado. That's when Kurt saw how genuine her faith was – and came to real faith himself.
"Before that my faith was always like: God was out there and whenever I needed him, he was like my spare tire. I get a flat, pop out the spare, God I need this," Kurt says on an I am Second video. "When her parents were killed by a tornado, she didn't have all the answers. She was angry. She was willing to call out to God and ask God why and yell and scream.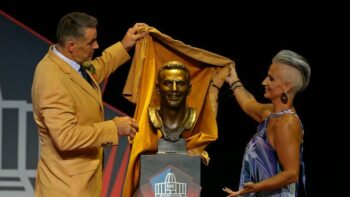 "But she never lost her faith. She didn't walk away from God," Kurt adds. "It was at that moment that I realized that everything she had been talking to me about, this is what it looks like. This is what it is supposed to be. It was at that time that I really committed my life to Jesus."
By the time Kurt saw himself leading the Rams into the Super Bowl, he was already forged by the furnace. His improbable ascent to NFL Hall of Famer as an undrafted quarterback is the stuff of a consummate underdog. His story – and faith – is portrayed by American Underdog, a movie released in theaters Dec. 25.
Kurt dreamed of football from childhood. The game was a cherished memory he shared with his dad, who left in a divorce.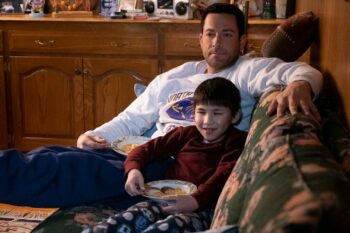 In college, Kurt was a hotshot with a pinpoint aim, but he had the nasty habit of rolling out of the pocket and making his own plays, not the plays ordered by his coach. For his lack of discipline, the University of Northern Iowa coach kept him on the bench for three seasons.
According to the movie (which sticks closely to his real-life story), he begged for a chance to play, and coach finally leveled with him. He needed to stay in the pocket, a protected bubble formed by collapsing linemen around the QB, to give him time to find a receiver.
As a drill to see if Kurt could handle the pressure, Coach sent wave after wave of defensive linemen crashing into him to hurt him and see if he would stand up under pressure. It worked.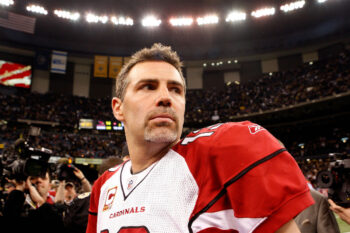 Kurt was named Gateway Conference's Offensive Player of the Year and first team all-conference.
At the same time, Kurt met the girl who became his wife and the catalyst to his faith.
The odds were against him striking up a relationship with Brenda. She loved country music; he hated it. Even worse, she detested football.
But as God would have it, Kurt went with his friend to a country-western bar where he was smitten by her good looks and decided he'd better learn to barn dance.
Sidling up her, he turned on the charm. But Brenda wouldn't even give him her name.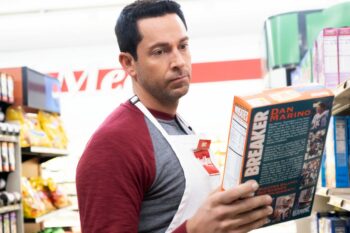 Still, his sincerity and doting eyes struck a chord in Brenda's heart.
Their different tastes (country music vs. football) was not the only strike against them forming a relationship. She was divorced with two children – a fact she told him bluntly the first night they met, lest she swoon and he lose interest.
Kurt pondered that but found himself asking friends about her address. He visited her the next morning.
When she answered the door (still in her pajamas), she was more than a little bit frightened he was there. She left him outside and retreated to her room to put on something more presentable.
Meanwhile, her developmentally disabled son, Zack, let him in, grabbed him by the hand and led Kurt to the bathroom where he encouraged the strapping quarterback to lie down on the floor and listen to country music with him.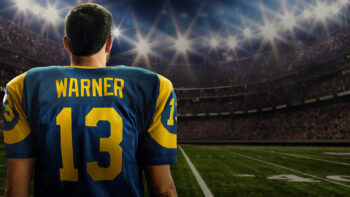 Brenda's mom may have wondered who the strange man was lying on the floor of the bathroom with her grandson. But she collected her thoughts and observed that Zack had taken to him instantly. She saw the charm in it, and with the notion that this was the man her daughter had met the night before, allowed him to stay until Brenda came out.
Brenda was a bit more upset than her mom. Her guard was up. She'd been hurt once (her previous husband was the one who dropped Zack onto the tub edge head first bringing on brain damage and blindness). She didn't want to fall in love too quickly or easily.
Through his persistence, Kurt won over Brenda.
He didn't win over the NFL, however. On Draft Day, his name wasn't called. And he was unceremoniously cut from the Green Bay Packers team.
Kurt found himself cut out of the only thing he'd ever dreamed of. While Brenda was studying to become a nurse, Kurt worked stocking shelves at the Hy-Vee supermarket in Des Moines.
He adamantly refused an offer to play Arena Football, a league for washouts somewhat akin to Lucha Libre. But when Brenda and the kids were suffering in poverty, he acceded.
Kurt led the Iowa Barnstormers to back-to-back championship and used his success to vault into the European football league (not depicted in the movie). Eventually, by chance and happenstance, he found himself on the St. Louis Rams team as the second-string quarterback.
After Trent Green's ACL was torn in preseason, Coach Dick Vermeil made the unlikely decision to use the untried QB even when they had a chance to scramble a more seasoned veteran in the preseason.
Kurt didn't let the coach down.
Backed by the power of running back Marshall Faulk and wide receivers Isaac Bruce, Torry Holt, Az-Zahir Hakim, and Ricky Proehl, Warner led what became known as the "The Greatest Show on Turf," throwing for 4,353 yards with 41 touchdown passes and a completion rate of 65.1%.
The Rams went to and won Super Bowl XXXIV against the Tennessee Titans concluding the 1999 season. He was named the MVP of both the NFL and the Super Bowl – five years after stocking groceries.
"Who is this guy?" Sports Illustrated asked on its cover in a piece profiling the quintessential underdog.
ABC's Mike Tirico interviewed him in front of the crowd after the game: "Kurt, first things first — tell me about the final touchdown pass to Isaac."
Kurt responded: "Well, first things first, I've got to thank my Lord and Savior up above — thank you, Jesus!"
Since trumpeting his faith during that Super Bowl interview, Kurt continues to promote Christian causes. His foundation First Things First, a name he nabbed from the famous on-air ABC interview, promotes Christian values through children's hospitals, people with developmental disabilities and assisting single parents.
American Underdog has everything you could want from a family movie. The endearing love story and the compelling gridiron story make it the perfect matchup for everyone's enjoyment. It is guaranteed to make you cry – at several points during the movie.
In this writer's opinion, American Underdog is even better than Spiderman No Way Home. It doesn't cudgel you with the Christian message like some Christian films. It presents a perfect opportunity to invite unsaved friends as a way to introduce them to the Christian faith.
If you want to know more about a personal relationship with God, go here
Michael Ashcraft also is a financial professional in Los Angeles.