By Mark Ellis –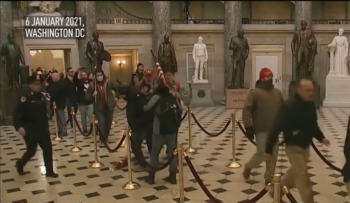 Pre-trial defendants incarcerated in the Washington D.C. jail as a result of their involvement in the January 6th protests are being denied access to religious services because of their vaccination status, along with a host of other privileges.
Representative Marjorie Taylor Greene, a Georgia Republican, visited the jail on November 4th, prompted by rumors about the mistreatment of January 6th prisoners.
"Everything I heard I found out was true," Green told Tucker Carlson on his November 8th program.
The first four months of their incarceration they were held in solitary confinement 23 hours a day, with one hour allowed outside their cell. "Now they are able to be out five hours at a time if they have good behavior," Greene reported.
"If they are not vaccinated, they are not allowed to go to chapel. If they are not vaccinated, they are not allowed to have communion," she said. "Even in jail, unvaccinated people are treated like second-class citizens."
If they are not vaccinated, they can't shave or get a haircut. They are given Nair to chemically remove their hair, she said.
"But it's worse than that. They haven't seen their family members since they've been arrested. They aren't able to talk to their attorneys when they want to. The food they are given is not good food. Many of them are sick. There are several men in there who really need medical treatment and they are being denied.
"There is an elderly man in jail whose hand is purple and his thumb is black. They begged me to get him out of there. They are really suffering. They are being treated badly.
"Here's the worst part. These are pre-trial defendants, and they are not allowed to bail out. They are told they have to denounce President Trump and what they believe if they want to make bail. It is outrageous that Americans can be treated this way. Every single American should be upset about this," she said.