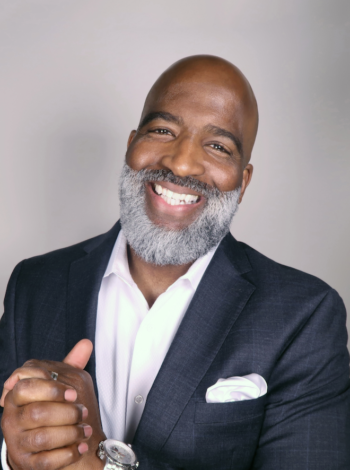 By Michael Ashcraft —
Because of an absentee dad, young Jason Wilson sought male approval by being a THUG, which he now says stands for Traumatized Human Unable to Grieve.
"I got involved in seeking these quests for affirmation, and they led me into some dangerous situations," Jason says on a 100 Huntley Street video. "The majority of boys who are in gangs are fatherless."
Two of his brothers were murdered. Jason Wilson showed off his stepfather's gun on the streets, but he didn't really fit the role of gangbanger and eventually returned to the Christianity of his mom. After traversing half a century of trial and failure at "hyper masculinity," Jason Wilson has learned some things about manhood. In his seminars and books, he tells men to cry.
"In my community, it was the hyper masculine black man," he says on an Ed Mylett video. "If you weren't hyper masculine, you didn't get the girls, you didn't get the money, you weren't cool, you were ostracized."
"So many of the young boys I mentor and even the men — they're called OG's, or original gangsters — they're hurting. It's amazing when I get with them and talk, they just start crying because of the years of the trauma that they've seen."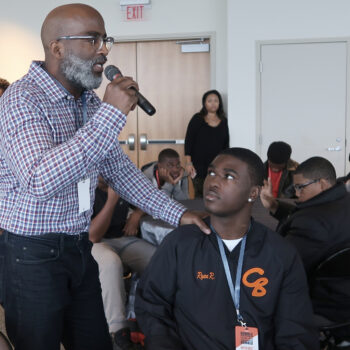 Jason went viral in 2016 when in his karate gym, he encouraged a young boy taking his test to go ahead and cry when he was unable to punch through a board with his left fist. Men need to cry because tears contain stress hormones, thus releasing them from your body.
Breaking boards in karate becomes a metaphor of breaking through struggles for a man, whether it be to shed the pounds of obesity or invite out for a date the woman of your dreams, he says.
The video has been seen more than 100 million times. Subconsciously, it encapsulates a message about manhood beyond just "manning up," being strong and "boys don't cry."
"The phones of our non-profit were just ringing. We were like, 'What is going on?' Viral videos were kind of new," he says. "Men were crying to our women staff, saying, 'I'm tired of not being able to be tired. I want to be a human.'"
As a youngster from a broken home in Detroit, Jason Wilson used to sneak out from church when his mother wasn't watching and escape to the arcade. He became a famous hip hop deejay. The world of hip hop, in which everybody is always mugging, fostered "hyper masculinity" in him.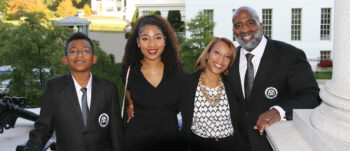 "Unfortunately, I did not have a desire to learn about God," he says. "I didn't feel Christ. I knew there was a God, but I didn't see Him. I allowed the hypocrisy of men to stop me from getting a relationship with the Creator of men."
He searched for meaning in Egyptology, Jehovah's Witnesses, Hinduism, and Buddhism.
While he was running from Christ, he almost died twice. He flipped a truck and rolled twice. But he shrugged it off. Three years later, he was working as a high load driver when the truck driver hadn't chalked the breaks, and he crashed off the platform. At the second brush with death, he answered the wake-up call.
"I'm on the ground with a heavy weight high loader next to me," he recalls. "I'm crying, 'Father, I will never go against You.' If I didn't follow God's will, definitely I would be eitherC dead, definitely I would still be drinking, divorced and probably not there for my kids."
He opened a dojo, The Cave of Adullam Transformational Training Academy named after King David's discipleship hideout. That's where he found his true calling in life.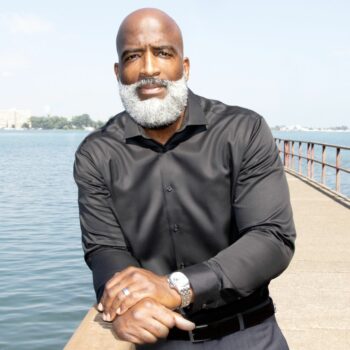 He was much older and wiser. He had cried — finally — at a funeral. His wife, Nicole, suffered five miscarriages between his daughter, 26, and son, 13, and he learned to be there for his wife.
He was starting to learn about true manhood — and he wanted to share the good news.
"The pain I experienced not having a father is worth being able to impact hundreds of thousands of people who don't have their father," he says. "The Cave of Adullam came from a desire to help boys and men, to be what I didn't see. My son asked me one day, 'How did you become a great father?' I said, 'I simply gave you what I longed for.'
"Even a man desires affirmation from another man."
When his video went viral, Jason was launched to nationwide fame. He was featured on Dr. Oz and in President Obama's "My Brother's Keeper" showcase at the White House. He has two books: Cry like a Man: Fighting for Freedom from Emotional Incarceration and Battle Cry: Waging and Winning the War Within.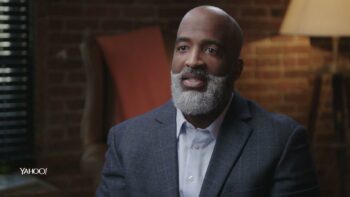 "Women didn't let themselves be defined by culture. When in the early 1900s it was said, 'A woman's place is in the kitchen,' they defied that," James says. "But we as men have allowed this one adjective 'masculinity' to define us and hinder us from the lives we long for."
Nicole wanted to bear Jason a son. He didn't realize it, and when he found out, he became extremely concerned because child-bearing could endanger her own health, he says. "You could die," he told her.
Regardless of the personal jeopardy, Nicole wanted to get pregnant and carry the baby to term. When she got pregnant after five miscarriages, she started having pain in her abdomen at five months. She called Jason. Immediately, he imagined the worst.
"She calls me screaming and crying," Jason says.
He was rushing home when a random lady stopped him with a prophetic message: "Don't lose the faith," she said.
When Jason brought her to the hospital, it turned out to be a ruptured appendix. The timing, at five months, was ideal, according to the doctors. They could remove baby Jason, remove the ruptured appendix, and return baby Jason to the womb, he says.
"This was the best time," he says.
Taking care of his wife with compassion was part of learning to become a man in God's way, not the world's.
But it wasn't the only reset for his masculinity. He not only needed to know how to take care of his wife, he needed to learn how to treat others. When he perceived that nurses and doctors weren't giving his wife the proper attention, he wanted to explode with manly rage. Thankfully, a friend intervened.
"You're going to do nothing more than cause more problems," his friend counseled him. "They're tired. Go buy some food for them."
Jason brought a "big basket of food" with a Thank You card and put it on the nurses' station. "Thank you for being angels here." the card read.
"They took care of my wife," he explains. "But I didn't know how to do that because my masculinity was defined by boldness and provide."
"So many men, we've bottled up all of this unresolved anger, frustration, fear of failure, abuse, abandonment, and we're wondering why we can't really take the next step to be the man we're supposed to," Jason says.
"Emotional incarceration is a self-imposed prison sentence. You walk into your own mental prison with a door wide open, and you never come out. When we have to face the wars that are erupting inside of us, we're scared to really deal with because those pull out 'non masculine' emotions: fear, anxiety, sadness, sorrow. We'd rather just stay in this prison and turn off our hearts from the world. We're tired of being the bad guy when we just want to be a good guy."
Fathers make mistakes, but the accumulation of errors torment a man inside. "That's why men die by suicide three to four times more often than women. A man says, 'I'm not really doing well in my life. I might as well not have one.' So we give up."
Jason yelled at his daughter too much as she was growing up. "It hurts me to hear who I was," he says. "When we have to deal with emotions that are rising inside of us, we say, 'No, we're good. Let me go visit this girl. Let me get something to drink. Let me go get high. Let me go to the gym' instead of saying, 'Let me be still so I can release what's going on.'"
A "comprehensive man" is courageous but also compassionate, Jason says, strong but sensitive, a man who can boldly live from his heart instead of his fears.
The transition to "comprehensive man" really took root when Jason took care of his mom who declined in dementia.
"When my mom needed somebody to hug her and cradle her like a baby, that was tough," he reflects. "I felt frustration. I was tired of seeing her suffer. I didn't want to deal with that journey. God told me, 'You're going to have nurture her. You're going to have to do her hair.' I started to do her nails. It made me into the man who I am today."
If you want to know more about a personal relationship with God, go here
Michael Ashcraft helps men find success in a second career in Christian finance.