By Movieguide® Staff —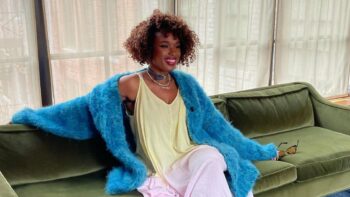 Actress and singer Jennifer Hudson is no stranger to bringing her vocal talent to the big screen in movies like DREAMGIRLS. Now, Hudson portrays the "Queen of Soul" Aretha Franklin in the upcoming biopic, RESPECT.
Before Franklin's death in 2018, the music icon approached Hudson and hand-picked the actress to play her in the movie.
One thing that connects the two singers is their faith in God and love for the church.
"I wanted to make it as true to what she'd lived. The music is done live, like she did in her life, to make it that much more authentic," Hudson told Movieguide®. "And then with the church scenes, you can't really script that or recreate it, it has to be what it is for it to translate honestly; which for me, anytime I'm singing in a church it is, but the challenge was channeling it through being Aretha. At least the film version of that, you know, me versus Jennifer singing 'Amazing Grace' in church."
Hudson and co-star Marlon Wayans, who played Aretha's love interest Ted White, sat down with Movieguide® to discuss the challenges and joys of bringing the music icon's life to the big-screen.
Hudson revealed that, like the real-life Franklin, her life had its challenges in the form of alcohol and an abusive relationship. However, Hudson said the heavy and emotional scenes of pain confirmed that she could play the part.
"It was in that moment for me where it really clicked, what Miss Franklin saw in me to say, 'Jennifer,'" Hudson told Movieguide®. "I remember after shooting that scene Audra McDonald's saying, 'This is a very heavy life to tell.' And I was like, drained in the moment, and then I was like, wow, Aretha must of saw this much in me to know that I will be able to tell her story from such a deep place in that moment. I don't think that I would have been able to do it without my own triumphs and life experiences."
Along with her personal life experiences, Hudson also dedicated herself to learning how to do justice to Franklin's life on stage and off. Wayans, who plays Franklin's abusive love interest in the movie, noted that playing the villain was a new experience.