By Levi Photenhauer —
Chicago Bears star Tommie Harris was the best at everything, but he'd never been tested — until his wife died unexpectedly 41 days into their marriage.
"I was #1 getting drafted, #1 going to Oklahoma University, so I never was tested," Harris recounts on a Grace For Purpose video. "I knew God in a good place. I didn't know Him in a place when things didn't go the way I wanted them to go."
The Texas native was playing for the San Diego Chargers at the time. On a visit from his fiancé, Tommie decided to move the wedding date forward and go to the courthouse right then and there on New Year's. They already had two kids together.
The church ceremony would come a few months later, and to fit the white dress better, Ashley wanted a breast reduction. It was a simple procedure, but she never woke up. A brain aneurysm tragically snuffed her life out on the operating table in 2012.
"I had something like $25 million in the bank when I lost Ashley, and not one dollar had been able to help her," Tommie laments. "If it could have, I would have given every last cent to save my wife."
Up to that point, Tommie was a football sensation. At Oklahoma, he was twice named All-American. In his eight years in the NFL, the 6'3", 295-pound defensive tackle was three times a Pro-Bowl pick and once a Super Bowl player.
But when his wife slipped into eternity, he suddenly retired. He wanted to take care of his kids, Tyson and Tinsley.
"Physically, I was ready" to keep playing NFL, he says. "But mentally, I wasn't dialed in. I mean, what if I went out there and suffered a head or neck injury and couldn't take care of my kids? What would I tell them, that daddy had wanted to make some more money?"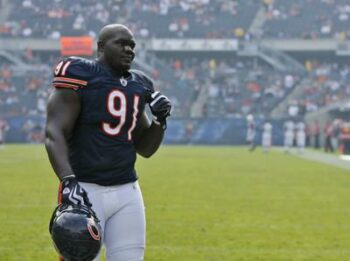 He invested his money for the family to live on. He went back to school to complete his MBA and capitalized a variety of business ventures.
And he would grow in God. After winning so much in football, Tommie calls the untimely death of his wife "my greatest loss."
"Today, I'm not the man Ashley married," he says. "I'm a much better version of that man — one I wish she was here to see. But I know that she is here, every day, watching over me, Tyson and Tinsley, shining the light that guides us as we do our best to keep her spirit alive and make her proud."
To know more about a personal relationship with God, click here.
Levi Photenhauer studies at the Lighthouse Christian Academy in Los Angeles.