By Mark Ellis —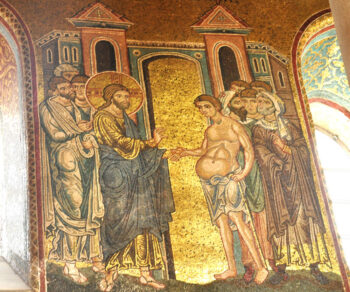 If you invited Jesus to your house for dinner, you never knew what might happen. He was not always the most discreet dinner guest. Sometimes he would confront people in a way that made them uncomfortable. Sometimes he would do things that upset their way of doing things.
In Luke 14, He went to have dinner at the home of a ruler of the Pharisees, along with a bunch of other Pharisees and lawyers, and they were watching Jesus very carefully to see what he would do.
The Pharisees were self-righteous, with a pious exterior façade of religiosity, showing everyone just how godly they were – or pretended to be.
And a man just happened to be there on the Sabbath, suffering from dropsy. Does this look like a set-up? It seems as if they planted this man there to see if Jesus would violate their rules against healing on the Sabbath. They were building a case against Jesus. They even had lawyers present who might bring charges against Him at some later date.
Immediately Jesus sees this suffering man. Dropsy is what we would call today edema, which is a swelling of fluids around the heart and lungs, often caused by a weak heart or other organ problems. It was a serious condition that could eventually lead to death.
Jesus saw this man in a desperate condition and asked them a question: Is it lawful to heal on the Sabbath or not? He knew the Law of Moses never forbade healing on the Sabbath. It prohibited doing any regular work on the Sabbath.
It was designed for man's benefit, to give him rest, renewal, refreshment, and joy. But the Jewish leaders had added 39 other regulations about the Sabbath that were not in the Bible.
So if they answered Jesus' question and said, yes, healing is permitted on the Sabbath, they undermined their own rules. But if they said healing is not permitted, they came across as uncaring. So what did they do? They remained silent. It's amazing how often Jesus silenced his critics. They didn't know what to say.
So with compassion, Jesus miraculously, supernaturally, instantaneously healed this poor suffering man. Medical doctors can't instantly heal a condition like edema, but Jesus is a supernatural God; he can override the outward appearance of things; he can defy the medical experts.
The best news is that Jesus is alive and he is still doing that today!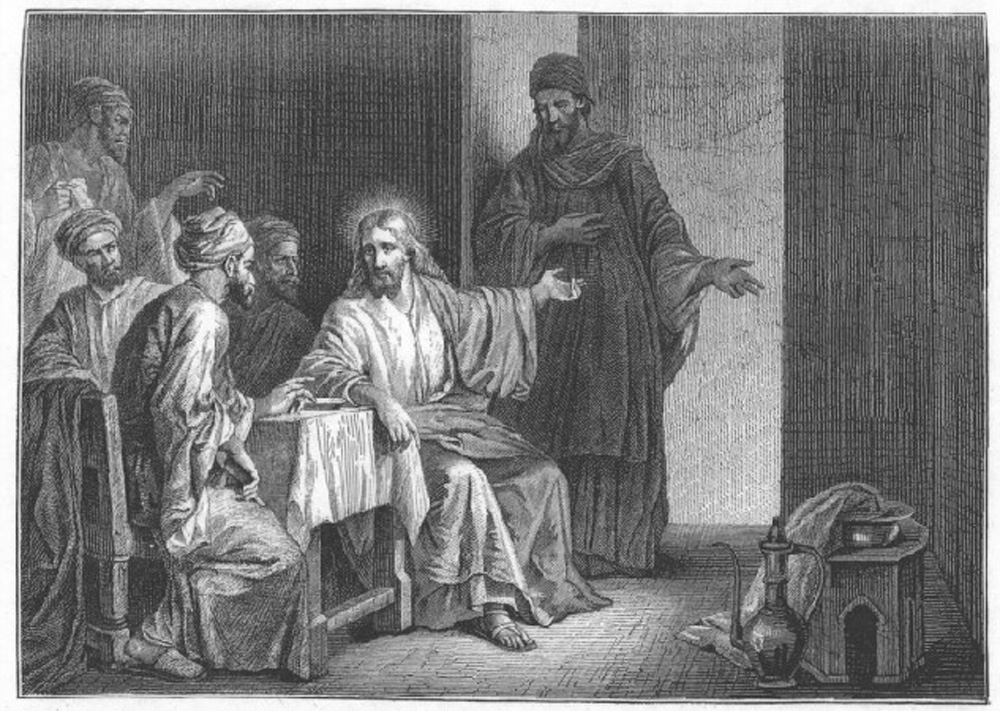 In Luke 14:5 Jesus said to them, "Which of you, having a son or an ox that has fallen into a well on a Sabbath day, will not immediately pull him out?" And they could not reply to these things.
Jesus really gave them a zinger. Of course, if their child or even one of their animals fell into a well on the Sabbath day, they would move heaven and earth to pull them out.
They cared more about their animals than they did about this man! Jesus exposed their lack of love and compassion. He revealed their hypocrisy and pride.
While this man had a physical swelling of his body, they were swollen with spiritual pride. Their hard hearts were causing a potentially fatal spiritual condition. They were so locked into their traditions, they felt no joy when Jesus healed this poor, suffering man.
Hypocrisy is one of those charges that has a particular sting attached to it. Because I have served as an elder and a pastor, I'm in that group of people Jesus especially directs his fire toward.
So if I try to teach other men about purity and I'm looking too long at a lustful image on TV or the Internet, I know I'm a hypocrite. If I act with impure motives toward others, I'm being a hypocrite. I don't want that charge hanging around my neck, so I battle against my sinful nature all the time.
What are some characteristics of hypocrites, as displayed by these religious leaders? While they watched Jesus carefully, they failed to examine their own hearts carefully. They cared more about external conformity than inward righteousness. They cared more about manmade rules than about being right with God in their own hearts.
But Jesus always wants to get to the heart level, He challenges us toward a pure thought life, being free from carrying anger, loving your enemies, forgiving those who have wronged you.
I have to be careful about hypocrisy in my own life. Sin is so highly delusional; I have to be alert about making rationalizations that lead to little compromises, that add up to bigger compromises until one day I wake up and discover I'm in a leaky boat and the boat's going down unless I get right with God.
In John 14:8-11, Jesus told them a parable, saying: "When you are invited by someone to a wedding feast, do not sit down in a place of honor, lest someone more distinguished than you be invited by him, and he who invited you both will come and say to you, 'Give your place to this person,' and then you will begin with shame to take the lowest place. But when you are invited, go and sit in the lowest place, so that when your host comes he may say to you, 'Friend, move up higher.' Then you will be honored in the presence of all who sit at table with you. For everyone who exalts himself will be humbled, and he who humbles himself will be exalted."
They lived in an honor and shame-based society, so the nearer you sat to the host, the more honor you had. There was a pecking order at the dinner table that reflected your social standing.
The Pharisees loved these places of honor at banquets. They loved to be called by their titles: rabbi or teacher. Some commentators believe at the Last Supper, Judas may have seated himself in the chair of honor.
So it appears that at this dinner, they were scrambling, jockeying for position at the table, while Jesus sat back and watched. And he gave a teaching that echoes Proverbs 25:6:
Do not put yourself forward in the king's presence
or stand in the place of the great,
for it is better to be told, "Come up here,"
than to be put lower in the presence of a noble.
Who was the real king at this dinner party? It was the one clothed in the robes of a servant – the King of the universe right there in their midst – waiting to be told by the host where to sit.
While they were filled with spiritual dropsy – swollen with pride – the rightful and true King walked in humility. How could a King have such an attitude? What kind of a king, after all, would be born in a stable? What kind of king ever learned to work with his hands in a carpenter's shop? What kind of king never lived in a palace or owned his own house?
Consider Philippians 2: "Your attitude should be the same as that of Christ Jesus, who, being in very nature God, did not consider equality with God something to be grasped, but made himself nothing, by taking the very nature of a servant, being made in human likeness. And being found in appearance as a man, he humbled himself and became obedient to death, even death on a cross. Therefore God exalted him to the highest place, and gave him the name that is above every name, that at the name of Jesus every knee should bow, in heaven and on earth and under the earth, and every tongue confess that Jesus Christ is Lord, to the glory of God the Father."
Have you ever bowed the knee to Jesus and confessed him as Lord? That is the beginning of the path toward humility. It was Pastor Chuck Smith who taught: "When you grow up as a Christian, you will be a servant." A servant must walk in humility, just as our Lord did.
In our passage, Jesus said, "For everyone who exalts himself will be humbled, and he who humbles himself will be exalted."
What does it mean to walk in humility? Does it mean that you walk in a sort of deflated, downcast way? C.S. Lewis said, "Humility is not thinking less of yourself, it's thinking of yourself less."
There is a spectrum between pride and humility. The place to land is not excessive self-flagellation, beating up on yourself, or thinking too highly of yourself so you become conceited, but having an accurate view of yourself — the way God sees you.
How does God see you? If you are following Jesus, you should know that you are lavishly loved by God, that he loves you unconditionally, which means he loves you as much on your worst day as on your best day. You should have a healthy self-esteem as a Christian because you have been esteemed by God. We love him because he first loved us… and his love never gives up.
One of the characteristics of humility is realizing that everything you have is a gift from God. As Paul said in Corinthians, "What do you have that you did not receive?"
Humility recognizes that whatever intelligence you were given at birth, whatever gifts and talents, whatever looks, whatever possessions, whatever power or influence you may have is all a gift from above.
When you walk in humility, in meekness, serving others sacrificially, God promises to lift you up in due time. It's all reversed from the way the world works, with people striving, fighting, back-stabbing to get to the top. It has been said that Christianity is downwardly mobile!
In reflecting on this I think about the life of Henri Nouwen, the pastor, writer, and professor whose books have sold 7 million copies.
He had been a professor at Notre Dame, Yale, and Harvard and he gave up his lofty position and status to move into a community of the mentally disabled near Toronto, Canada and lived there the last 10 years of his life, ministering to people that are often forgotten and ignored by many.
I also think about Robertson McQuilkin, who headed Columbia International University. He resigned from the presidency of the university to care for his wife, Muriel, who needed full-time care because of advancing Alzheimer's disease.
How many men would give up their career at its height to become a full-time caregiver to their wife?
I think about my parents' neighbor in Fallbrook, Bob Durling. At his farm he grew what many consider to be the best fruit trees in the world and he had a contract with Home Depot to sell his trees that made him a wealthy man. He worked six days a week until his retirement at age 92.
He told me that God gave him the strength to keep working so he could give to Christian causes. In his mid-eighties he moved into a trailer and was tithing 90% of his income, which was over a million a year.
So there were major ministries flying in to meet with one of their most generous donors in a little trailer that looked like it was furnished by a thrift store.
There is a beauty that shines through a life that walks in humility, that shines through the lives of these three individuals, who sadly, have all left us.
Humility is so contrary to human nature that we can't perform it. You can't really fake it. False humility is just another facet of spiritual pride. Each of us must reach a place where we have been humbled by God. If you live long enough, you will face disappointments or setbacks that are humbling.
1 Peter 5 says, "All of you, clothe yourselves with humility toward one another, for God is opposed to the proud, but gives grace to the humble. Humble yourselves, therefore, under the mighty hand of God, that He may exalt you at the proper time, casting all anxiety upon Him, because He cares for you."
Philippians 2:3 says, "Do nothing out of selfish ambition or vain conceit. Rather, in humility value others better than yourselves, not looking to your own interests but each of you to the interests of the others."
It was shocking to me as a young Christian to discover that pride is the sin that God hates the most. It's the attitude that always says, "I can do it…I don't need God." It's the fountainhead of all other sins.
The prideful person is pleased with who they are, what they have, and what they have done. They have a very high opinion of their own abilities and accomplishments, their imagined superiority.
People don't understand how dangerous pride can be. It is behind a lack of love, indifference to the needs of others and their feelings. It is the source of critical judgments, anger, touchiness and irritation.
Humility, on the other hand, can be very powerful. One of the ways I think we grow in humility is by learning to listen, listening to others and listening to God. Have you been around people who only talk about themselves? And when they talk about themselves, it seems like they are talking at you, rather than with you.
I see the same thing in my prayer time with God. After a lot of years talking at God, a few years ago I decided to create a space for listening at the end of my prayer time. Silently I pray, 'God, if you have a word for me today, I'm listening for your voice.'
In talking to our son, Sam, after his return from serving the poor in Mozambique and in the slums of Brazil, he mentioned one of Heidi Baker's teachings that struck me.
She and her husband have had enormous impact feeding thousands of the poor, planting churches, starting schools and medical clinics.
And she said that every day she prays that God would put to death her sin nature, crucify her flesh, the old prideful way of doing things that doesn't die easily. If this wonderful woman of God, this giant of faith needs to pray this every morning, how much more do I?
I have come to realize that putting to death my pride and all its ugly fruit will be a lifelong project. Thank you God for your patience!
Who is the most humble person who ever walked on this earth? I think you can make the case that the most humble person who ever walked the earth was Jesus Christ.
Therefore, it was the ultimate injustice that he was accused of arrogance and crucified, "because he was even calling God his own Father, making himself equal with God."
"Put on then, as God's chosen ones, holy and beloved, compassionate hearts, kindness, humility, meekness, and patience, bearing with one another and, if one has a complaint against another, forgiving each other; as the Lord has forgiven you, so you also must forgive. And above all these put on love, which binds everything together in perfect harmony. And let the peace of Christ rule in your hearts, to which indeed you were called in one body."
The preceding was adapted from a sermon on Luke 14:1-11 delivered September 30, 2018 at Church by the Sea in Laguna Beach. To listen to the audio version go here