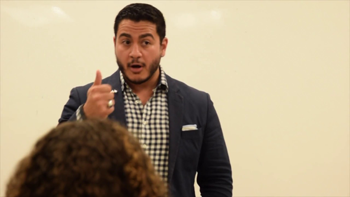 By Magalea Chiesa and Michael Ashcraft —
If elected in Michigan, Abdul El-Sayed will become America's first Muslim governor — and some are disquieted by the prospect that he's being groomed to become the first Muslim president of the United States.
He is backed by Linda Sarsour, the controversial Palestinian-American who called for "jihad," or holy war, against the Trump administration. Some have said he is being sponsored by left-wing financier George Soros, but El-Sayed has denied those reports.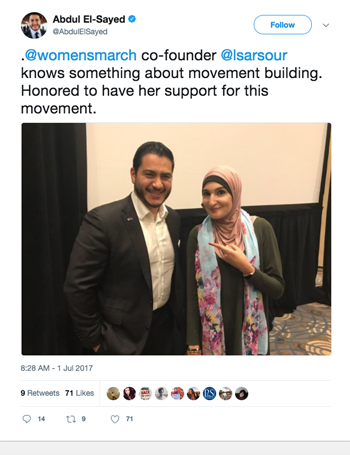 Fear of non-Protestant Christians in American politics is nothing new. When John F. Kennedy ran for president, alarmists warned that the federal government would be ruled by Rome.
But the apprehensions about El-Sayed may be different. WND and Jihad Watch accused him of having the "full backing" of the Muslim Brotherhood, which he also rebuffs.
"El-Sayed has substantial connections to the Muslim Brotherhood in both his past and present," said Dick Manasseri, of the Muslim watchdog group Secure Michigan. "So the suspicion that El-Sayed may harbor Islamist convictions and be a Trojan horse are not unfounded, especially given the reality of what some have dubbed a 'stealth jihad.'"
Abdul El-Sayed, is a 33-year-old doctor and the son of an Egyptian immigrant. He has publicly disavowed radicalism.
"I believe in a separation of church and state," he told The Guardian. "I can tell you that my ability to practice my faith in person, in my own home, when I choose to, where I'm allowed to, because of freedoms in this country have everything to do with that separation of church and state. If I am going to want to be able to put my face on the ground 34 times a day, like I do, because I'm Muslim, I want to make sure no one can take that right away from me. And I will not take that right away from anyone else."
El-Sayed was born and raised in Michigan. He received a biology and political science bachelor's degree from the University of Michigan, where he also played lacrosse. There he completed two years of his medical career and finished his Doctor of Philosophy in Public Health in under two years in 2011 at Oxford University. An epidemiologist, he was executive director of the Detroit Health Department and Health Officer for the City of Detroit from 2015-17.
He espouses populism and says he will fight for equal rights for medical attention. It was in Flint, Michigan, that the previous governor was blamed for mismanaging public water that was poisoning the public. Abdul is running on the Democrat ticket with policies to protect the environment and provide low-income housing.
He's been compared to Barak Obama, but he says his politics are closer to Bernie Sanders.
"I believe that right now we need a set of solutions that remind us that the people should be the core of what we do in government," he said. "I'm trying to remind people why the system is built the way it is, and that it has been corrupted by a very small, very powerful, very rich group of people, who have fundamentally bought out our politicians."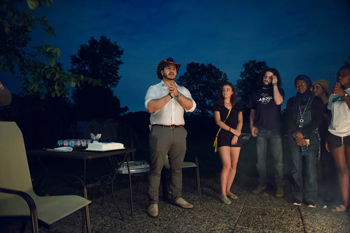 Of course the American system was designed to welcome people of all nations, ethnicities and cultural backgrounds. And those immigrants can have children who join the American mainstream, contribute towards society and even run for public office, where they can serve for the good of all and not impose their beliefs on others.
But his welcoming of support from Sarsour is troubling to some. Sarsour is the burqa-donning organizer of the Woman's March and also an ardent Muslim. She works in groups suspected of ties to the Muslim Brotherhood and opposes Israel's statehood.
Speaking before the Islamic Society of North America, Sarsour said: "I hope that we, when we stand up to those who oppress our communities, that Allah accepts us from us that as a form of jihad, that we are struggling against tyrants and rulers, not only abroad in the Middle East or on the other side of the world, but here, in these United States of America, where you have fascists and white supremacists and Islamophobes reigning in the White House."
Manasseri sees El-Sayeb as copying Obama's trajectory toward the presidency.
"It is the exact same thing as Barack Obama in Chicago in the early 2000s," said Manasseri. "He's young, attractive, he does not give out a lot of information, he speaks in platitudes about celebrating inclusiveness and diversity."
But before he can try to lay claim to the governorship, he must pass the first hurdle of securing the Democratic primary in August.
El-Sayed is downplaying those elements that he thinks might negatively impact his campaign: "I'm relatively young, relatively brown, and relatively Muslim."
Magalea Chisea studies at the Lighthouse Christian Academy in Santa Monica. Michael Ashcraft is her teacher.