By Mark Ellis —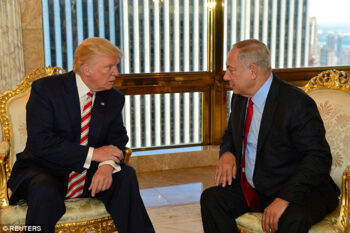 It has been the most difficult challenge of the modern era in American foreign policy, one that has stymied the most seasoned and experienced statesman – how to bring peace between Israel and the Palestinians.
Now a real estate developer with scant foreign policy credentials may fall into an unusual opening to pull off the deal of the century, dwarfing in importance the skyscrapers bearing his name in Manhattan.
Trump is making preparations for his first trip abroad, where he will visit Saudi Arabia, Israel, and the Vatican – all vital repositories for three world religions. Will a peace deal be in the works during his visits?
"The opportunity arises because of the rapid emergence of an unusual strategic alignment," writes Gerald F. Seib in the Wall Street Journal. Seib points to the fact that Saudi Arabia, Egypt, and Israel "are strategically in sync with one another – and, simultaneously, on good terms with the new American administration."
Often Egypt and Saudi Arabia are at odds with each other or with the United States. They have also been at war – whether hot or cold – with Israel, but that has changed because they share common enemies.
All three countries view Iran and ISIS as threats to their very existence. They can also see the Trump administration is ready to confront their common enemies.
"Already, there is a new level of security cooperation between Egypt and Israel in confronting extremists in the Sinai Peninsula and the Gaza Strip," Seib notes. "Meanwhile, quiet unofficial contacts between Saudis and Israelis have begun."
In strengthening such a strategic alliance, it would be useful to resolve the conflict between Israel and the Palestinians.
Longtime Mideast diplomat Aaron David Miller believes this will provide the impetus for such a peace agreement. He says the president "is banking on something that has never been bankable before, which is that you can convert a stronger U.S.-Arab Sunni state relationship into real currency on the peace process."
If Trump makes good on his promises to move the U.S. embassy to Jerusalem or mishandles Syria, his window of opportunity might close. But still, the prospects for such a peace are entering into an unusual phase.
"In sum, opportunity is knocking for Mr. Trump in the Middle East. As ever, though, opening the door will be hard," Seib notes.