By Mark Ellis —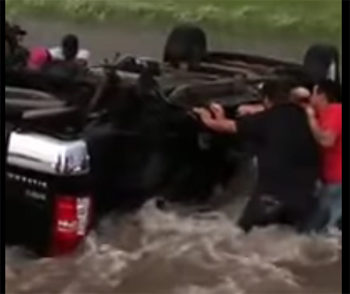 Five were killed over the weekend as tornadoes of ferocious intensity howled through north Texas, killing five and injuring many others. Two babies are alive today due to a heroic effort from bystanders and prayers lifted up in Jesus' name.
Phillip and Emily Ocheltree barreled down the road near Canton, Texas, desperate to find a storm shelter, when their truck washed off the road and flipped over, trapping them in the car, along with their four-month-old, Marshal, and his 18-month-old sister, Addy.
The two parents – still trapped in the front seat – tried to free their kids from the truck, but the floodwaters gushed around them, making it impossible to open the doors.
"I'm banging on the roof just yelling, screaming 'Please get my kids out of the back of this truck,'" Emily told WFAA News8, an ABC affiliate.
"It was just black. We couldn't see anything, and I was just trying to find my babies," Phillip told News8.
A group of strangers gathered outside the truck and were attempting to get the windows or doors open.
"I just told them to get my babies, I'll find a way out," Emily told News8.
One man, Thomas Mitchell, recorded the dramatic rescue on his phone (see below), a video now seen by millions.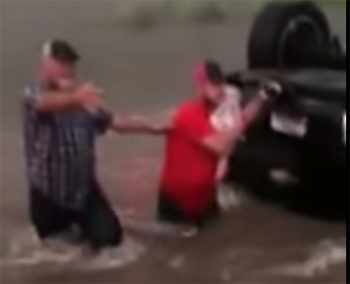 As several worked feverishly to pry open the doors, some cried out to God for rescue. One woman, Virginia Howard, continually called on the name of Jesus to bring a miracle.
"In the name of Jesus, let him breathe Lord. Give that baby breath, Lord!"
"Dear Jesus, please let this baby breathe. Dear Jesus, please let this baby breathe," she prayed.
Finally, the door was opened and the kids were freed. "She is breathing!" one of the rescuers announced, even as the baby gasped for breath.
Once the children were pulled from the cab, two men instantly performed CPR. One of the
men, Jaime Martinez, a former firefighter in Guatemala, said his previous training "kicked in."
"Everybody came together to get the doors open and to get the children out. It's mind boggling that people were able to do that for us," Phillip told News8.
Both babies were taken to Children's Medical Center in Dallas. On Monday, 4-month-old Marshal was released. His sister Addy is still being treated, but is in stable condition.
"She's our fighter nonetheless," Phillip said.
"She's off the breathing machine, she's still on assist but she's laughing she's high-fiving and playing."