By Mark Ellis —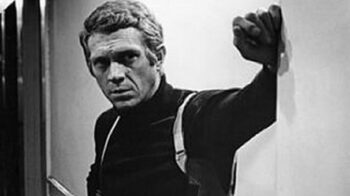 Hollywood icon Steve McQueen, who accepted Christ only a few months before he was diagnosed with an aggressive cancer that proved fatal, died holding evangelist Billy Graham's Bible close to his chest, according to Greg Laurie's book about the actor.
Laurie released his book, Steve McQueen: The Salvation of an American Icon, in 2017.
Laurie offers an in-depth description of McQueen's spiritual journey to Christ in the last months of his life. The book was co-written with Marshall Terrill, who has written five other books on McQueen, according to the Christian Post (CP).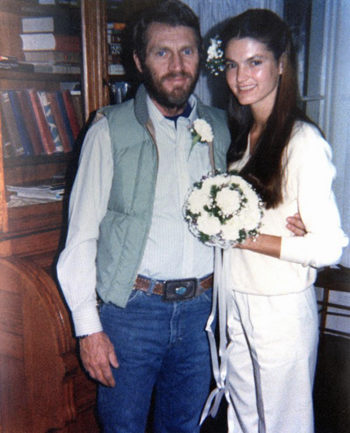 By the late 70s, McQueen's career was fading. He moved from Malibu to Santa Paula, California, and married his third wife, Barbara Minty in January, 1980. For a period of time, they lived in an airport hangar filled with his motorcycle collection.
He also bought a yellow bi-plane and took flying lessons from a cantankerous man in his 60s, Sammy Mason.
The two became close friends. McQueen sensed there was something different about Mason and one day asked him directly about his "secret." Mason told him he was a follower of Jesus Christ.
Because McQueen had such respect for Mason he began to attend his church, Ventura Missionary Church. McQueen mostly sat unobtrusively in the balcony and kept to himself.
After about three months, he finally introduced himself to Pastor Leonard DeWitt and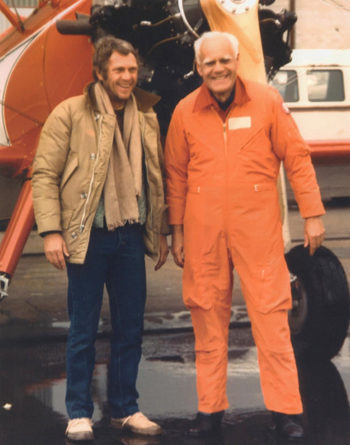 asked to meet him for lunch.
At the lunch meeting, McQueen peppered the minister with spiritual questions.
McQueen wanted to know if the Bible could be trusted. He wanted to know if all of his sins could be forgiven. He wanted to know what being a Christian looked like, Laurie recounts in the book. "I think McQueen was trying to wrap his mind around it."
At the end of the meeting, DeWitt asked McQueen if he had accepted Christ as his Lord and Savior. He told DeWitt that one morning when the pastor had given the invitation, he felt convicted by the Spirit and came forward. "When you invited people to pray with you to receive Christ, I prayed. So yes, I'm a born-again Christian."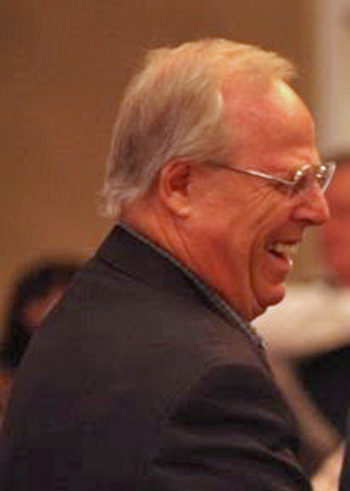 McQueen was beginning to grow in his faith when he got the horrible news that he had mesothelioma. He received the news a few days before Christmas, 1979. Some 80% of mesothelioma cases result from asbestos exposure, which may have happened to McQueen when he served with the U.S. Marines as a younger man.
"He blew up a can of beans and they punished him by making him strip the asbestos off the pipes of a ship," Barbara Minty told attorney Roger Worthington. "That was in the late 1940s. Steve did not talk about it much but I have a tape recording in which he was asked just before he died what caused his mesothelioma. He said: 'asbestos.'
He was also an avid race-car driver, and asbestos was also used as an insulating material in racing suits.
McQueen wasn't offered surgery or chemotherapy because doctors at Cedars Sinai in Los Angeles felt the cancer was too advanced. They told McQueen he had only a few months to live. While the disease started in his lungs, it eventually spread to his abdomen, kidney, and pelvis.
Because doctors in the U.S. could offer no treatment or hope, he sought alternative cancer treatments in Mexico. At the same time, it was clear that he was taking his commitment to Christ seriously.
"Now that he had become a believer, one of the first things he does when he arrives in Mexico at a center where he was going to receive some of these treatments is he starts talking to the lady (Teena Valentino) about his faith in Christ. I thought that was very interesting that he was initiating conversations with people about it," Laurie told CP.
"He had organized a time to feed a lot of the other cancer patients there in the clinic. He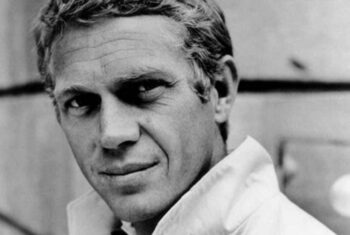 wanted to join them. It was a little food that they weren't supposed to eat but he was sort of treating them. He wanted to go spend some time with them but he wasn't able to do it because he was feeling so sick," Laurie noted. "So he made a recording that he played for them. In that recording, he prays for them and he talks about his faith in Christ."
When it was evident his days were numbered, he asked to meet with Billy Graham, then one of the most prominent Christian leaders in the country.
According to the book, Graham met with McQueen at least twice during McQueen's final days — once at McQueen's ranch in Santa Paula and also before McQueen flew to Mexico for surgery in November 1980.
"I know they had a lengthy meeting where they talked in depth about a lot of things in Steve's life," Laurie told CP. "Billy was really impacted by Steve and felt his conversion was genuine because all Steve wanted to talk about was his faith."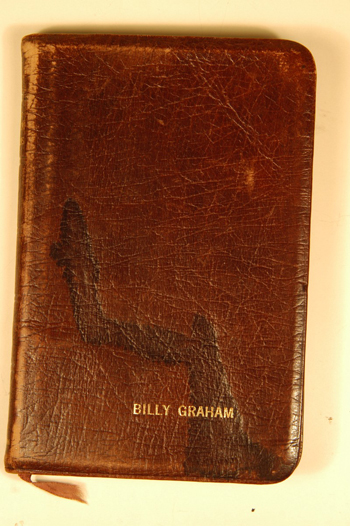 McQueen had misplaced his Bible, so Graham personally inscribed his personal Bible and offered it to the dying actor. He stayed by McQueen's side and prayed with him until they reached the airport, then said goodbye as McQueen flew off to Mexico.
McQueen never survived the operation. Four days after the meeting with Graham, he died of a heart attack with the evangelist's Bible resting on his chest.
According to the book, McQueen's son, Chad, went to the hospital around 6 a.m. that morning and found his father's eyes open, with his hands clutching the Bible that Graham had given him.
"He was holding onto that Bible and I think he probably was praying," Laurie told CP. "He could tell that his condition was worsening. No one was with him in those final moments of his life in that room because when they came in, he had already died. He probably saw that Bible, or maybe he was already holding and reading it and just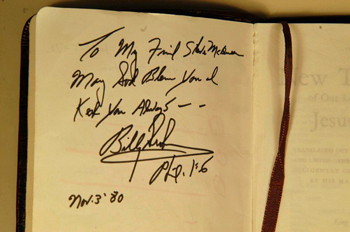 held onto it. There it was under the sheet, as I am told. They pulled the sheet back and found the Bible."
Some have reported that McQueen's Bible was opened to John 3:16. However, Laurie told CP that in researching the book, neither he nor Terrill could prove the John 3:16 claim. Multiple sources, however, confirmed he was holding the Bible.
In one of McQueen's last meetings with Pastor DwWitt, he said, "My only regret in life was that I was not able to tell others about what Jesus Christ did for me."
That may be remedied with Laurie's book. He is also making a documentary on McQueen's salvation that will be released Sept. 28th. The film will be shown at 1,000 theaters in the U.S. for one night only and will also be available on iTunes and other media.
If you want to know more about a personal relationship with God, go here