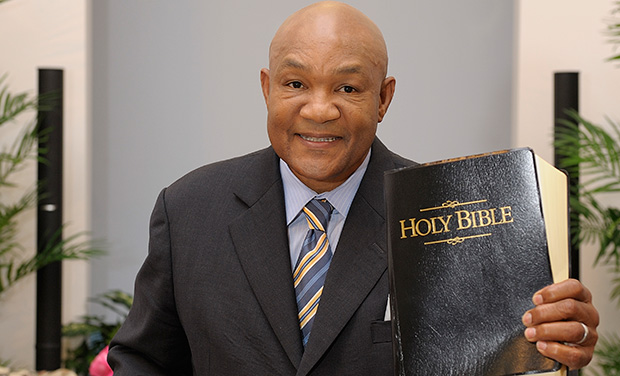 By Hasset Anteneh —
His powerful punch and menacing demeanor in the ring led George Foreman to Olympic Gold and heavyweight championships, but when Jimmy Young brutalized him in a humiliating defeat in 1977, the street bully from Houston felt he was dying.
"In the dressing room, I was walking back and forth to cool off," he told The Houston Chronicle. "Then in a split second, I was fighting for my life."
He lay on a locker room table. While friends and staff attended to his physical body, the battered brute battled with the God he learned little about as a kid.  He admitted later he only went to church for the free lunches.
"I kept thinking, 'You believe in God. Why are you afraid to die?" Foreman told The New York Times. "But I really didn't believe."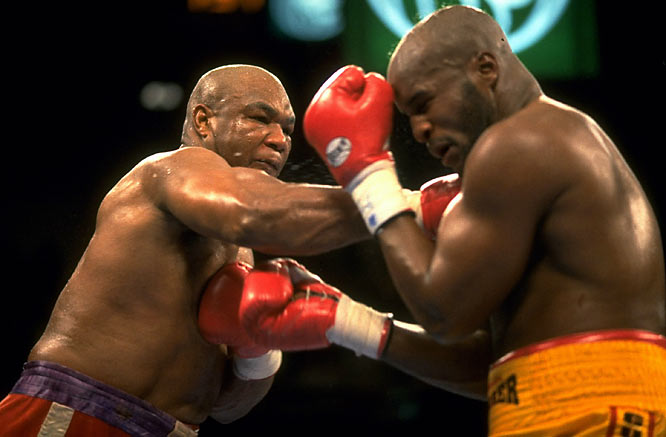 Foreman began bargaining with his Creator. If God saved him, he would give his prize money to charity.
"I don't want your money," a voice responded. "I want you."
Foreman was bewildered and confused. He had never met anybody who didn't want money.
"It was the saddest, most horrible place I had ever seen," he said. "Tears fell. I was scared. I'd never heard anyone turn down money. There I was fighting for my life with something that you couldn't deal with. That changed my life forever."
Then as his life ebbed away, too late to repent, Foreman felt a "giant hand" thrust him back into consciousness. He saw his friends. At the same time, he felt strangely filled with the presence of a dying Christ. He felt his forehead bleed and he imagined it pierced by Christ's crown of thorns. He sensed his wrists punctured as if by the nails of the cross.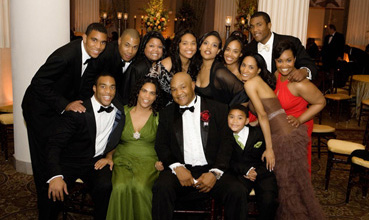 "I knew that Jesus Christ was coming alive in me," Foreman told The Times. "I ran into the shower and turned on the water and — hallelujah! — I was born again. I kissed everybody in the dressing room and told them I loved them. That happened in March 1977, and I never have been the same again.
A passion began to stir in his heart. "I started reciting the Bible, talking from the pit of my stomach in that dressing room. I was talking about how Jesus was God's son and that he was alive. So when I came out of that, I asked a friend to go get me a Bible. And he said, 'What kind?' And I said, 'I don't know, one like your mother has.' So, he went out and bought me a King James version of the Bible. And that's how I got into religion."
The turnaround in Foreman was immediate and dramatic. Today, he preaches punchy sermons as pastor at the Church of the Lord Jesus Christ in Houston.
Transformed from a rage-filled street punk into a humble and sweet Christian, Foreman found he couldn't muster the will to fight anymore, so he dropped boxing for 10 years.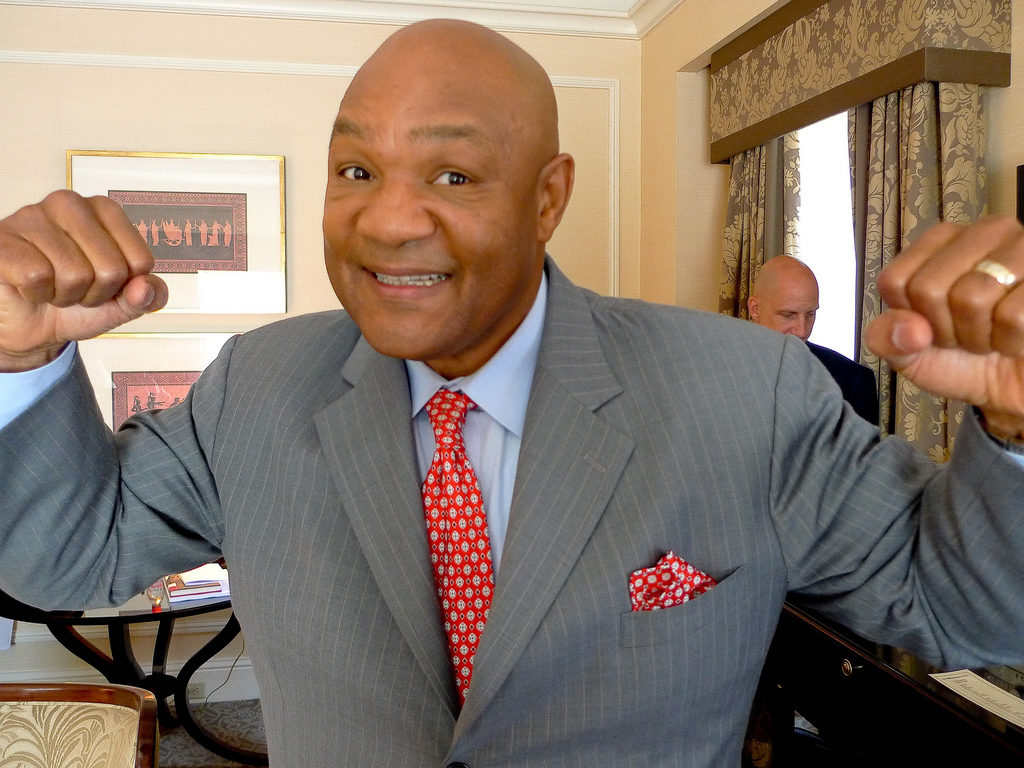 "The punching bag used to be the fellow I was going to fight. I could just see that bag, see my opponent in the bag, and tear the bag up," he said. "But, after the experience [in 1977], I went to a punching bag, and it was just rags and leather. I just couldn't concentrate like that anymore. So, I left boxing."
Foreman's rise to the pinnacle of the boxing world started in the roughest neighborhoods of Houston. His mother worked three jobs to support seven children and had no time to go to church — and not much time to give attention to her children. So the young man raised himself and took to bullying everybody and picking fistfights.
At 16, he dropped out of school and drifted into the West Coast Job Corps camp. That's where the camp boxing coach spotted him and saw promise. Charles Broadus made him promise to stay out of trouble in exchange for training him. In 1968, Foreman won gold in the Mexico City Olympics.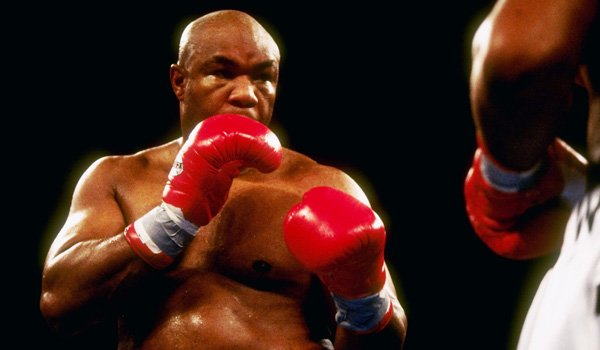 After that, the victories kept coming. In his entire career, the pugulist danced, jabbed and swung his way to 76 wins and 68 knockouts.
"He is an iconic figure in boxing history," said Edward Brophy, executive director of the International Boxing Hall of Fame.
But his salvation experience blunted the angry edge and he no longer thrived in the ring. Instead he sought ministry and was ordained as a pastor.
He sought out his former enemies, not for revenge, but to forgive.
"There were people who were going behind my back and told lies, who had stolen money from me. One person after another. It got to be so many people on my list to get even with and hurt, there were too many people to hire a hit man. I was thinking, 'How am I going to get all these people?' I was so angry. I would just sit there and steam and [wonder] how could I get rid of these people," Foreman said.
"But when I found God after my experience with Jesus Christ, and I saw this place, this big nothing that I was in, I realized that I had not found an enemy in this world that I would wish to go to this place. I instantly stopped hating anyone. I hugged people who really considered themselves my enemies, to let them know there was nothing they had done to me that meant anything. I found peace of mind."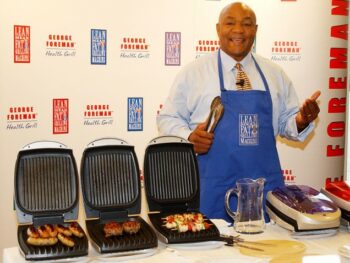 Three years after salvation, the boxer opened the George Foreman Youth and Community Center, a cluster of gymnasiums in Houston, to reach out to at-risk youth.
"The kids would come in and want to learn to box, they wanted to tear up the world, beat up the world. And I'd try to show them they didn't need anger. They didn't need all that killing instinct they'd read about," he said.
"You can be a human being and pursue boxing as a sport. What I learned from them is never to punch in anger. And, in the end, it rubbed off on me. I was able to go back into boxing because I'd learned from the children. You don't have to try to hurt people and be angry to be an athlete."
In 1987, his outreach ventures tottered on the brink of bankruptcy, and Foreman made an improbable bid to return to the ring. On Saturday nights he was exchanging blows with heavyweight champs in and then flew hurriedly back to Houston to preach Sunday mornings.
And that's how a 38-year-old has-been knocked out a much younger Steve Zouski in the fourth round. Foreman wasn't quick anymore but he withstood blows admirably and retained the fearsome punching force of a tree falling in the forest.
After repeated victories, Foreman got a chance to retake the world championship against Michael Moorer in 1994, a bout that Moorer controlled for nine rounds until Foreman battering-rammed him with punches that sent him to the mat in the 10th.
"I saw it all at close range," said Dr. Adan Rios, a member of Foreman's church. "And I can tell you with certainty that the man I saw in the ring is the same man you see in church on Sundays."
Foreman hung up his gloves finally in 1999, but he's still pounding the devil with his preaching.
"I'm always studying the Bible," Foreman said. "It's all about studying and learning, and here's the scary thing: The more you learn, the more you realize how much you don't know."
"I found out that the greatest thing in the world—the greatest existence of anything—is that God made us human beings, and that I found out how to love my fellow man," Foreman said. "I don't think it's possible for anyone to truly appreciate human beings' lives until they've found Jesus Christ."
If you want to know more about a personal relationship with God, go here.
Hasset Anteneh studies at the Lighthouse Christian Academy in West Los Angeles