By Mark Ellis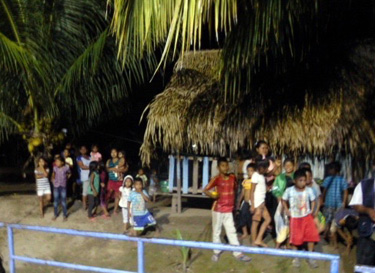 It is still warm in the early evening as Pastor Ricardo Hidalgo Rojas edges his aging, flat-bottom boat "Evangelista" into the tiny village of Santa Elise. Children crowd the banks of the Yucayali River, a tributary of the Amazon, a five-hour boat ride from Pucallpa.
Of the 350 Shipibo people inhabiting this primitive village of thatched roof, single room houses, 60 are now followers of Jesus thanks to Pastor Ricardo. In the next four days, he and a team of high school students from Laguna Beach, California will complete the construction of a simple church to accommodate the growing ranks of Shipibo believers.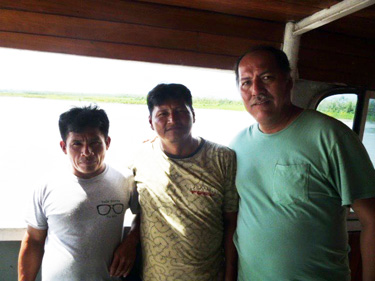 The need for the Gospel is great in the smaller, more remote villages in the Amazon River basin that follow animistic tribal customs. One of those traditions includes men raping young women when they reach 14-years-old as an initiation into womanhood. In the cities, the perpetrators would get arrested for this, but these villages are beyond the reach of government laws.
Pastor Ricardo says his mother's prayers inspired his call to this ministry. "Since I was little, she prayed, 'God, I don't want a place for my children in this world; I want a place for my children in your kingdom."
Previously he worked in a government office, until the pastor of his church in Pucallpa invited him and his wife to consider going into the mission field. "After six months of praying we decided as a family to take the invitation," he says.
In the last eight years, Pastor Ricardo and his teams, in affiliation with Lifetree Adventures, have planted and built 21 churches along this river. "My
goal is for younger men to take over and multiply the ministry," he says.
To that end, he has five energetic young Shipibo pastors traveling with him, who will soon be commissioned to go out as missionaries and follow in the footsteps of their mentor. "They will go into a village and offer classes for a week, do VBS, and go door-to-door," Pastor Ricardo says.
His primary method is to spread the Gospel using oral communication. "We teach Genesis through Revelation in an oral manner," he notes. "Nobody can stop you from sharing a story."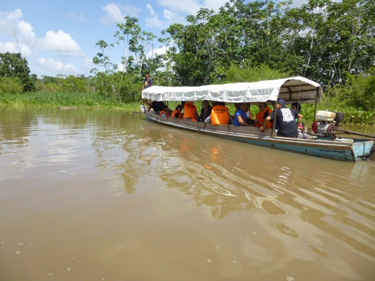 In a nearby village, Hunin Pablo, Pastor Ricardo has 70 people studying the Scripture, drawn from 15 surrounding hamlets. They are working through a four-year program of Bible instruction.
In addition to his teaching and building projects, he also sends medical supplies and water filters to the villages. "Most of these people drink, cook, and bathe with contaminated river water," he notes.
Recently, one Shipibo woman who appeared pregnant was tested and it was discovered her stomach was teeming with parasites as a result of drinking from the river. Fortunately, she received the right medications to alleviate her condition.
Pastor Ricardo is currently praying for God to provide a smaller boat that will expand his reach along these
waters. "There are people groups that have never been reached by civilization," he notes. God willing, they will soon be reached with the transformative power of the Word and the Spirit, as Pastor Ricardo impacts the next generation on a path toward life.
To learn more about Pastor Ricardo's ministry, go here