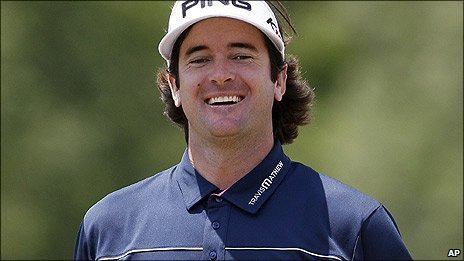 By Michael Ashcraft —
He grew up wearing knickers sewn by his grandma, endured the rage of his Vietnam vet father, and learned to play golf smacking a wiffle ball around the house.
In 2018 Watson, 40, arguably one of golf's most colorful players, returned to the winner's circle with a 12-under finish at the Genesis Open, his third victory at this tournament (2014, 2016), all at Riviera.
He is only the fifth player to win this long-standing event at least three times, along with Ben Hogan, Arnold Palmer, Lloyd Mangrum, and Macdonald Smith.
."I have a lot of fears in my life, which, as I'm reading the Bible, I'm not supposed to have — but I do," Watson told the New York Times. "Me changing as a person has helped my golf, not my swing."
It wasn't too long ago that Watson would lose games in his brain. He struggled with insecurity, melted down after a bad shot, and looked for people to blame when things went wrong. He used curse words and rankled other players with some unfriendliness.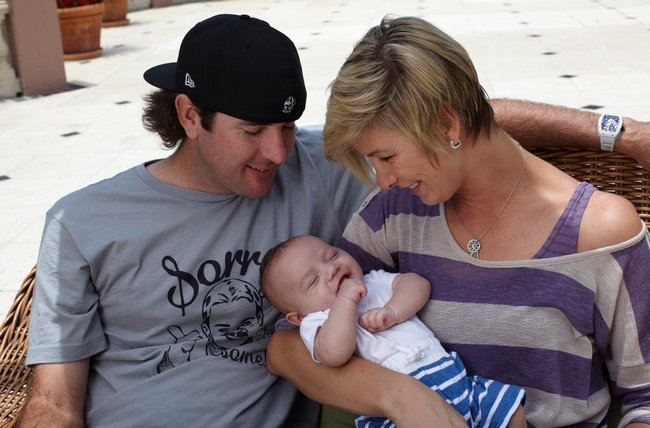 But with the help of his wife, his caddie, and fellow Christian golfers (who meet weekly at a PGA Bible study), Watson is overcoming the temperamental side of his personality.
"We've been working on it, a hard, slow process," Watson said in Golf Digest. "Instead of swing thoughts and swing, it's all about the mind for me. It's staying patient, and having Teddy (the caddie) in my ear. Teddy's been a blessing. It's been a struggle over five years, but we're working in the right direction."
His twitter account is telling. Followed by 2 million, @bubbawatson describes him in this order: "Christian, husband, daddy, pro golfer, underwear model."
Watson told BillyGraham.org that he is "getting more in the Word and realizing that golf is just an avenue for Jesus to use me to reach as many people as I can."
His walk with Christ started when he was 19. A neighbor invited him to church. It was his first time in a service. "I went to church with her a few times," he told CNN. "I listened, thought about, gave myself to the Lord."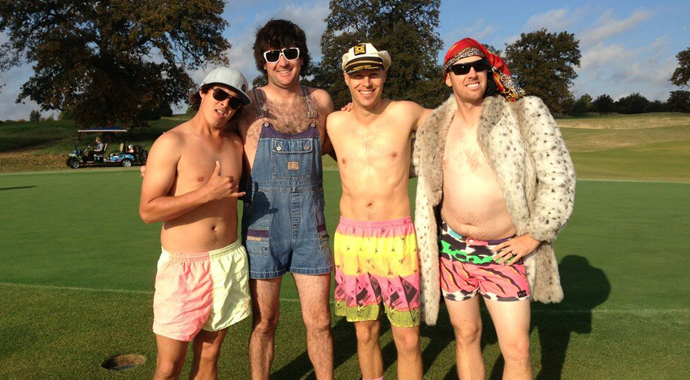 During college, his church attendance tapered off, but in 2004 he got baptized with his new wife, Angie, and renewed his faith.
On his first date with Angie, a college and professional basketball player, she advised him that she couldn't bear children – and Watson told her that was fine. To date, they have two adopted kids, Caleb and Dakota.
After his baptism, he drifted away from God. Then his caddie yelled at him for his stormy behavior on the links, and Watson realized he needed to take things more seriously.
"I've been reading my Bible and getting stronger in my faith," he said.
Today, Watson is a very visible and vocal Christian. After the won the Master's at Augusta for the first time in 2012, he said, "I thank my Lord and Savior Jesus Christ."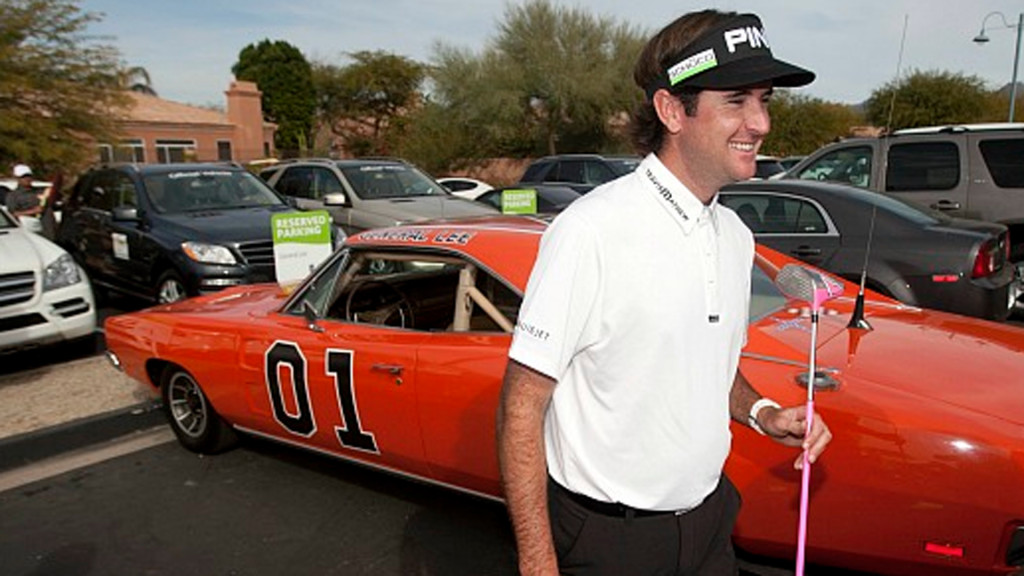 Famously, Watson never received any more golf instruction than from his dad when he was a tyke using a sawed-off club. That's astonishing because the lefty hits the ball farther than pretty much anybody in the PGA (over 350 yards). And he can put spins on the ball that produce tree-rounding curves that will make you think he has Jedi powers.
To win the 2012 Master's, Watson hit his ball out of some pine trees in a boomeranging hook that landed on the green only a few feet away from the pin of the second hole. It would seem that whacking that wiffle ball around the house taught him about spin.
Watson donates tons of money to various causes. When Ping fell short in raising money for a Phoenix Children's Hospital, Watson gave $110,000 to reach the goal. He gave $35,000 to a high school and spoke emotionally about his own low self-esteem and poor grades. He helps earthquake victims and sick kids.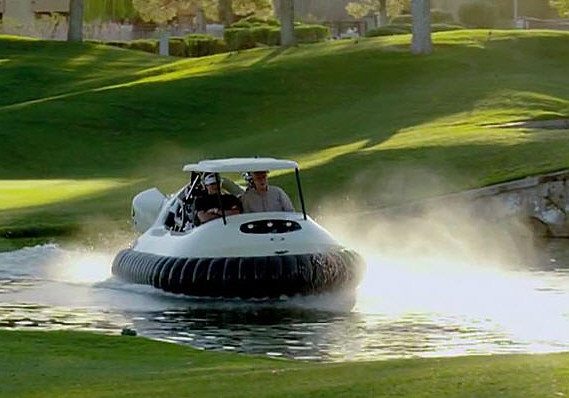 Watson loves Christian rapper LeCrae. "Lecrae said it the best. He doesn't want to be a celebrity. He doesn't want to be a superstar. He just wants to be the middle man for you to see God through him."
Apparently, that rap has influenced the country boy from the Florida panhandle. Watson and three other pro golfers formed the rap group "Golf Boys," which is more antics than lyrics. Their single "Oh Oh Oh" is sponsored by Farmer's Insurance Group, which gives $1,000 to charity for every 100,000 views.
Watson has his zany moments, cracking jokes on his Twitter account as frequently as he shares the gospel. He recently purchased the Dukes of Hazzard car called the General Lee and outfitted a golf-cart "hover craft" which floats on water. He comically refers to himself in the third person: "a guy from Florida named Bubba." He has one pink driver shaft among his clubs.
Around his golfing schedule in Los Angeles, he managed to watch Justin Bieber rehearse and give his son an impromptu drum lesson. Incredibly, he also passed a kidney stone. He acted in a bit part for the T.V. show "Girl Meets World." Is it ADD or does he use distraction to de-stress?
For the win at the Riviera, it all worked.
If you want to know more about a personal relationship with God, go here
(Note: this story originally appeared in 2016 and was updated in 2019)