By Peter Wooding —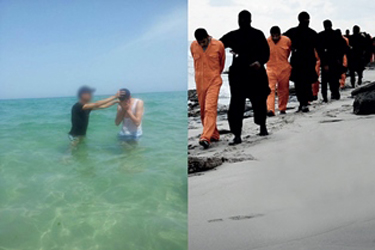 After coming to Christ through Leading The Way's television broadcasts and on-the-ground follow-up, Muslim convert Shahid has started a significant church-planting network across North Africa and Europe.
Shahid has even baptized several new believers on the same shores where the Islamic State (ISIS) terror group, beheaded 21 Coptic Christians—and his story has now gone viral with over 2 million views on social media.
After becoming disillusioned with Islam, Shahid came across THE KINGDOM SAT, Leading The Way's 24/7 satellite TV channel in the Muslim world, while flipping through the channels.
Shahid explains: "After watching the channel day after day, I wrote to Leading The Way, and a man corresponded with me for over two years, answering my questions about Jesus the Messiah."
Shahid later travelled to Jordan, where he connected with a member of Leading The Way's follow-up team.
"Through his teaching," Shahid said, "I accepted Jesus as my Lord and Savior. For three months I stayed in Jordan, where I studied the Bible and was baptized. Then I left to serve the Lord back in Libya."
Soon after Shahid left Jordan, Leading The Way lost contact with him. After two months of silence, they learned that Shahid's own father, angered over his son's conversion, had reported him to the government, and then the Libyan border guards had intercepted him.
When Leading The Way located Shahid, the young man was in a refugee camp in Turkey, where two Muslims had tried to murder him. They asked him, "Why did they want to kill you?" Shahid replied, "I couldn't keep my mouth shut. I had to share Jesus with others!"
Today Shahid continues to share about Jesus through planting churches and discipling Muslim converts. He is even using the funds from his own business to support other persecuted believers and pay the rent for the churches he has planted.
There are many testimonies like Shahid's coming out of the Muslim world as Leading The Way's broadcasts, follow-up teams and Help The Persecuted ministry continue to impact hundreds of thousands of lives for Christ.
Leading The Way broadcasts the Gospel into the region 24/7 and has on the ground teams working to build the local church.
If you want to know more about a personal relationship with God, go here
To find out more go to: www.ltw.org