By Mark Ellis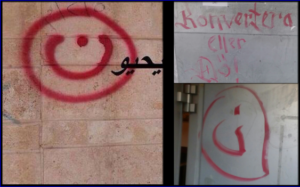 ISIS has been threatening Assyrian Christians living in Gothenburg, Sweden, including demands that they "convert or die."
The town of Gothenburg has been a source of jihadist recruiting, and news reports indicate at least 150 people have left the city to join Islamic State in Iraq and Syria. While its total population is a small fraction of the U.S., ISIS has recruited more militants there than in America.
On Tuesday, Swedish Assyrian Markus Samuelsson discovered the walls of his restaurant in Gothenburg covered by jihadist graffiti, including messages of "Convert or Die" and "The Caliphate is Here," according to the Swedish newspaper Dagens Nyheter (DN).
The graffiti also included the ISIS logo and the Arabic letter 'N' for Nazarene, which covered the walls of his Le Pain Francois bakery and a neighboring pizzeria. Other non-Assyrian restaurants were left untouched.
"I felt a sudden chill down my spine. It's terribly painful, we feel threatened," Samuelsson told DN.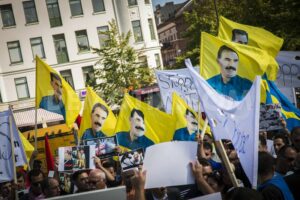 ISIS militants scrawled the Arabic letter 'N' on the doors of Christian homes in Mosul, Iraq before they overran the city last year. Islamic State militants subsequently drove Christians out of the city, after threats that they leave, convert to Islam, or pay a tax.
There are approximately 3,000 Assyrian Christians residing in Gothenburg.
In February, an essay in the Sweden Report complained that when defecting Swedes return to their homeland after serving as ISIS militants in the Middle East, they are not punished by Swedish authorities, but are "coddled with therapy" and "fast-tracked to jobs ahead of native Swedes," according to Breitbart News.