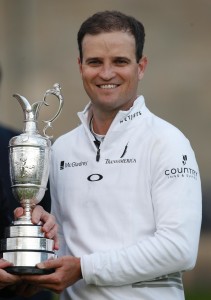 By Michael Ashcraft —
With scriptures running through his head, Zach Johnson became one of only six golfers ever to win the Masters at Augusta and the British Open at St. Andrew's when he beat two others in playoffs for the coveted Claret Jug.
"I was patient," said the 39-year-old from Cedars Rapids, Iowa. "I had some Scripture going in my head. I thank the Lord. I thank my friends. I thank my family. I'm just in awe right now. I feel like God gave me the ability to play a game. I'm just a guy from Iowa who's been blessed with a talent, and this game provided great opportunity."
Among PGA players, Johnson is not known for killing the ball; he drives 280 yards per stroke. Nor is he the pinpoint putter. But he prepares diligently. When rain postponed a whole day of play, he was practicing wedge shots with his caddie, gauging differing wind conditions.
And he kept calm, remembering Psalm 27:14 throughout his play on the legendary Old Course: "Wait on the Lord: Be of good courage, and He will strengthen your heart."
The Word of God is his anchor. "I'm a Christian guy, and when it comes to my priorities, it's the utmost," Johnson said. "For me, just to calm myself down, to keep my perspective when I'm playing, to not make too big a deal of it. That's where I go. The peace that comes with that allows me to play free golf."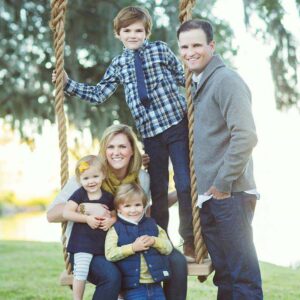 The expert wedge shots served him well in the final stretch holding off two playoff competitors. But Johnson doesn't chalk up the victory to his professional acumen.
He credits God – and his wife.
"Kim's my rock," he said. "She's the one that I can trust with anything. Good or bad, it doesn't matter what the situation is, she's always there."
They met in a Florida parking lot where they lived in the same apartment complex. Johnson was a non-practicing Catholic, but Kim was zealous Christian. They married in 2003 and now live in St. Simons Island, Georgia, with three children: Will, Wyatt and Abby Jane.
As a kid, Johnson was a major sports enthusiast. He played baseball, basketball, football and soccer. Not until he turned 10 did he put a golf club in his hand to give a try at whacking the ball. He grew in his understanding of the game on the links at the Elmcrest Country Club.
During his sophomore year in 1992, he led the Regis High School team to an Iowa 3A state championship. At Drake University in Des Moines, he led the Bulldogs to three NCAA regional meets. He turned pro in 1998.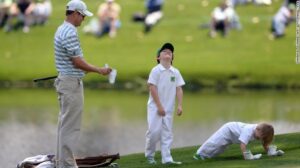 His rise was not meteoric. In 2007, he was ranked #56 on PGA when he beat Tiger Woods by two strokes to snatch the eminent Masters Tournament in Augusta with a record-tying 289 strokes.
It was considered a major upset. With fawning reporters wanting to know about the golf win, he glorified God. His victory came on Resurrection Day.
"This being Easter, I cannot help but believe my Lord and Savior, Jesus Christ was walking with me," Johnson said. "I owe this to Him." His website unabashedly testifies of his faith.
Now Johnson has won a dozen major tournaments and earned over $37 million. With his win in Scotland at golf's ground zero, where they've played since the 1400s, Johnson's star keeps rising.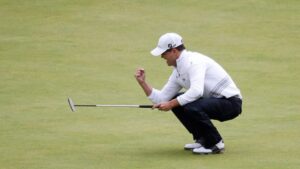 And he continues to give the glory to God.
His ball marker for the putting green has printed on it Proverbs 3:5,6: "Trust in the Lord with all your heart, and lean not on your own understanding. In all your ways acknowledge Him, and He will make your paths straight."
After one of his wins, Johnson said: "I don't know if I was communicating with God at the time I was playing, but I felt like I was closer with Him at the time than with anybody else."
If you want to know more about a personal relationship with God, go here