By Michael Ashcraft and Mark Ellis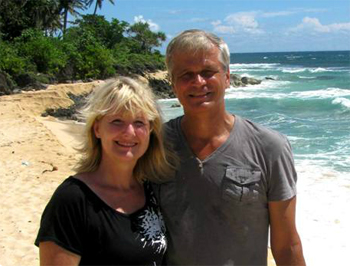 They were awakened abruptly by the sound of two explosions as a masked gunman burst into Daniel and Colleen Jaquith's missionary complex in the Philippines and demanded money.
The gunman shot a Filipino pastor in the foot, pointed a handgun at his head, and demanded to be taken to the Americans, according to a report by Christian News Northwest.
The Jaquiths shared about the March 4, 2014 incident on a home visit to Newberg, Oregon recently.
Awakened by the explosions, the Jaquiths were then startled to see the gunman appear in their doorway with the pastor as hostage. "Give me the money, or I will kill you!" he shouted.
In response, the Jaquiths dropped to their knees and began to pray. "Colleen and I were desperate and defenseless there on our bed," Dan said. "In our desperation we both began to unitedly cry out to the Lord with very loud and intense prayers. I prayerfully went to my knees."
"Stop praying! Stop praying!" the intruder yelled.
The two missionaries paid no attention. "We continued to pray," Dan said. "Who was this man to try stop us from praying to God?"
The Filipino pastor suggested the gunman search the Jaquiths' suitcases. When the assailant began to pilfer their luggage, the Filipino pastor smashed him over the head with a plastic chair.
Immediately, the two men grappled with each other and fought to control the gun, which the assailant fired wildly several more times.
A stray bullet ripped through Dan's left arm, and he cried out in pain. "I'm hit! I got shot!"
Terrified, Colleen wrapped a pillowcase tightly around her husband's bleeding arm, and the couple lay low on the bed to avoid getting hit by another bullet. Meanwhile, the Filipino pastor eventually overpowered the attacker and wrested the firearm from him.
The assailant fled into the dark night.
Not until the next day could they contact police and begin the 16-hour journey by boat to a mainland hospital in Luzon. Miraculously, neither Dan nor the Filipino pastor suffered any fractures or severe internal damage.
Police arrested the gunman, who had a long history of drug use and run-ins with the law, according to Christian News Northwest.
The assailant was targeting not only Dan and Colleen but also other Americans who were visiting the missionary complex. Those Americans were locked in a secure building, while Dan and his wife were in an unfinished and unlocked building of the Bridge to the Islands and Nations Ministries on the Patnanongan Island, a missionary base they are developing.
As terrifying as their brush with death was, Dan is filled with gratitude for God's protection and His answer to their prayers. "I took the gunshot, but my wife probably received the worst because she had the emotional shock of seeing and hearing her husband get shot and be a bloody mess right there in front of her eyes.
The Jaquiths, who have served in the Philippines for 12 years, don't share their story for pity, Dan said. "I share this testimony with deep gratefulness to be alive, and for the ability to give the Lord praise for His mighty deliverance during that desperate time of trouble."