By Mark Ellis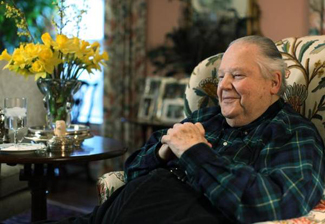 He was the son of a legendary Texas oilman who exceeded his father through colossal investments in oil, silver, real estate, sugar beets, and his passion, thoroughbred horses. Nelson Bunker Hunt took great risks in business and weathered spectacular financial setbacks, but one investment's luster never dimmed – spreading the Gospel of Jesus Christ.
Hunt graduated to his eternal reward October 21st due to complications of congestive heart failure. He was 88.
"He came out of a godly home," says Dr. Pete Deison, associate pastor at Park Cities Presbyterian Church in Dallas. Rev. Deison knew Hunt and his family for 40 years and delivered the eulogy at his memorial service. "His mother taught him the Bible and he was memorizing verses as a child."
Hunt had remarkable discernment about spiritual things, even as a child. After the family moved from Tyler to Dallas when Hunt was 11, they began attending a different church. "They don't teach the Bible like they did at our old church," he informed his mother, matter-of-factly.
Similar to many Christians who discover their faith as children, he could not pinpoint his conversion. "He didn't remember a specific time or a great moment coming to Christ. He grew up with it and grew into it," Pastor Deison notes.
He attended the University of Texas, but when a geology lecturer declared that the federal government should own all natural resources, he left the school and never returned.
Hunt served in the Navy during World War II, then joined his father's oil company. At only 22 he discovered a $7 million oil field in Scurry County, Texas. After a few years, he left his father's company and launched his own oil venture.
In 1961, Hunt and British Petroleum found a massive oil field in Libya – one of the biggest in Africa — holding about 5.5 billion barrels of crude oil. That field was eventually yielding $30 million a year to Hunt, according to the Dallas Morning News.
His passion for horses began with the purchase of eight yearling thoroughbreds in 1955. Over the next 30 years, he collected 300 broodmares and breeding shares in more than a dozen top stallions. Hunt owned the first filly in history to win $1.5 million. Hunt personally owned 8,000 acres of Kentucky horse farms and 2,500 square miles of Australian grazing land, according to the Morning News.
Hunt founded the Breeder's Cup, because he wanted to provide a way for older horses to keep running and earn income.
His collection of Greek and Roman coins was valued at $18.2 million. He invested in cable television in the 1960s, when few saw its potential. At his financial peak in the '70s, he and his siblings controlled a family fortune worth six to $16 billion by some estimates.
Despite the enormous wealth God entrusted to him, he lived modestly. "He never flew first class, always coach," recalls Rev. Deison. "He drove an older car and wore average clothes, suits, nothing fancy."
"If you were in his office at 5:00 at night, it didn't matter who you were, he would say, 'Why don't you come home to dinner with me,'" Rev. Deison recounts. "He brought home many missionaries and people in Christian ministry. His wife Caroline learned to always be ready with extra food."
One of Hunt's first major financial setbacks came when Colonel Muammar Gaddafi gained control over Libya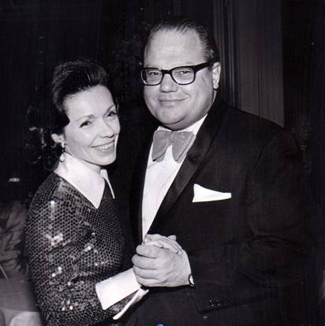 and went on to nationalize the oil fields in 1973. Hunt's $30 million income stream vanished in the shifting sands of Middle East politics.
But he affirmed many years later that his greatest investment was in Kingdom work. Due to his close friendship with Bill Bright, the founder of Campus Crusade for Christ, Hunt was one of the first to learn about Bright's plans for the JESUS Film. "When Bill mentioned the idea to him, he gave all the beginning money – millions of dollars — to get it developed. He saw the long-range possibilities," Rev. Deison notes.
"The best investment I ever made was the JESUS Film," Hunt told Deison. "It cost me 11 cents a soul."
More than 200 million people throughout the world have received Jesus Christ as their Lord and Savior as a result of watching the film.
The silver debacle
When inflation began to take off in the early '70s, Bunker and his younger brother, Herbert, began investing in silver as an inflation hedge at $1.50 an ounce. During this time, private citizens couldn't legally hold gold. Over the next 10 years, the brothers accumulated some $4.5 billion in the precious metal.
"They believed the world was going to hell in a hand basket and didn't trust the Federal Reserve," recalls Patrick Henry Booth, a long-time family friend.
News reports alleged the Hunts were trying to corner the market in silver. But some observers disagree with that characterization.
"Their behavior was not typical of that of cornerers," wrote Alan Trustman in the September 1980 issue of Atlantic Magazine. "In the first place, they told everybody who would listen what they were doing; they were big, big buyers and intended to buy more and more. A cornerer operates in secret until he owns substantially the entire available supply, and then he squeezes the surprised innocents who have sold short and must buy in higher," Trustman noted.
"In the second place, they never tried to squeeze anyone. They took their deliveries slowly, over many months, even accepted in settlement of some of their contracts non-certified silver not on deposit with the exchanges, and gracefully rolled the bulk of their futures forward into later and later months so as not to squeeze the sellers."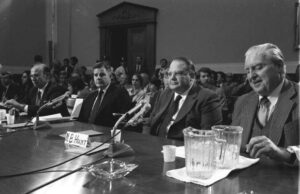 In January 1980, they were called to testify before a wary Congress as their silver holdings grew and the price soared. On Jan. 17, 1980, silver traded for $50 an ounce. The brothers' $1 billion investment was valued at an eye-popping $4.5 billion.
Disturbed by the Hunt brothers' silver buying, regulators suddenly changed the rules that govern trading on commodity exchanges. The number of silver contracts each person could own was restricted. They raised margin requirements for long-term investors, but not for short-term buyers.
They barred opening transactions; only closing transactions were allowed. This forced the Hunts into margin calls, while the insiders who held short positions (betting the price would go down) could wait to profit from the Hunts' forced sales.
Then the Federal Reserve raised interest rates, which made it difficult for the Hunt brothers to meet the interest payments on their margin debt. The Federal Reserve also issued a mandate to banks: stop issuing loans for "speculative activity." Some believe the dictate was aimed squarely at the Hunts.
W. Herbert Hunt later remarked: "To put it in terms of a football analogy: the game starts, the rules are changed, and finally when you get to the last quarter the referee says only the other side can have the ball."
On March 25, 1980, the regulatory changes resulted in a $135 million margin call on the brothers' positions and the Hunts struggled to cover an estimated $1.7 billion in losses.
On March 27, "Silver Thursday," the metal's price dropped 50 percent to close at $10.80 an ounce. Panic spread throughout international financial markets. The tragic irony is the Hunts were blamed for the entire fiasco by those who profited from their losses.
Hunt finally declared bankruptcy in 1988, listing $500 million in debts and $100 million in assets. It was the largest personal bankruptcy in American history. As part of the liquidation proceedings, he was forced to sell 580 of his beloved horses for $46.9 million.
"He didn't lose his wealth. It was stolen," charges Patrick Henry Booth, his long-time friend. "The media makes it look like he gambled and lost it, but that's not true."
Rev. Deison agrees with Booth's assessment. "There was not a dishonest bone in his body," he says. "They were men of integrity. They never did anything illegal. It didn't change Bunker. The way the world is, when a man has a lot of money people like to see his downfall."
Back from the brink
Hunt eventually recovered from the bankruptcy. His share of a family trust grew to an estimated $200 million. He began to invest in horses again, buying 51 juveniles and yearlings, according to The Dallas Morning News.
He also continued to invest in God's Kingdom. "He supported many many Christian organizations that no one knows anything about," Rev. Deison says.
Hunt was one of the founding members of Park Cities Presbyterian Church and acted as an elder there. He also served as president of the Texas Bible Society. Hunt was one of the first to recognize the value of short-term mission trips, funding programs designed for young people to catch the vision for mission service.
"He was a quiet man, but a mover and shaker behind the scenes," Rev. Deison says. "Money was never an end in itself. He had a vision for things and saw ideas long before other people did. He knew he was a blessed man and the money was part of his purpose for being on this earth."
"He was the right man God raised up for his times, a visionary man, willing to take risks."