By Michael Ashcraft and Mark Ellis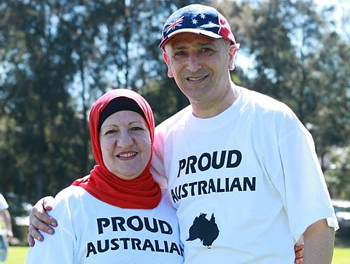 A prominent Muslim, Jamal Rifi, found his Facebook page overloaded with death threats after he organized a pro-Australia barbecue in Sydney. The barbecue followed a police crackdown on alleged terrorist plots in Australia.
One message linked to the Islamic State contained a picture of beheaded U.S. journalist James Foley with the ominous warning: "This is your destiny," Rifi told the Wall Street Journal.
Australia is only the latest nation embroiled in high profile counter-terrorism. Of its 476,000 Muslims – many of whom found refuge "down under" from the 1970s and '80s violence in Lebanon, most have integrated into society. Rifi became a general-practice doctor and was elected to the state multiculturalism commission.
But a younger generation of Muslims doesn't necessarily share his commitment to pacifism. With their unemployment double the national average, Muslim youth are turning to extremism in disturbing numbers. According to official estimates, more than 100 young people have traveled to the Middle East and contacted jihadists.
In September, Australian police raided homes to foil what they called a plot to behead people in the nation. Then an Afghan 18-year-old stabbed two police officers and was shot dead in Melbourne.
The stepped-up policing has apparently unleashed a counter-reaction of online fury against the moderate Muslims, who are accused of denying their faith and collaborating with the infidels (the Australian government), according to The Journal.
Another hate victim is Keysar Trad, founder of the Islamic Friendship Association, which promotes interfaith tolerance. He fell prey after he tweeted a criticism of the Islamic State, which has fomented the slaughter of Christians in territory between Iraq and Syria.
"Why would you put yourself and family at risk? Wrong move," read one message from an Australian-born jihadist, according to The Journal report.
Like many nations, Australia finds itself in the predicament of eradicating jihadists without roiling other Muslims. A measure in legislature to ban head-covering burqas for women in Parliament was ultimately voted down Oct. 2 after security officials warned it could be counterproductive serving only incite new recruits for jihadism.
Apparently not all of the threats come from overseas. Rifi – who helped found Christian Muslim Friendship Society and Muslim Doctors Against Violence – said some of the online intimidation originated from an Australian Islamic political movement named Hizb ut-Tahrir.
While Hizb ut-Tahrir spokesman Uthman Badar denied his group threatens, he said he understands the frustations of Muslim youth, who feel alienated in a society where half the population harbors anti-muslim sentiment.
The older generation believes it's better to "keep your head down, build your mosques, do the basics — but lie low," ut-Tahrir was quoted in the Journal. "The next generation is not like that."
The tensions in Australia are part of a international trend of intimidating moderate Muslims. A moderate imam in Canada received death threats over Facebook from an Ottawa-raised jihadist with the Islamic State in August. And Morrocan preachers who advocated avoiding extremism were subjected to condemnation in an Islamic State video, according to The Journal.
Two Australian jihadists now in the Middle East shocked Australians when they posted on Twitter images of themselves holding aloft severed heads.
One of them is believed to be Mohammed Elomar, a 30-year-old Sydney native, whom Rifi and Trad have identified as an originator of some of the online intimidation.
Ironically, Elomar's father is a businessman who rubs elbows with Rifi and even attended the peace-promoting barbecue.
"I'm very shamed," the Elomar dad said, according to the Journal. "I'm not proud of what (my son) is doing."