By Mark Ellis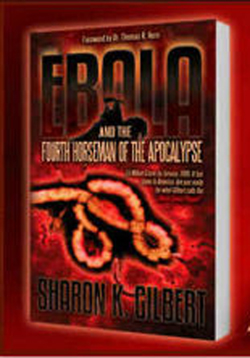 On October 1st, 34 NGOs warned the London Ebola Conference that the Ebola virus is spreading exponentially and that nations have only one month left to contain the outbreak. On October 13th, the World Health Organization revised its statistics, bumping up the death rate in West Africa from 50% to 70%.
Is there a biblical prophetic element to the worst Ebola epidemic in history?
"I was shocked Ebola was in West Africa at all," says Sharon Gilbert, author of "Ebola and the Fourth Horseman of the Apocalypse" (Defender Publishing). Gilbert is a trained biologist who has also studied Bible prophecy for 50 years. "Ebola has usually broken out in the eastern African nations."
She notes the genome of the eastern African version of the virus is 20% different from the present version causing a worldwide health alert, so its ability to mutate into something even more dangerous or transmissible is a distinct possibility.
Gilbert points to Revelation 6:8 to underscore her concerns about what may be coming: "So I looked, and behold, a pale horse. And the name of him who sat on it was Death, and Hades followed with him. And power was given to them over a fourth of the earth, to kill with sword, with hunger, with death, and by the beasts of the earth."
The word for "beasts" in this passage comes from the Greek word therion, which, according to Gilbert, literally means "tiny beasts."
"I really believe these are microbes or pathogens of some kind," she asserts. The person riding the pale horse is given the power to kill a fourth of humanity, and there are very few pathogens capable of that.
Gilbert compares the lethality of Ebola to HIV/AIDS. "HIV is a sleeper virus that can take a long time to kill you, if it does kill you. Ebola can kill you within a week. She notes the CDC's researchers estimate that West Africa could have as many as 1.5 million active cases by end of January, 2015.
"Jesus tells his disciples in Matthew 24 there will be wars and rumors of wars, famines, earthquakes, and it will get worse and worse, like birth pains coming on as you reach the end of the age," she notes.
"I don't think the Fourth Horseman is riding yet," she says. "But I believe we are seeing the 'Braxton Hicks contractions' to the birth pains."
A pregnant woman will often feel relatively sharp contractions six weeks before her actual delivery, known as Braxton Hicks. It's a false alarm, but a biological cue a baby is on the way.
"All of what we are seeing is a wake-up call. This could develop into a pandemic where one-fourth of the world could die. We are running out of time."
Gilbert believes the virus may be transmissible through the air, but in a less-efficient manner. "There was an event in a research lab in Reston, Virginia in the '90s where Ebola transmitted from one room to another room via the air ducts, infecting monkeys in the other room."
A few scientists in the lab became mildly ill with flu-like symptoms. Their blood was tested and found to contain Ebola antibodies. "The thinking is that Ebola genes are not well adapted to infecting the human respiratory tract," she notes. "There are certain tissues Ebola is better at infecting. It has a preference for tissue type."
"I will be happy if the virus dies out and my book collects dust on a shelf," she says. "No matter what, we have to trust in the Lord. He is our Rock and He will protect us."
"This is a reminder to the church we have to tell the world about Jesus," Gilbert says.