By Mark Ellis —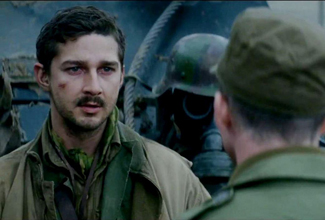 Actor and director Shia LaBeouf's turbulent background lent a raw edge to his acting roles in Disturbia, Transformers, Lawless, and The Company You Keep. His edgy behavior off the set has led to growing entanglements with the law and an inner sense of hopelessness he couldn't shake.
LaBeouf is currently co-starring with Brad Pitt and Logan Lerman in David Ayer's World War II film, Fury, released earlier this month to positive reviews.
In a candid, profanity-laced conversation with Interview Magazine, LaBeouf revealed that his own existential crisis led to his conversion to Christianity during the making of the film.
"I found God doing Fury," LaBeouf told Interview Magazine. "I became a Christian man, and not in a f—ing bulls—t way — in a very real way," he said.
"I could have just said the prayers that were on the page. But it was a real thing that really saved me. And you can't identify unless you're really going through it."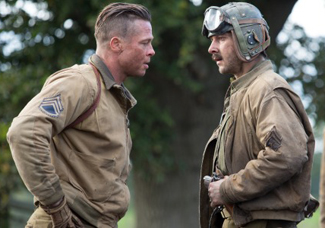 Born in Los Angeles, LeBeouf was raised by an artistic, ballerina mother who gravitated to visual art, clothing, and jewelry design. His father is a Vietnam War veteran who had issues with drug addiction following his service in the military. LeBeouf has described his parents as "hippies."
LaBeouf's mother is Jewish and his father is nominally Christian. The actor says he grew up around "both sides," had a Bar Mitzvah ceremony and was also baptized in the Angelus church. His first name is derived from a Hebrew word that means "gift of God."
During his childhood, LeBeouf went to Alcoholics Anonymous meetings with his dad. He says he also endured verbal and mental abuse by his father, who once pointed a gun at Shia during a PTSD-inspired flashback.
"My dad is the key to most of my base emotions," he told Interview Magazine. "My greatest and my worst memories are with my father, all my major trauma and major celebration came from him. It's a negative gift. And I'm not ready to let go of it, because anger has a lot of power."
Partly as a result of his father's influence, he was attracted to actors like Sean Penn, with a dark side to their personalities. "I was attracted to Steven Seagal, the wounded heroes. My dad used to take me to drive-in theaters to watch Seagal movies. I liked Mickey Rourke films. The guys who I looked up to were guys that my dad looked up to. I looked up to my dad.
"He doesn't have a Tom Cruise or a Tom Hanks kind of sensibility. He's in the Mongols biker gang. He's cut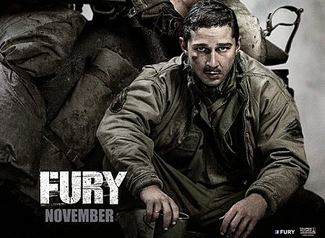 from a different kind of fabric, a different sensibility, a Vietnam veteran who came home disgruntled," he told Interview Magazine.
His attraction to rebels may have contributed to several brushes with legal authorities since 2005. In that year he rammed a neighbor's car in his apartment complex, because the man refused to move his car promptly as he talked on a cellphone. LeBeouf later showed up at the man's apartment with a kitchen knife and the two fought. LeBeouf was led away by police in handcuffs.
LeBeouf has also been involved in late-night car crashes and altercations in bars, restaurants, and theatrical performances. In 2013 he was also accused of plagiarism related to a short film he released on the Internet.
The accumulation of these actions led to an inner crisis before the making of his latest film. "I was a very cynical dude; I was very postmodern. The way I dealt with the crises in my life, I was very cynical," he recounted to Interview Magazine.
"But that existential crisis forced me, like all tumultuousness does, to find new ideas."
During the making of Fury, God touched him in a powerful way, which resulted in "a full-blown exchange of heart, a surrender of control," to his Creator.
"While there's beauty to that, acting is all about control. So that was a wild thing to navigate. I had good people around me who helped me," he noted.
LaBeouf sought counsel to navigate his new faith from David Ayers, the writer and director of "Fury," who is a Christian. He also talked to Brad Pitt, who grew up in a Christian home, but walked away from Christianity toward an unspecified spirituality.
"But these two diametrically opposed positions both lead to the same spot, and I really looked up to both men," he told Interview Magazine. "It was nice to have conversations with Brad about the family he came from and what he was using to get through the day."
In finding God, LeBeouf is "gaining control over himself" once more, and feels renewed hope in his life and work.
If you want to know more about a personal relationship with God, go here