By Waleed Abu al-Khair in Cairo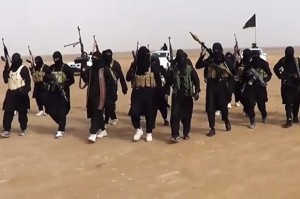 In a documentary broadcast August 27th on the Kurdish station STERK TV, captured "Islamic State of Iraq and the Levant" (ISIL) elements say the group has been raping men in a ceremony it describes as "marriage" and recording this to use as blackmail and force them to join.
ISIL uses rape, including gang rape, as a tactic of fear to intimidate populations it seeks to control, according to an August 28th report by the Firat News Agency, a Kurdish agency based in Amsterdam.
The STERK TV documentary records the confessions of more than 20 ISIL elements who were captured by Kurdish fighters in Syria and includes horrific footage of ISIL's crimes, Firat said.
"The ISIL elements admitted that what they called 'marriage' was in fact rape. They said that every new member of the group was raped. The footage of the rape would be used as blackmail in the event of the new recruit refusing to participate in actions," it said.
In the documentary, ISIL fighter Abdul Kareem Ibrahim Bazo said he had been blindfolded and raped.
"About a fortnight later they came and said I had to join. I did not want to. But they had the footage. They threatened to show it to my family," Firat reported him as saying.
Ferhan Salim Unuf Safen, 20, described how he had been abducted and raped by "six or seven" ISIL elements and was ashamed to explain the things they had done to him. "I fainted. When I came round they told me: 'you are now with ISIL'," he said.
Ahmed Hussain also described on camera how he had been abducted, drugged, tortured and gang raped by ISIL elements. "They 'married' me 15 times. Then they washed my head and put cologne on me. They told me no one could join ISIL without being married," Hussain said.
Eyewitness testimonies indicate that such ISIL actions are not isolated incidents, said Egyptian human rights attorney Wahib Majdi.
What is being done to victims is a means "to assassinate them while they are still alive", he said, stressing the need for the psychological treatment of victims.
Such practices have nothing to do with religion and morality, particularly since this group follows an approach that includes beheadings and the desecration of corpses, Al-Azhar University professor Mahmoud Abdel Saadi told Mawtani.
"There is not a single religion that approves of such practices and therefore, it becomes a religious duty to punish such heinous acts within legal provisions and sharia law," he said.
"Time has proven the true nature of these takfiri groups, which have distorted Islam according to their whims and worldly and political ambitions," he said.
"It has become urgent and necessary to eliminate them militarily and ideologically," he added.
Cairo University graduate student Rasem al-Hilali, an Iraqi national, said Iraqis "used to dream of getting rid of the injustice, tyranny, oppression and crime, under which they suffered for decades. Now they are suffering even more under the rule of ISIL," he told Mawtani.
ISIL does not represent the Sunnis and has nothing whatsoever to do with them or religion, he said.
Please pray for an end to the oppression, murdering and abuse by ISIL terrorists in Jesus' name as well as salvations among the people in the Middle East.–Assyrian International News Agency