By Mark Kelly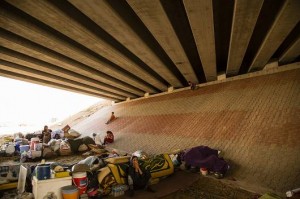 More than they want food, forcibly displaced families in northern Iraq want to talk about the pain they are enduring at the hands of Islamic State of Iraq and Syria (ISIS) extremists.
"Where we are working, I can say we are the first outside help to show up in many of these places," Abraham Shepherd, who leads Baptist Global Response work in the Middle East, said. "Other outsiders passed by, took pictures and were gone, but we determined to be different. We spent time listening to their story. They need to tell their pain — more than the little supplies that we can hand them. They forget about their physical needs and want to talk, as they notice a difference in us –- that we care."
The people in need are Iraqi Christians, Kurdish Yazidis, and other minorities, Shepherd said. They have taken refuge in tents, unfinished buildings, schools, highway underpasses and under tarps. They are enduring scorching summer heat and dread the harsh winter weather that is coming.
Many of them have heartbreaking stories to tell:
— In one village of 700 people, only three made it out alive.
— Children and old women found abandoned in the mountains.
— A man carried his crippled brother for 16 hours, with blood oozing from his foot.
— A man in his 60s, wearing pajamas, paces back and forth, asking constantly: "Where should I go now? What should I do? Can this happen? I worked all my life, with only a year left to retirement, and now without job income or pension. What can I do at my age?"
— A woman in her late 40s named "Faithful" sent her husband and boys away when radical Islamists threatened them. She stayed behind in their village with her two daughters. While she was away from the house one day, masked men broke in and set her oldest daughter, Rita, who was 23, on fire with a bottle of gasoline. Rita survived one month in the hospital and Faithful took care of her around the clock. One night, she held Rita and sang lullabies to her. She talked to her about one day being healed, marrying and having children. Rita asked for water, then said, "Mom, please forgive them," and passed away in her arms. She died on Good Friday — the "Friday of suffering" in the Middle East.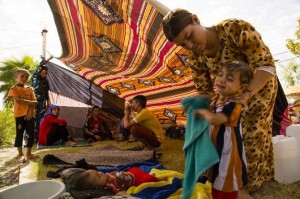 "Even though Faithful is forcibly displaced, she is helping other forcibly displaced people, saying: 'God gave and God took. May he be glorified,'" Shepherd said. "As we left, she asked us to make her story known, so this will not happen to others — and that's what I'm doing."
In addition to the threats and violence, the forcibly displaced families clearly have had no food for some time, Shepherd said.
"It shows on their tired, withering body with no energy left, with sagging face, dark rings around their eyes, and shrinking arm circumference noticeable among the children, a sign of being undernourished," he said. "Yet with all of their needs for the basic necessities of life, they said to us as we are leaving, 'If you find others in worse situations than us, please give to them, not us.'"
The greatest needs among the forcibly displaced are for blankets, food, water, propane burners, pillows, mattress, wheelchairs, carpets to isolate the cold and provide some comfort, baby formula and health care, Shepherd said. Baptist Global Response is drawing on resources provided by Global Hunger Relief (GHR) to provide food, water, baby formula, propane burners and temporary shelter. They also have been helping families obtain cooling units to provide relief from scorching summer heat.
GHR is the Southern Baptist channel for giving to hunger needs across North America and around the world. Donations to GHR will be emphasized when many Southern Baptist churches observe World Hunger Sunday, Oct. 12.
"At night the team gathers and prays over all these needs and the people we met, and we make strategic decisions as to where and what to provide, and to whom, as we share the love of God. It's a privilege to be here in tough places, touching people's lives in a way that will have lasting impact," Shepherd said. "We are able to do this because of God's love and your prayers — and the generous giving of Southern Baptists. But we can do more!"
"Our days are long; but our strength is renewed every day with total peace, in a place of sorrow and pain for many forcibly displaced people."
Please pray for the displaced people in Syria and Iraq; for salvation for the Muslims and Yazidis; as well as a solution for this crisis and for the missionaries there.
For a video by Baptist Press about the crisis and the refugees click here  –Baptist Press