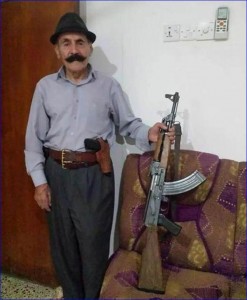 By Assyrian International News Agency
85-year old Moshi Gewargis (Moses George), an Assyrian resident of Dohuk, has armed himself and volunteered to defend his town from the Islamic State. Three days ago he told his son he wanted to go to Mosul and fight to protect the Assyrians. In 2003, after the fall of regime, he joined in the effort to liberate Tel Kepe and was armed and drove in to help the local Assyrians. Mr. Gewargis has 10 children and 40 grandchildren.
"I will proudly remain here and not leave," he told one of his sons who lives in Chicago.
The question of arming the Assyrian Christians is now at the forefront, as they are not being protected by Iraqi or Kurdish security forces. On August 7, as ISIS advanced into the Nineveh Plain the Kurdish and Iraqi forces withdrew, leaving the area unprotected, which caused the flight of 200,000 Assyrians to the north and to the East.
Chaldean Patriarch Louis Raphael Sako issued a statement on August 10 expressing disappointment at President Obama for appearing to commit only to the protection of Arbel, saying: "The position of the American president Obama only to give military assistance to protect Erbil is disappointing. The talks about dividing Iraq are threatening. The Americans are not up to a rapid solution to give hope specifically as they are not going to attack the ISIS in Mosul and in the Nineveh Plain."
An Assyrian member of Iraq's Parliament has called for the government to fund Assyrian security forces for the Christian areas in north Iraq.
Assyrian leaders throughout the world are now calling for arming the Assyrians, as they are the only ones that can protect themselves against ISIS.
Please pray for the Assyrians in Iraq.–Assyrian International News Agency