By BosNewsLife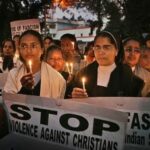 Police in eastern India were investigating why a Tibetan couple was hacked to death after converting to Christianity.
The investigation came while a funeral was underway for Dominic Bhutia, 45, and his 35-year-old wife Christina who were hacked to death in Git Dabling village in India's West Bengal state.
One of the couple's two daughters, Rinjee, 12, was seriously wounded, Christians reported. Masked assailants also gouged out the eyes of the victims in front of Rinjee, Indian media reported.
A younger daughter, aged seven, was spared as Rinjee hid her under a bed, the Christians said. The attack against the Catholics, 28 kilometers (17 miles) outside the town of Kalimpong in Darjeeling Hills, underscored concerns about a lack of security for minority Christians in India.
"It is just inhumane. The bodies are in pieces," Bishop Stefen Lepcha of Darjeeling, who visited the scene was quoted as saying.
Villagers who informed police, told local media they saw the victims lying in a pool of blood in their home.
In published remarks, Darjeeling's Superintendent of Police Akhilesh Chaturvedi said the Tibetan couple had converted to Christianity, adding that he "hopes the case will be solved soon".
It was not fully clear whether religious motives were behind the attack. Locals said "drug addicts who are all over the area" could be behind the crime. Yet several groups have condemned the attack, amid concerns the violence could lead to religious tensions.
The Himalayan Buddhist Association was among organizations reportedly detesting the incident, demanding "exemplary punishment of the culprits".
Christians and churches have been attacked in several parts of India, often by Hindu and radical religious groups opposing the spread of Christianity. Please pray for the security of Christians in India as well as salvations.