By Bobby Bowden —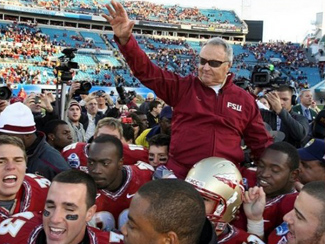 My parents were Christians. They took me to church before I could walk. My parents had us there every Sunday morning, every Sunday night, every Wednesday prayer meeting. I was raised that way. It was ingrained in me from the day I can remember anything.
I was baptized at 10 or 11 and joined the church and thought that meant I was saved. I thought if I were good I would be saved and if I were bad I would go to hell.
At 23, after I finished college and graduate school I finally realized I was saved through grace. I was trying to earn my way (to heaven) and I realized I couldn't do it. I finally realized Christ had died and given His blood so people like me, who are not good enough could believe Him and accept Him and ask Him to come into your heart.
Many people don't realize it's not what you do, you can't earn it. It's having Christ come in your life and live in your life and accept Him as your personal Savior, which I did.
My wife and I both rededicated our lives together in 1953.
Let me tell you what Christ means to me. Whether you're a Christian or not, we all feel the need of a religious faith. Whether you have that faith, I don't know. But there's a need in you. Now I was born that way. I was born with a hunger, a void a vacuum in my life, that I couldn't fill.
Man, we've won some big games and that didn't fill it. But I did find out how to fill it, because Christ filled it.
I've tried nearly everything, and it's the only thing I can find that will give me the peace that I'm looking for in this life.
I am a born-again Christian. God – one day – came down on this earth in Christ and I met Him and I accepted Him as my personal Savior.
Now you say, "Hold it, Coach. What do you mean by personal Savior?"
Well, Let me tell you what I mean by personal Savior. I talk to Jesus daily. I pray to God daily. That's talking, isn't it? We've got a personal relationship.
He talks to me daily. Now you say, "Boy, you're crazy now."
No, he talks to me daily. But if you sit around waiting for a voice to speak out to you, if you're waiting for lightning to strike and a voice to say, "Do this," or if you're looking for a burning bush with a voice in it you might wait all your life.
God speaks to me through His Word, through the Bible. And I read it every day. And that don't make me good, but I begin to hear what He's saying.
Let me give you some Good News. Did you know that no man is condemned by God to hell? Isn't that good? There ain't a soul that God's going to condemn to hell.
But you know some sad news? There's going to be some people who reject Him, and they can condemn themselves.
I know that when I die I will live eternally with my God.
If you want to know more about a personal relationship with God, go here
The previous testimony was taken from multiple public appearances given by Bowden in the last 40 years. He holds the NCAA record for most career wins and bowl wins by a Division I coach. He coached the Florida State Seminoles team from 1976 to 2009. During his tenure at Florida State, Bowden led the team to an AP and Coaches Poll National Title in 1993 and a BCS National Championship in 1999, along with 12 Atlantic Coast Conference championships. Bowden announced his retirement from FSU only a few weeks after his 80th birthday.