By Melissa Nordell and Mark Ellis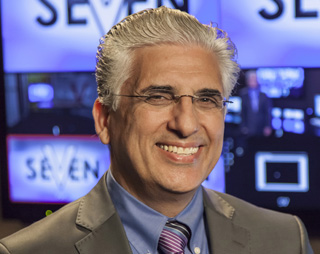 His brother was executed by firing squad in Iran when he was only 16 for a minor political offense. But instead of taking revenge, Dr. Hormoz Shariat decided to share the Gospel with Muslims and love them into the Kingdom of God.
Dr. Shariat founded Iran Alive Ministries, which started as a church for Muslim background believers near San Jose, California. But now his television network has expanded to reach Muslims not only in the U.S. and Iran, but also throughout the Middle East, North Africa and Europe.
Inspired by a passage in the Book of Jeremiah, "I will set my throne in Elam (Iran) declares the Lord," they bring salvation to the lost, and promote practical training and Bible studies to Farsi-speaking people around the world.
Farsi is spoken mainly in Iran and Afghanistan, but also in other countries under Persian influence, and by those who migrated to other parts of the world.
The network estimates that 3.6 million people are watching their programs.  Since 2010, they have received 19,000 calls directly from Iran with questions about Jesus Christ, salvation, and requesting prayer.
Iran has a population of 72 million, with 66% under age 30 and 25% under 15; all 98% Muslim. Iran is listed as the country with the worst per capita drug addiction in the entire world due to the hopelessness, despair and political oppression. The network's mission is to "transform Iran into a Christian nation in this generation."
Dr. Shariat has been called "The Billy Graham of Iran." He was born into a Muslim family in Iran, but came to Jesus Christ while a grad student attending USC in Southern California, where he received a PhD in computer engineering. He later earned a Bachelor's degree in Bible and Theology. In 1987, he planted a church in San Jose that grew with hundreds of Muslim converts.
This church has become the largest congregation of Muslim-background believers in the United States.
Iran Alive Ministries had its first satellite broadcast directly to Iran immediately after Sept. 11, 2001. Currently, there have been 22,000 documented decisions for Jesus Christ as Lord and Savior as a result of these broadcasts.
Iran has more than 23 million Internet users and 50 to 70% have access to satellite TV. Iran Alive Ministries can reach many Muslims who secretly watch the programs in their homes, allowing access to the hearts of many unsaved and hurting souls lacking hope, going where missionaries and evangelism are not allowed.
The ministry's goal is to reach millions of Farsi-speaking people with the gospel of Jesus Christ all over the world. The ministry not only promotes the gospel of Jesus Christ but also a positive attitude towards Christianity in the Muslim world.
The ministry asks for continued prayers for: its television ministry, freedom of religion in the Muslim world, salvation for Farsi-speaking people, and for the persecuted church in Iran. Many testimonies of salvations of Muslims can be witnessed on their website.
http://www.iranaliveministries.org/