By Mark Ellis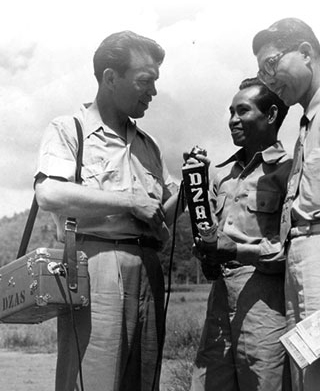 The legendary co-founder of Far East Broadcasting Company, who brought the Gospel via radio to vast numbers when China was closed to the world, has passed to his reward. He was one week away from his 99th birthday.
Dr. Bob Bowman entered into God's presence on the morning of March 11th, following a brief illness.
"I got interested in radio as a means of taking the gospel to the nations," Bob Bowman told this reporter in 2003.  Bowman and his team began their visionary quest to reach the world via radio just after World War II, but Bowman's heart for missions began even earlier.
As a student at Southern California Bible School in Pasadena, he often stared at a map of the world listing the names of graduates from the school who had become missionaries.  Beneath the map in bold letters was a quote from nineteenth century missionary William Carey: "Attempt Great Things For God; Expect Great Things From God."
"For three years I sat and watched that map," Bowman said.
One of the older teachers at the school, affectionately called Mother Farmer, seemed to notice the glint in his eyes, his desire to do something significant for God.  "Bob," she said, "always remember that what you are to Jesus Christ is far more important than anything you can ever do for him."
"That is one thing that has stayed in my mind," Bowman noted.  "I haven't always been everything God wanted me to be, but I've tried to make that my lodestar."  After his passing, many of Bowman's friends would argue his lodestar—Christ-like character—was the solid rock underlying the remarkable impact of FEBC.
Six months after Bowman entered Bible school something unusual happened that would alter the course of his life.  On a Saturday morning, when most students were off campus, two strangers approached Bowman and friend Ernie Payne as they talked on the porch of the administration building.  The two men said they were looking for a baritone and bass singer to complete a male quartet for a new radio broadcast.  "In the providence of God, Ernie Payne sang bass and I, baritone," Bowman recalled.
Next the men asked where they could find someone to play the pipe organ.  Just at that moment they saw fellow student Lorin Whitney walking up the road toward them, who happened to be an organist.  Bowman saw that God's hand put together the original quartet and organist for "The Haven of Rest" radio program.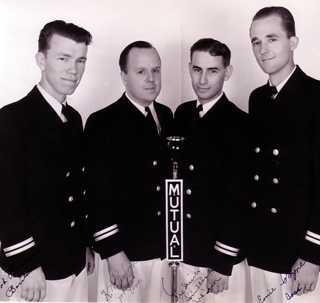 The radio experience provided exactly the training God could use in the future.
Another providential meeting at the school produced a fast friendship between Bowman and John Broger, a recent but enthusiastic convert with a background producing radio soap operas in New York.  "We started talking about doing something for the Lord with radio," Bowman recounted.  "He came to me one day with a format we would do like a soap opera.  He said, 'Let's dramatize the lives of great missionaries from the past.'"
The outbreak of World War II prevented them from acting on their original idea, but the passage of time began to enlarge their vision beyond their simple program idea.  "We kept in touch and the vision turned into not just a program, but building stations somewhere in Asia."
When Japan surrendered on August 15, 1945 and General Douglas MacArthur issued his famous call for a thousand missionaries to Japan, the Haven of Rest crew was on a public appearance trip through the Pacific Northwest, Bowman noted in his book, "God of Wonders" (Far East Broadcasting Company).
Bowman and his wife Eleanor received a call on the trip telling them John Broger's aircraft carrier was coming into San Francisco.  They tried to get a hotel in San Francisco but we were told every hotel room was reserved for naval officers.  Through unusual circumstances, a friend arranged for them to stay at the Mark Hopkins Hotel for only $10 per night.  Later they discovered their sprawling suite with two bedrooms, a concert Grand piano, and a big window overlooking San Francisco Bay was the presidential suite.
The Bowmans and Brogers sang hymns around the piano and prayed until 1:00 a.m.  "The decision was made in this room, which is another of the Lord's unique and unusual ways of working," Bowman recalled.  "John asked me if I was ready to leave Haven of Rest.  At 1:00 a.m. I told John I'm ready to go."
"I thought if God used radio to reach so many people in this country, what about the Orient?"
Leaving for Shanghai
Only a few months later, John Broger left Los Angeles Harbor for Shanghai aboard the Lane Victory. "John got into a great typhoon on the way there and had to stay below deck for days.  It was the roughest ocean he ever encountered.  It was like the devil trying to keep him from getting there."
Then Broger faced unexpected opposition from the Nationalist government in China led by Chang Kai-shek, who was preoccupied with mounting conflict from the communists.  Bowman and Broger's original dream was to establish a centrally located station in China with sufficient power to reach the entire country.  "The Chinese Nationalist government, however, would not permit radio stations to be in private hands since the communist threat was very real."
Undeterred, the focus now shifted to the Philippines, and the race was on to build a transmitter near Manila, as political instability rocked the Chinese mainland. "We got our first transmitter on in the Philippines in 1949, and two months later the communists took over China," Bowman said.  "It was that close on God's timetable."
Severe persecution against Chinese believers began immediately.
"The accuracy of His planning is awesome.  I believe that God, who knows the end from the beginning, interrupted our vision for stations in China for two obvious reasons: to keep them from being built where communists would either destroy or exploit them and also to provide solace and care for the persecuted believers in China from short-wave stations that could cover the whole country."
Unlimited power!
Bowman expressed gratitude toward the Philippine government for granting FEBC their licenses.  "That first application requested two 10,000 watt transmitters, but when the license was granted that restriction had been crossed out and two words handwritten over it: 'unlimited power!'  Just another example of one of God's miracles!"
"In the U.S. the power limit for commercial stations is 50,000 watts.  Today FEBC operates several 100,000-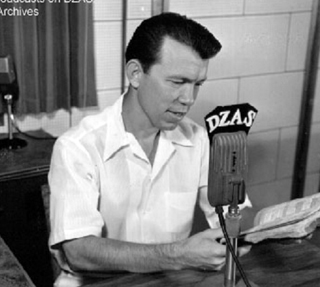 watt short-wave transmitters among the fifteen stations in the Philippine operations."  One of the FEBC stations broadcasting into South China has a 250,000-watt transmitter.
While the original broadcasts were all produced and aired from the Philippines via short-wave, today there are many other production centers where programs are recorded, then sent to transmitter sites in South Korea, the Philippines and Saipan Island, for broadcast into China.
The transmitter on Saipan Island is located where the last great battle for Saipan was fought between the U.S. and Japan.  "Several thousand lost their lives there," Bowman noted.  "Where once there was death and destruction, today the message of life goes out."
Phenomenal impact
For 30 years, FEBC was broadcasting Christian programming into China without knowing the full impact.  When the communists took power in 1949, some estimate there were 750,000 Protestant Christians and double that number of Catholics, out of a total population of 450 million.   "James Hudson Taylor III, the great grandson of Hudson Taylor told me after China opened up, it was his estimate the Christian church had grown to 50-80 million, and some were saying over 100 million," Bowman remarked.
"Taylor said 50 percent of those people had their first contact with the gospel by radio," he adds.
In the early 1990s, the British Broadcasting Company (BBC) did a media survey of the 10 biggest cities in China.  "They were surprised at the kind of audience FEBC has in China," Bowman said.  At that time, the BBC estimated approximately eight million listeners to FEBC in those cities, and a total of 20 million if the surrounding countryside is included.
"From all of our transmitters we were putting 40 hours of programming per day into mainland China," Bowman says, something the communists were unhappy about.  "Radio Beijing sent a delegation to the Philippines in the late '70s, and they asked to visit FEBC," he said.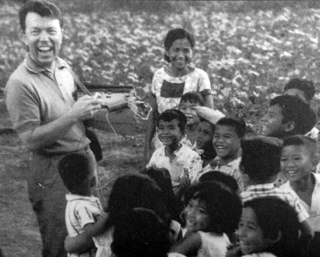 The communist visitors stayed for an hour or two, and had one important question.  "Why does the FEBC send so many hours daily into China?"
"Our director said, 'We love the Chinese people and we want them to know the love of God for them in sending Jesus Christ into the world to die for their sins."  Sadly, this message fell on deaf ears within the communist delegation, but not in the enormous broadcast audience.
"For many years we were called the enemy station in China," Bowman said.  "There were people who died for listening to us. During the cultural revolution we got very little mail.  Sometimes someone would hand carry a letter and it would get to our office in Hong Kong.  Freedom swimmers would swim across the bay and make contact with our office."
Hong Kong police estimated only one out of 40 swimmers survived the swim across the bay to freedom, according to Bowman.
House church member carried an offering
Bowman liked to tell the story of the woman who traveled from Manchuria, China to Seoul, Korea with an offering from her house church for FEBC.  "Over 20 years before they started a house church, and that church was pastored by FEBC," he says.  "They had no pastor, only a radio," he explained.  "That little house church was built by that radio."
"For 20 years they laid aside money for FEBC, and designated this lady to deliver it.  She managed to get on a boat and come through regular immigration," Bowman said.
A Korean immigration official noticed a huge bulge around the woman's waist.  "What is that," the official demanded.
"It's money," the woman said naively, and told the man the amount.
"Oh, ma'am, you can't bring that into Korea.  It's against the law," the official informed her.  "We'll have to take that away from you."
"Oh no, this is for the Far East Broadcasting Company," she said.  The puzzled officials appealed the matter to their superiors, who finally approved her entry with the money.
She found her way to the FEBC office, headed by Billy Kim, president of FEBC Korea at that time.  "She undid her money belt and counted out $22,000 in hundred dollar bills. That all came from a little house church in China."
FEBC has received thousands of letters from China.   "I have letters at home that would make you bust out crying," Bowman said.  "We have businessmen who take trips to China and see what FEBC has been doing and they say, 'Good night, this is the greatest untold story we've ever seen.'"
"I don't want it to sound like I'm bragging, because it's God who's done a wonderful thing out there."
Hmong people listen and receive
The broadcasts have had an enormous impact among the Hmong people scattered throughout Vietnam, Laos, Myanmar and China.  "Way back in the early '50s a missionary from Laos, Ed Gustafson, told me the story about how the Hmong came to Christ," Bowman says.  "High in the mountains of Laos there was a whole village listening to FEBC," he recounted.  "They were very interested in becoming Christians, but they didn't know what to do."  None of the villagers could write, so none could write in to the address given at the end of the broadcast.
"They could only hear and listen," Bowman noted.  "One day they decided to send several men on a three-day journey out of the mountains. The Hmong tribesman only had a post office box address to guide them, and at the end of their journey they reached a post office where they happened to meet a Christian postal worker. The man in the post office directed them to a missionary who went back and told them about Christ."
Hmong tribal groups are very hierarchical in contrast to western society.  "Our culture is individualistic, but with the Hmong, whatever the chief of the village says, they follow," Bowman noted.  "The chief decided they should all follow Christ," leading to a remarkable revival as Christianity spread among this unusually responsive people group over the next 50 years.
"As many as 300,000 came to faith in Christ," Bowman said.  Over the years, the Hmong resisted communism and government control, particularly in Laos and Vietnam.
Vietnam has also been virulent in their opposition.  "Somebody sent us an article from a Hanoi newspaper damning FEBC because all these Hmong people were turning to the God of the radio and leaving behind their spirit worship," Bowman said.
FEBC started broadcasting to the former Soviet Union in the late 1940s.  "At first, we had only 30 minutes a day being broadcast and that was being jammed," Bowman recalled.  "So we decided to take some of the great Russian music like Tchaikovsky and start playing it.  We discovered when we had this on the jammers didn't hit us. Then we'd suddenly pull the music down and put in the gospel."
Today, the site in Khabarovsk on the east coast of Russia that formerly blocked FEBC broadcasts is the home of FEBC Russia.  The station that formerly jammed FEBC now broadcasts the gospel to the Russian people.
"Only the Lord could do this," Bowman said.  "I think the Lord did a lot of things we can't account for. God is so faithful—nothing is impossible with God."