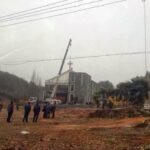 At least two Three-Self Patriotic Movement churches in China's coastal Zhejiang province had the crosses that top their church buildings forcibly removed on Thursday because the Christian symbol was deemed "too conspicuous."
The cross topping a government-sanctioned church in the Yuhang Disctict of Hangzhou, the provincial capital, was forcibly removed on Thursday morning by more than 200 people from the local government. "We didn't agree [with the removal]. Without consulting us in the Chinese Christian Congress and the Three-Self Patriotic Movement, they went directly to the church today, and in a little over 20 minutes, they demolished the cross. Now they have put a smaller cross on the wall," Sheng, the church's pastor, who only gave his surname, said."They said the cross is too conspicuous, and it should be moved inside the church building and should shrink in size," Sheng said. "He said this is rectification 'according to the authorities.' We think this is unnecessary. It was fine for the cross to stand there. Why should they rectify it?"
The pastor told ChinaAid that two similar incidents occurred elsewhere in the province on Thursday morning as well.
This persecution against a Three-Self church is unusual. Three-Self churches, which are churches that have registered with the government's Three-Self Patriotic Movement Committee, are typically left alone as long as they follow the predetermined doctrine, which promotes self-government, self-support and self-propagation.
However, recent cases have shown that the government is willing to persecute Three-Self churches when those churches defend marginalized groups, preach the true Gospel of Jesus Christ, proselytize outside of their region or communicate with overseas contacts. One such case is that of the Nanle County Christian Church in China's central Henan, in which the pastor of the church and more than 20 church members were arbitrarily detained (see http://www.chinaaid.org/2014/02/nanle-county-believers-attempt-to-file.html).On the same day, officials from the Zhoushan Religious Affairs Bureau demanded that believers at a Three-Self church in Baiquan, a town within Zhoushan, help tear down the cross that topped the church building; however, the Christians refused.
This confrontation came the day after the Religious Affairs Bureau notified the church that the cross must be removed by Friday or there would be consequences. The church was also notified that the government wanted to demolish certain structures belonging to the church.
"A person from the Religious Affairs Bureau and a co-worker from the district Chinese Christian Congress and the Three-Self Patriotic Movement came this morning," one believer said. "For the time being, they have not done anything to the church. This is because we went through all the legal procedures when we built the church. What their next step is, we don't know at this time."
The believer said that members of the Zhoushan Chinese Christian Congress and the Three-Self Patriotic Movement would hold a meeting on Friday to discuss what would take place next, the results of which are currently unknown.
The believer told ChinaAid that forced cross removals are also taking place in Anhui, one of Zhejiang's neighboring province.
Believers in Zhejiang said that the demolition of the crosses across the province is a result of the Jan. 8 inspection of Zhoushan by Xia Baolong, the provincial party secretary.
The Christians said that as Xia passed by a church in Zhoushan's Baiquan town, he said the cross was "too conspicuous and splashy" and that he wanted it removed. He reportedly demanded that the local Religious Affairs Bureau implement the change. It is unknown at this time if the orders to remove the crosses originated with Xia or if Xia was ordered by a higher authority to implement the changes.
Some believers speculated that the cross removal is connected to the National Political Consultative Conference and National People's Congress, which begin today in Beijing.
Please pray for the persecuted church and believers in China.–ChinaAid News