By Mark Ellis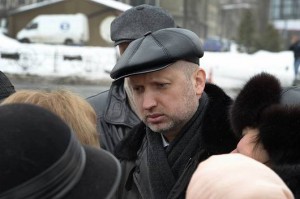 After massive protests in the capital of Ukraine led to the ouster of President Yanukovych and his flight to Russia, a committed Christian, Olesksandr Turchynov, became the interim president.
Turchynov is an elder and occasional lay preacher at the Word of Life Center, which is affiliated with the Evangelical Baptist Union of Ukraine. Protestants make up less than 5% of the population of Ukraine, which is overwhelmingly Orthodox.
"God reached down His hand and helped our nation," reports Maxim Oliferovski, co-founder of New Hope Center, which ministers to orphans in Ukraine. "Now we have a new (interim) President who is a Christian, a new Prime Minister who is on the side of ordinary people, and a Parliament with a changed mentality, willing to work hard to bring reforms Ukraine needs so badly."
Parliament voted Turchynov interim president until early elections take place in May.
Baptists in Ukraine have a reputation and a moral stature that dates back to their bold witness to the government of the former Soviet Union. Turchynov is generally well liked by the public and has a reputation for being honest and trustworthy, according to a Baptist IMB worker in Ukraine.
Turchynov has been in touch with the leaders of Ukraine's union of Baptist churches, and they are supportive of his appointment and committed to pray for him, according to Baptist Press.
"Even though it is quite safe in…most parts of Ukraine (no bullets, or missiles flying…yet), everybody is worried. The situation can get worse at any moment. We want peace and we will do everything possible from our side to be in peace. God is in charge, and we trust Him with everything, including the current situation," Oliferovski noted.
Acting President Turchynov is known for abstaining from tobacco and alcohol. In August 2007, he responded to criticism about his stance against same-sex marriage: "I do not agree. If a man has normal views, then you label him a conservative, but those who use drugs or promote sodomy, you label them a progressive person. All of these are perversions," Turchynov said.