By Mark Ellis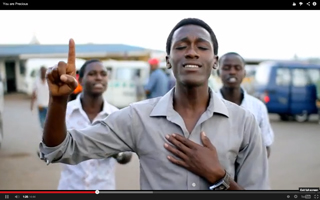 Garbage and filth surrounded their makeshift shanty in a small-scale dump in Kigali, Rwanda. Five years ago, three street boys, David, Pacifique, and D'Amour lived in this squalor, their minds obsessed with survival and numbing their pain.
After they were taken in by a ministry that operates a small home for wayward boys, they never dreamed they would one day become gospel artists, with their first song receiving local radio play.
"They had no hope before they came to us," says Hilliary Anderson, founder of Hope for Life Ministry (HFLM), based in Kigali. HFLM's aim is to transform the lives of vulnerable street kids by providing housing, Christian counseling and discipleship, and resources to break the chains of poverty.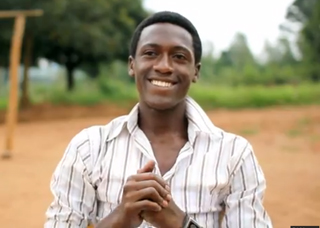 Last year the three boys formed a gospel band called Shining Hope and produced their first song, "You Are Precious," singing about their transformed lives since they began to follow Jesus.
"When we recorded this song they were so excited," Anderson notes. "They never believed anything like this could happen."
A volunteer at HFLM brought Shining Hope's song to a gospel radio station in Kigali. The radio host loved the song, partly due to the boys' story. He invited the band to come in for an interview the following day.
"You can imagine the boys' elation after hearing they would be on the radio," Anderson says. At the radio station, the host played "You Are Precious" and interviewed the band members for 30 minutes.
David Hitimana, 19, the main songwriter and leader of the group, was one of the first boys taken in by HFLM. "David came from a neglectful family and had a hard life," Anderson notes. "But he didn't do drugs on the streets because he didn't want to ruin his brain," she says. "He's been a role model to the other boys."
HFLM is currently re-integrating David to his family and paying for his education in secondary school.
Another band member also overcame tragic circumstances. "D'Amour's parents were killed in the genocide," Anderson recounts. The Rwanda genocide involved the mass murder of Tutsi and moderate Hutu by members of the Hutu majority. During a 100-day period in 1994, an estimated 500,000-1,000,000 Rwandans were killed.
"After that, D'Amour lived in a child-run household, but ended up going into the streets." D'Amour would like to become a minister or leader in the future.
Pacifique Niyitanga was also orphaned at an early age. He ran away from an abusive relative's home to the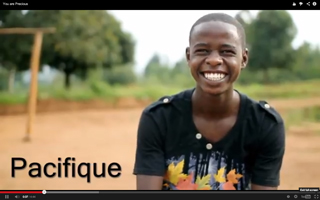 streets. After his second arrest, he came to live at Hope for Life.
The impact on the three boys has been profound, as they recognize God's influence on their lives.
David was exultant after the boys' visit to the radio station. "I thank God that it happened. It was a huge celebration to have finally made it on the radio. I never expected to make music that was played on the radio When I got home, I wrote down my whole experience so I would never forget that day."
Anderson invites people to encourage the growth of Shining Hope's music by liking their Facebook group, and by listening to their music and sharing it with others.