By Mark Ellis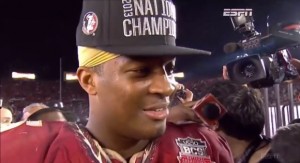 He is the youngest Heisman Trophy winner in college football history. And on his 20th birthday, this freshman led his team from a 19-point deficit to a three-point victory in the last 13 seconds of the BCS Championship game.
In postgame comments, Jameis Winston gave God the glory for the stunning finish in front of 94,208 exhilarated and exhausted fans at the Rose Bowl in Pasadena, California.
"We've been through adversity and we handled it well," Winston said after the game, perhaps understating the fact that he survived a controversial sexual assault complaint last year when the accuser said she did not want to move forward with the case.
Winston and his team also struggled in their first three quarters of play against an Auburn team they were heavily favored to beat. But Winston led the Seminoles on a final 80-yard drive in seven plays to put the icing on an astonishing freshman year.
When the team was down, Winston looked his teammates in the eyes when they were huddled together and said, "Are you strong?"
"We're strong if you're strong," they replied. But when the chips were down, it was God's strength that made the difference to Winston.
"Through everything we went through, we came out victorious," Winston exulted. "God did this. I'm so blessed. There is nobody but God. There is nobody!"
In the presentation ceremony, a crystal glass trophy was presented to the coach and the team, and Winston again offered praise to God.
When ESPN asked where he found poise that seemed to be beyond his years and a joy that overflowed on and off the field, he said, "Only one person – good God Almighty. That's the only person!"
"They gave us all they got, we handled it, and we came out victorious."