By Melissa Nordell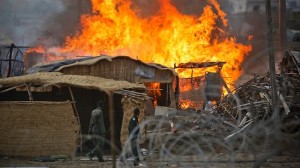 Meme* is a government worker from another country currently working in Sudan. She "helps the natives of the land indirectly to know the truth of the gospel/salvation."
She reports that most of the churches in Sudan have been burned to the ground, leaving the area depleted of houses of worship, Bibles, books and supplies due to tribal and religious wars and infighting that has ravaged the country for years.
"People were imprisoned or killed for their faith, or some dispatched to the South from their homeland from which they originated," Meme recounts. This leaves the country without trained pastors, teachers and leaders in the Christian faith.
She states that the few Christians that are left evangelize very skillfully, secretly and undercover. However, "when it seems like things are calm, then fresh killings arise."
Meme asks that the people of Sudan will not be forgotten, and prayers lifted up continually by Christians throughout the world. Because she is on the ground, seeing and experiencing the loss, the devastation and the pain of the people, some ask: "how shall we pray?"
She asks that the following prayers be submitted to the Lord:
1. Pray for strength and faith to arise within the believers.
2. Pray for their protection since they cannot publicly announce their faith in Yeshua.
3. Pray that God will change the enacted sharia law which now governs the land.
4. Pray that non-profit, non-governmental agencies and groups will again be permitted into Darfur.   She states that God used some of these organizations to impact the community positively in the past. "Unfortunately they were all sent away with very short notice."
5. Pray that God will raise up godly leaders in places of authority and decision making within United Nations agencies operating within Sudan/Darfur, and that they will have a positive impact on the community.
6. Pray for the government of Sudan, its leaders and security personnel who have the final say in everything which goes on, no matter how seemingly insignificant. "Most of the time these personnel have thwarted the purposes of God in many ways."
7. Pray and declare that the cycles of violence, destruction, killings and imprisonments are broken and destroyed in Sudan/Darfur.
8. Pray that pastors, teachers and leaders can be trained in the gospel in Sudan.
9. Pray that the churches or places of worship are rebuilt and that supplies such as Bibles and Christian literature can be brought into the country.
Meme says "God is able to bring revival to His persecuted church in Darfur/Sudan" despite the difficulties. She and other Christians in the country are not giving in, not giving up, and refuse to let the country and themselves be in despair over the situations.
God bless those who are risking their lives and freedoms for the gospel of Jesus Christ in Sudan and Darfur.
*names were changed for protection