By Mark Ellis
For the fifth consecutive Christmas Eve, Bono and his friends jammed into Grafton Street in Dublin as part of a "busking" songfest for charity. "Buskers" are street performers in the parlance of the area.
On a cool crisp Eve, with a swelling crowd pressing in tightly, they sang on behalf of The Simon Community, a charity that helps the homeless, named after Simon of Cyrene. The organization oversees a number of shelters run by local volunteers.
"Bono! Bono! Bono!" voices in the crush of people cried out, as they tried to get closer to the legendary Irish rock musician, well known for his activism on behalf of Africa and numerous other causes.
"Step back a bit – we're going to sing songs," said Irish songwriter Glen Hansard, as he stood next to Bono with a guitar in hand. Hansard is a guitarist for the Irish group The Frames, and half of the folk rock duo The Swell Season.
With Hansard grinning widely, he and Bono launched into a playful holiday song by the rock group Slade, "Merry Christmas Everybody."
"Are you hanging up a stocking on your wall?
It's the time that every Santa has a ball
Does he ride a red nosed reindeer?
Does a 'ton up' on his sleigh
Do the fairies keep him sober for a day?
So here it is merry Christmas
Everybody's having fun
Look to the future now
It's only just begun…"
Then Bono thanked Hansard for organizing the event and said, "And now for the child that was born in the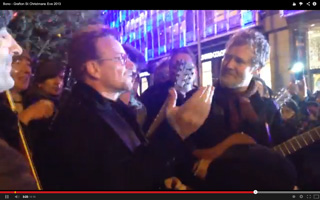 (unintelligible) and straw of poverty I would like to sing an actual carol."
The crowd grew quiet. With a more subdued tone and heartfelt spirit, Bono sang "Oh Come All Ye Faithful."
Between Trinity College to the north and St. Stephens Green to the south, on one of the busiest shopping streets in the world, Bono's voice carried above and through the throng,  "Oh come let us adore Him, Oh come let us adore Him, Oh come let us adore Him, Christ the Lord."