By Dan Wooding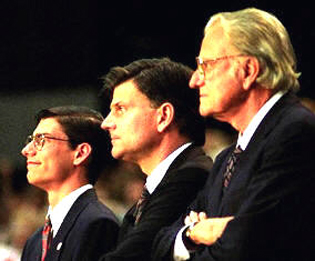 Evangelist Will Graham, the grandson of Billy Graham, has said that at the age of 95, Mr. Graham is close to going home to be with the Lord.
In an exclusive interview at Hosanna Christian Fellowship, Bellflower, California, before he was to preach tonight (Wednesday, December 11, 2013) at a special Christian event, he spoke movingly about Billy Graham's frail condition.
"I saw my grandfather last week and he is not doing well," said Will, the son of Franklin Graham. "He's not suffering or anything. It's just that old age has caught up to him and is sucking the life out of him.
"On November 7 [with his My Hope America with Billy Graham* outreach], he finished his race and up until that time, God had protected his health and gave him supernatural strength and now, the only thing left is for him to come home. God has removed his hand of protection and old age has set in.
"He has been in a wheelchair for a long time. He can walk, but he is in the wheelchair because it is easier for us to move him and it safer for him."
When I asked him what happened during his last meeting with his much-loved grandfather at his Montreat, North Carolina, home, he revealed that they didn't talk very much.
"That's the best thing of being a grandson," said Will. "We don't have to say much. We just sit there, look at each other and hold hands. His neck was sore as he had been in bed a whole bunch, so I rubbed his neck."
He said they say a few words to each other, adding, "It was sort or grandfather-grandson, talk, more than anything."
What would he like people to know about Billy Graham, the world's most well-known evangelist, with whom I have had the privilege of working with on several occasions in Russia, Germany and Puerto Rico?
He replied, "My grandfather is the most humble man I have met. Some people often say, 'How come Billy Graham never got caught up in money or with woman, like so many others?' That was because God was protecting him from all that stuff because of his humility. The Bible says that 'God gives grace to the humble,' so because my grandfather was humble, God protected supernaturally from all that stuff and gave him grace. It was not because of anything that Billy Graham had done, but because of his humility before the Lord.
"To me he is one of the most humble men I have met. I just wish I had his humility all the time."
I concluded the interview by asking Will Graham how people could pray for his grandfather, and he replied, "I don't know how to answer that anymore. I wish He would give him strength, but I don't think he needs strength anymore. It's time to go home."
Will Graham, the third generation of evangelists in the Graham family, later spoke at this special Christmas event at Hosanna Christian Fellowship (http://www.hosannachapel.org) and was joined by his old friend, Dennis Agajanian. Will had stepped in for Pastor Chuck Smith, who had been invited to speak by senior pastor, Garry Ansdell, but when "Pastor Chuck" passed away on October 3, 2013, Will agreed to take his place.
*My Hope America with Billy Graham was a nationwide effort to reach people across the United States with the Gospel of Jesus Christ. Following a simple biblical model, it combined the impact of video programs (http://myhopewithbillygraham.org/programs/?) with the power of personal relationships. It was possibly the largest media event Billy Graham has ever been involved in.