By Mark Ellis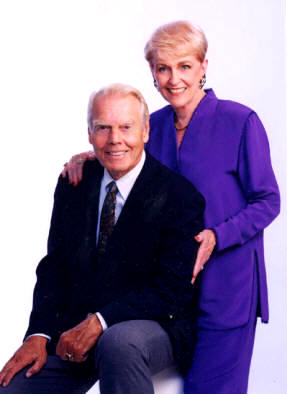 Popular author and Christian ministry leader Anne Ortlund passed into the arms of her Savior last night, one month away from her 90th birthday.
She faced several health issues in the last few years – including kidney disease and bone cancer — with grace, courage, and a longing for heaven that inspired friends and family.
The daughter of U.S. Army Brigadier General Joseph B. Sweet, she became a 'general' in God's army, influencing a generation of younger women in the faith through small group discipleship, and her writing and speaking.
"Mom reached tens of thousands of people for Christ through her books and more intimately through the more than 270 women she personally discipled," wrote son Nels, after her passing.
Her husband, Pastor Ray Ortlund, led two significant churches in Southern California with Anne by his side: Lake Avenue Congregational Church in Pasadena and Mariners Church in Newport Beach.  Later they founded Renewal Ministries, and traveled the world as a team speaking on behalf of renewal and revival among God's people.
Ray went to be with Jesus on July 22, 2007, due to complications of pulmonary fibrosis.
Ray and Anne authored more than 26 books together and several of Anne's books were bestsellers, including Disciplines of a Beautiful Woman and Children are Wet Cement.
Anne's ministry included speaking at women's retreats, home gatherings, disciples' group, and mentoring one-on-one. She and Ray often spoke side-by-side at conferences locally and worldwide.
For 15 years, Anne was the organist of Dr. Charles E. Fuller's international radio broadcasts. Her hymn "Macedonia" was chosen to be the theme hymn of Dr. Billy Graham's World Congress on Evangelism in Berlin.
A romance with Jesus at the center
Ray and Anne were deeply in love with each other, and the strength of their marriage inspired many other couples. They met in a prayer group at the University of Redlands. As they listened to each other talk to God, the beginnings of a passionate love affair began to stir.
"The first few weeks we talked to the Lord more than we talked to each other," Anne said in an interview last February, Ray had joined the group with 22 other sailors waiting for deployment in World War II.
Two weeks after joining the group, Ray asked Anne out on their first date – a moonlit horseback ride in San Bernardino, California. With their horses sauntering along the trail on a balmy night, and moonbeams lighting up the rocks, Ray sang this hymn to his new sweetheart:
"Far away in the depths of my spirit tonight,
rolls a melody sweeter than psalm;
In celestial strains it unceasingly falls
O'er my soul like an infinite calm.
Peace, peace, wonderful peace,
Coming down from the Father above!
Sweep over my spirit forever, I pray
In fathomless billows of love!"
Ray went home that night and wrote to his parents, telling them he found the girl he would marry.
They dated every weekend for the next few months. Then shortly before Christmas 1944, as war raged in far-flung corners of the world, Ray proposed. He dropped to his knee, pulled a pocket New Testament and Psalms from the breast pocket of his Navy uniform, and recited Psalm 34:3: "Come magnify the Lord with me and let us exalt his name together."
After the war ended, they married at the Fourth Presbyterian Church in Washington D.C., and honeymooned in the Shenandoah Valley.
Their romance extended from the very beginning to Ray's last breath.
"Do you know what elevators are for?" Anne once asked. "They are for kissing – if nobody else is in the elevator."  It was one of the reasons they chose a high-rise condo for their final years.
In their fifties, the Ortlunds were eating in a restaurant when Ray suddenly put his fork down, stared at Anne for a few seconds, then began to cry.
"Ray, what's the matter," Anne asked.
"You're just so beautiful," he told her.
Often when Ray preached, he would lean over from the pulpit and say to Anne, "Do you have any idea how much I love you?"
Their best years
Anne says their best years were the 23 years at the end of Ray's life. After Ray retired from active church ministry and they started Renewal Ministries, they found more time for each other. "In ministry, the church is a rival to the wife," Anne noted.
"From age 58 on, we were never separated," she said. "We always spoke side-by-side. He always wanted me beside him."
They often advised other married couples, "The closer you get to Christ, the closer you get to each other and the less there will be between you."
From 1970 until just recently, Anne read through the entire Bible once a year, following a daily schedule.
Before they went to sleep each night, they prayed together. In Anne's eyes, Ray grew "happier and happier, wiser and wiser, sexier and sexier."
Earlier this year, Anne said she still felt very close to Ray. "I'm still his soulmate," she said. "I talk out loud to him because I miss him."
She acknowledged they won't be married in heaven, but prayed they would be dearest friends. "The exciting marriage is between Christ and the church," she observes. "That wedding will be off the charts."
Before Ray's passing in 2007, he wrote several love notes to Anne and hid them around their house for her to find later. One note she found in 2012 said, "How can I thank you for all you mean to me?"
Another note said, "I was born to love you."
"That's a good Presbyterian for you," she laughed.
"He always had me on his mind," Anne said. "He was so happy because he lived in the presence of God, but he was conscious of me too."
Anne has two daughters and two sons. Their family is continuing to grow with 15 grandchildren and 20 great-grandchildren. Details for a memorial celebration are pending.
To watch an interview with Ray and Anne Ortlund with journalist Mark Ellis, watch here: https://www.youtube.com/watch?v=dTQOM-xIscE