By Mark Ellis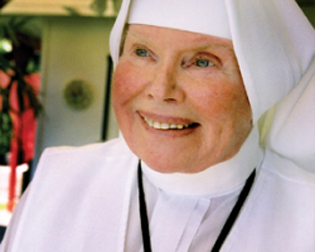 As a girl growing up in Beverly Hills, she counted Cary Grant and other Hollywood stars as neighbors. But she gave up posh surroundings in Southern California for a 10-foot cell so she could minister to inmates at a notorious Mexican prison. Mother Antonia Brenner died October 17th in Tijuana of natural causes. She was 86.
Born in 1926, she was raised by Irish immigrant parents in Los Angeles. Her father became a successful sales executive, and their family home was situated in an exclusive neighborhood in Beverly Hills, with a second home at the beach.
Brenner raised seven children and gradually became more and more involved in charity work with the poor. In 1969 she had a vivid dream that she was a prisoner at Calvary and about to be executed, when Jesus suddenly appeared to her and offered to take her place. She declined His offer, touched Jesus on the cheek, and told her Savior she would never leave Him, no matter what life might bring.
After her second marriage ended in divorce in 1977, she sold all her earthly goods and moved into the La Mesa penitentiary, a place that captured her compassionate heart after several visits with a local priest.
"Something happened to me when I saw men behind bars. When I left, I thought a lot about the men. When it was cold, I wondered if the men were warm; when it was raining, if they had shelter," Brenner told the L.A. Times in 1982. "I wondered if they had medicine and how their families were doing. When I returned to the prison to live, I felt as if I'd come home."
The infamous prison houses convicted murderers, gang leaders, rapists and other serious felons. In was the site of two back-to-back riots in 2008 that killed 22 inmates. The second riot was sparked because inmates had been deprived of water for five days following the first riot.
She did not become a nun until age 50, when she moved into a 10 by 10 cell in the women's section of the prison. "It's different to live among people than it is to visit them," she told The Washington Post in 2002. "I have to be here with them in the middle of the night in case someone is stabbed, in case someone has an appendix [attack], in case someone dies."
She ate the same food as the other prisoners and lined up with them for morning roll call.
As an older, divorced woman, Clarke was banned by church rules from joining any religious order, so she conducted her ministry on her own. She eventually launched an order for older single, divorced, or widowed women who want to serve the poor, known as the Eudist Servants of the Eleventh Hour. The Catholic Church recognized her mission a few years later.
Mother Antonia helped to provide for prisoners' basic needs, including medicines, blankets, eyeglasses, and toiletries. She voice could often be heard ringing out in worship services. She sold soft drinks to inmates and used the money as bail for low-level offenders. She also prepared deceased prisoners for burial.
She roamed freely and without fear among murderers and gang members, offering prayers for desperate men.
She became known as 'The Prison Angel' or 'La Mama.' Inmates told how Mother Antonia once walked into the middle of a prison riot while bullets flew and tear gas filled the air. When the inmates saw the diminutive woman's courage the fighting stopped.
She became a respected figure in Tijuana, with police chiefs and politicians among her friends. In 1991, she met Mother Teresa when she visited Tijuana.
Mother Antonia remained in regular contact with her children, and many of them visited her in the prison. Her survivors include seven children and more than 45 grandchildren and great-grandchildren.
"Happiness does not depend on where you are," she once told the Washington Post. "I live in prison. And I have not had a day of depression in 25 years. I have been upset, angry. I have been sad. But never depressed. I have a reason for my being."