Sam Ellis says he came to the Lord after almost three years of living for himself in Jesus' name. A terrible hangover and overwhelming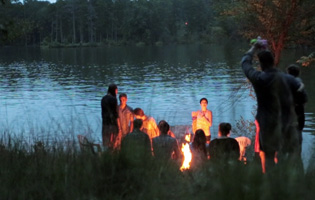 shame brought him to his knees where Jesus met him, changed him and then sent him out to help others. We're  excited to share his story with you:
"Who do you want to live for?" My college pastor asked me. "Who is right in front of you that you need to start loving?"
I looked over at my friend Brandon, and I could tell the wheels in his head were turning as fast as mine. All we could talk about on the way home were the guys we could start telling about Jesus' love and grace.
Two weeks later we pulled up to the church for our first meeting as small group leaders. As we walked up the steps, I had a gut feeling that this was going to be a God kind of special. We opened the doors to the third-floor meeting space and circled our chairs. Ethan, Doug, Ryan, John, Kevin and Chris stared back at us.
Did I feel qualified? Absolutely not, but my pastor's words rang in my ears. "Who is right in front of you that you need to start loving?"
We talked for hours, sharing our lives with each other, and over the next several years, the seven of us became brothers. We had all been desperate for something more than what the world had to offer but didn't know where else to turn. And we found it – in a humble circle of chairs – following Jesus together.
A few years later, something strange began to happen.
I started waking up in the middle of the night with vivid visions of Laguna Beach students' faces. These are the richest kids in the world, the ones who seem to have it all. But I knew they needed more – the kind of "more" that the seven of us found in that third floor room.
The dreams happened for two straight weeks until the senior pastor of my home church, the church across the street from Laguna Beach High School, offered me a job as the youth pastor. I was completely humbled and honored at the calling. And I still felt completely inadequate.
But God knew. He always knows.
Even when I had felt inadequate and useless, he made me useful in his story. I saw lives changed and became helplessly overwhelmed at the sheer transformational power of Jesus. My constant prayer became, "God use me. I am desperate for more of you."
And he did.
Kids started experiencing God. They released drug habits, suicidal thoughts, and depression and developed a fire in their hearts for their classmates. Girls wrote Bible verses on sticky notes and posted them all over the school. A star football player started youth group gatherings in the middle of campus, and students were giving their lives to Christ every single week.
Students prayed for the homeless, each other and their friends. One student started to lead a prayer circle before water polo games, and by the end of the season, the entire team had joined him. One student recently prayed over a deaf girl, and she received her hearing back. These young, rich rulers are starting to see that when everything falls away, Jesus is worth far more than earthly treasures.