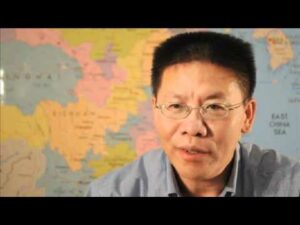 By Mark Ellis —
He helped organize pro-democracy demonstrations that captured the world's attention when Chinese authorities massacred hundreds of unarmed students in Beijing's Tiananmen Square.
When he faced retribution from the government for his role in the protests, suicidal despair and hatred began to consume him – until a powerful encounter with the living God.
Even as a child, he experienced friction with government officials. "We were always bullied by the Chinese authorities," recalls Bob Fu, founder of ChinaAid, a non-profit organization based in Texas that advocates on behalf of the underground church and political dissidents in China.
The bullying stemmed from his home life, having a disabled father and a mother who resorted to begging for the family's survival. "It was a humiliating situation," he confesses. Even friends and neighbors belittled his family.
The mistreatment ignited a fire in his heart for equality and justice. "I thought the best way to change my family and to change the system was to become a political leader," he says, and he began to nurture aspirations to become a communist party official some day.
As a college junior in 1989, he watched the student democracy movement take off. "I became deeply involved and felt it might be the moment for change," he recalls. Fu organized protests at Liaocheng University in his province, then led fellow students to Tiananmen Square in Beijing, the epicenter of the unprecedented confrontation.
By an unexpected twist, Fu's girlfriend Heidi (later to become his wife) became ill and he left the protests to attend her.  So he was not in the square June 4th when the military launched a heavy-handed onslaught to enforce the government's curfew. Chinese troops with assault rifles and tanks inflicted heavy casualties on student demonstrators.
Although Fu was absent – possibly a narrow escape from death — he paid a price for his involvement. When school resumed, Fu was singled out in the classroom for interrogation. "I was forced to cancel all my classes," he recalls. "It was a very hard moment."
Emotionally, he went into a tailspin. "I was in despair and I wanted to commit suicide," he says. He found himself ostracized by teachers and even fellow students. The police forced him to write confessions and treated him like a criminal.
Finding Jesus in China
At this low point in his life, an American English teacher at the college gave him a biography of Xi Shengmo, a 19th-century Chinese Christian convert. Xi had once been a Confucian scholar and opium addict, but turned to Christ under the influence of Hudson Taylor's missionaries.
The book came as a revelation to Fu. "I didn't know about the Christian faith at all," he recounts. As Fu read about Xi's conversion, the Holy Spirit grabbed his heart.
"I was convicted by the Gospel," he says. "I was full of despair and hatred. I could see myself as sinful."
As Fu became engrossed in the story, God spotlighted his desperate spiritual condition, but also brought hope. "I saw the light of the Gospel, that if anyone is in Christ, he is a new creation. The old has gone and the new has come."
"This God is so real!" he exclaimed at the time, slapping his knee. "I can see the light!"
There was only one problem. Fu didn't know how one actually becomes a Christian. Is it like joining an organization? Is there a public ceremony? he wondered.
He tracked down his American teacher in the dorm for answers. "We kneeled down and I confessed my sins and I accepted Christ as my Savior and Lord. I was born again supernaturally."
The next day, the world looked completely different.  When he walked outside, he "felt like the birds were singing to me and the sun was shining brighter. It was a revolutionary change for me."
From suicidal despair, pessimism, and desperation, his face now projected his newfound joy. He even began to smile at his enemies at the school, the people who had been persecuting him. The change unnerved some of them, and they began to suspect he might be losing his mind.
Due to their concerns, Fu was called in to speak to the communist party secretary of the English department. "Are you feeling too much pressure?" the man asked.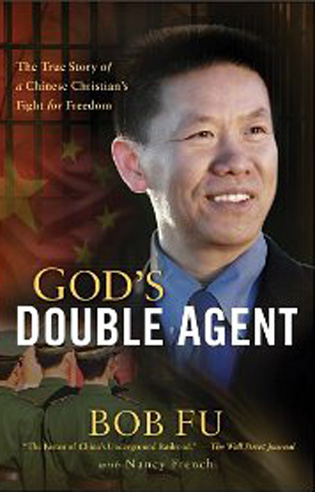 Fu wondered what they might be planning next. The party secretary then reassured Fu they were not planning to imprison him or seek any further penalties.
Later, Fu joined an underground house church and began to grow in his faith, eventually becoming a leader. He began to think of himself as "God's double agent" because he taught English during the day in a communist school and led Bible studies at night in his home.
Increasing pressures
In 1996 he and his wife were arrested and spent two months in prison due to their house church activities. "It was a tough experience," he recalls. "I witnessed how prisoners were encouraged to beat up each other. I was knocked down and beaten," Fu says.
He also witnessed the use of electric shock batons on inmates. "Prisoners are treated like animals or worse than animals," he says.
After their release, he and his wife were under house arrest and underwent regular questioning from police. When his wife Heidi got pregnant, they faced the possibility of a forced abortion, because his work unit had exceeded their quota of births permitted by the government.
When they learned they would be rearrested for their underground house church involvement, they decided to flee China. One night, Heidi left their apartment building under disguise, and Bob jumped out of a second-floor bathroom window. They felt like characters in a James Bond film.
"When I fell I almost feinted," he recalls. Fu and his wife escaped to the countryside under disguise. "Miraculously, God rescued us," he says. "Angels helped us escape."
Using forged documents, they were able to get to Hong Kong. Only three days before Hong Kong fell under China's control, they were granted permission to come to the U.S.
Fu attended Westminster Seminary in Philadelphia and started his organization, ChinaAid, in his attic in 2002. He says his seminary training was challenging because he learned English and Greek at the same time.
About a year ago, Fu played a crucial role in a significant human rights case. He testified before a Congressional committee about the fate of the blind Chinese dissident Chen Guangcheng, and arranged for Chen to testify by phone from his hospital room in Beijing.
Chen is one of many political dissidents and persecuted Christian leaders Fu has helped usher to freedom, which has led major newspapers to describe him as "the pastor of China's Underground Railroad. "If you've rescued one soul," Fu writes in his book, "it means more than the whole world."
"China is a huge challenge because the Chinese government is not easy to deal with," he notes. "It is spiritually, physically, and emotionally very challenging."
"Right now there is deep darkness in China, with thousands of innocent citizens being detained and imprisoned, and many believers are still struggling.
"But these are temporary setbacks," he believes. "Change is coming to China."
Fu's book, "God's Double Agent: The True Story of a Chinese Christian's Fight for Freedom," written with Nancy French tell his story for the first time in exciting detail.
If you want to know more about a personal relationship with God, go here