By Dan Wooding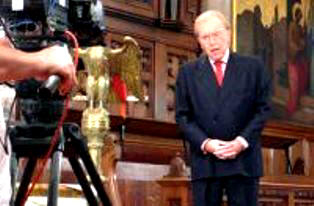 The phone rang in the Billy Graham media room just before the start of Mr. Graham's Greater Puerto Rico Global Mission, which originated March 16-18, 1995 in San Juan, and was beamed around the world by satellite. The rest of the team had gone for lunch, so I was alone in the room.
I picked it up and at the other end of the line was Sir David Frost who, in his cultured voice, asked me to tell Mr. Graham he was praying for him and the crusade. Frost happened to be on a cruise ship at the time of his call.
So it was ironic that I heard today that the veteran broadcaster  died on August 31 at the age of 74 after suffering a heart attack while on board a cruise ship, the MS Queen Elizabeth.
In a television career that spanned some 50 years across both sides of the Atlantic, Frost interviewed a long list of the world's most powerful and famous, including virtually every British prime minister and U.S. president of his time. Some estimates say that he interviewed 10,000 people.
Internationally, he will be remembered for his piercing interviews with former U.S. President Richard Nixon in 1977, which were later immortalized in a play and a film both named Frost/Nixon.
David Paradine Frost was born April 7, 1939, in Tenterden, England, to Mona and W. J. Paradine Frost and, although Frost was known for his often aggressive and fearless interviewing style, many did not realize that he came from a Christian background. His father was a Methodist minister.
While living in Gillingham, Kent, David Frost was taught in the Bible class of the Sunday school at his father's church (Byron Road Methodist) by David Gilmore Harvey, and subsequently started training as a Methodist local preacher, which he did not complete.
In 2001, Frost openly revealed his deep Christian faith when he hosted a 10-week television series on the Alpha Course by Independent Television (ITV) in the UK, which gave an unprecedented boost to churches running the course all over the British Isles.
The Alpha course was started in 1977 by the Reverend Charles Marnham, a curate at Holy Trinity, Brompton, a Church of England parish in London. It began as a course for church members on the basics of the Christian faith, but then was used as an introduction for those interested in the faith, and was described by its organizers as "an opportunity to explore the meaning of life."
The TV documentary series hosted by Frost followed 10 people as they took part in an Alpha course, and, at the time, was one of the biggest religious projects to be undertaken by a British national television company in recent years.
According to Britain's Daily Telegraph, honors were heaped upon him. In one week in 1969 he was appointed OBE [Order of the British Empire] in Britain, made a Doctor of Laws in Boston and given a "Faith and Freedom" award for "communicating the relevance of Judeo-Christian ethics to 20th century America."
He was knighted by the Queen in 1993.
On hearing of the death of David Frost, Dave Faulkner, a Methodist minister who describes himself "a moderate evangelical-charismatic Christian with strong tendencies in a 'missional' direction," wrote on his blog (http://bigcircumstance.com), "One thing he deserves to be remembered for, I believe, is the deeply moral streak he brought both to satire and to political interviewing. He paved the way for the searing scrutiny of public figures we see today. It is a shame that not all of today's political broadcasters have the subtlety that Frost showed at times."
"Rest in peace, Sir David."
I can only echo those words. He will be greatly missed.