By Dan Wooding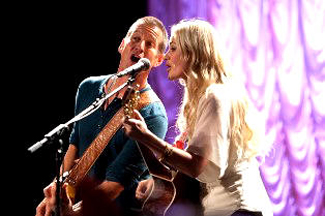 Hollywood expert Dr. Ted Baehr has described GRACE UNPLUGGED, coming to theaters  October 4, as "arguably one of the best, if not the best, Christian faith and values movie so far."
Movieguide® Publisher Baehr has reviewed "almost every movie that opens in theaters," since 1985. He says, "GRACE UNPLUGGED is tremendous. It isn't just a three hankie but a whole Kleenex box movie. It keeps you on the edge of your seat.
"This type of clean, evangelistic movie is a departure for Lionsgate Films. They've done Tyler Perry movies, but GRACE UNPLUGGED goes the next step. It's one of the best, most entertaining, most uplifting Christian movies ever produced.
"MOVIEGUIDE® only hopes they market the movie well enough that every family wants to see it. GRACE UNPLUGGED will help many families and keep them from going through the heartache of the prodigal son or daughter."
In his MOVIEGUIDE® review, Baehr said the film "is an extremely well-produced, faith-filled, jeopardy packed movie that speaks to all the millions of parents whose children want to get into the entertainment industry."
He goes on to say, "Grace is the daughter of John Trey, a famous rock singer who crashed and found Jesus. When Grace was little, John gave her a guitar. Now, they sing together, much to her mother's delight. However, 18-year-old Grace is getting more and more rebellious. She wants to sing her style of music. She wants to do things her way. She wants to go into the music industry, while John only wants to sing with her in church. And, she doesn't want to talk about it, even though John is overly protective and presses her hard to make the right choices.
"Through a quirk of fate, John's major music hit from the past gets a second chance by becoming a YouTube sensation. His former manager, Frank 'Mossy' Mostin, who's been on the rocks for many years, comes to John to say he's got him a big record deal with Sapphire Records. So, they're back in business. [Not head of new division]
"Mossy is stunned, however, when John doesn't want the offer. He wants to remain in a small Southern town in an out-of-the-way church. Grace, however, records herself singing her father's song and sends it to Mossy. Mossy hires her on the spot, and she runs away from home to Hollywood.
"Mossy is a conniving, music industry veteran with a Romantic worldview. He sets her up with Jason, a TV star, in order to raise her profile and rope her in tighter to the music scene. Her pop music idol tells her that her body is her biggest asset and sometimes you have to spend it. The only bright light is a young Christian intern at Sapphire Records, who has recommitted his life to Christ. He tries to serve as Grace's conscience while pointing her back to Jesus in very subtle, wonderful ways.
"John comes out to Hollywood to take Grace home. Grace finds out Jason is just using her. And, life starts to unravel in a major way. Will Grace return to Christ before she heads down the road to perdition?" 
He concludes his review by saying, "GRACE UNPLUGGED is an extraordinarily well structured movie. The mother/father dialogue is real. The father/daughter dialogue is real. The Hollywood manager is a smooth talking devilish egotist, who actually makes a lot of sense. Grace is getting what she desires, but is that what she needs?"
The movie stars AJ Michalka, James Denton, Kevin Pollak, Michael Welch, Shawnee Smith, Jamie Grace, Emma Catherwood, Chris Ellis, Rob Steinberg, Zane Holtz, Kelly Thiebaud, Patricia French, Anthony Reynolds, Aimee Dunn, and Pia Toscano and is directed and written by Brad J. Silverman.
The Producers are: Russ Rice, Larry Frenzel, Christopher M. Zarpas, Robert E. Norton, and the Executive Producers are: Jason Contantine, Mark Burg, Anne Parducci, Eda Kowan, Larry Mestel, and Dan Heffner.