By Mark Ellis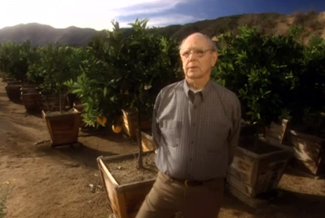 The man responsible for the finest quality fruit trees sold throughout the world, Robert G. Durling, who gave millions to Christian causes yet lived in a trailer at the end of his life, passed to his reward on August 29, 2013. He was 94.
"The highest quality citrus trees are grown at Durling Nursery," said Martha Stewart, in a television program she produced on location at the sprawling, 175-acre Durling ranch in Fallbrook, California. The Durling Nursery trees are sold through Home Depot and other outlets, and shipped as far as Europe and the Middle East.
Blessed with health and strength and the work ethic of a bygone era, Durling worked six days a week until his retirement at age 92. He believed his strength and success came from above so he could bless others. Indeed, he tithed over 90 percent of his income in his later years, according to a family member.
In 2004, he gave away the modest two-story home he and wife Eleanor lived in on the ranch, because her arthritis made it difficult to negotiate the stairs. They moved into an even-more modest mobile home set among the glorious groves of naval oranges, Meyer lemons, Mexican limes and avocadoes.
From matching recliners, they watched Christian programming in their free time. Their furnishings evoked the simplicity and straightforward utility of a Sears showroom.
Born in Omaha, Nebraska, Durling served in the Navy from 1944 until 1945. After the war, he joined the nursery business started by his father in 1926. Durling moved the business from Orange County to Fallbrook in 1960.
Over the years, Durling enjoyed wind surfing, bowling, bicycling, and RV camping. He enjoyed helping his children with 4-H animals, show horses, and was a Walther League youth church group leader.
He was preceded in death by his wife Eleanor, his mother and father, and his sister, Irene Affleck. He is survived by his four children, nine grandchildren and 32 great grandchildren.