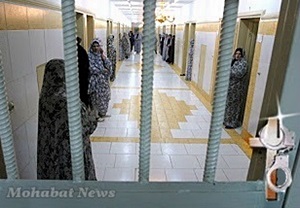 Although women's participation rate in Iranian society is highly limited due to traditional Islamic beliefs, there are also women who grasp every opportunity to take social, financial and political roles in an endeavor to revive their fundamental rights.
In this matter, we shouldn't ignore the plight of female social and political activists in the fields related to religion. Women who belong to religious minority groups face unpleasant treatment from police every day in a Muslim dominant society where the government imposes harsh restrictions against women in scientific, learning and sport centers.
Among religious minorities in Iran, female Christian converts face the worst form of harms and threats since they are far fewer in number.
Political prisoners and prisoners of conscience, many of whom are women, are currently in Iranian prisons, whose names are not mentioned anywhere and their stories have remained untold.
The first time the existence of female Christian prisoners was officially acknowledged was on April 9, 2013 when "Faezeh Hashemi", daughter of Ayatollah Akbar Hashemi Rafsanjani (Former Iranian president), said in an interview with Bahar Newspaper after her release from prison that she had two Christian cellmates during her detention.
Her description of the two Christian ladies raised speculation that they may be "Mitra Zahmati" and "Maryam Jalili". Iranian authorities allegedly arrested these two women in the summer of 2011. After being tried, each was sentenced to two and a half years in prison and they are now serving their sentences.
According to the reports sent out from Iran, many Christians have been arrested and imprisoned since the beginning of the current Persian year. There are also a number of Christian women among those arrested.
"Somayeh Bakhtiari", "Ronak Samavat", and "Nasim Zanjani" are three Christian convert activists who were arrested separately in the first half of the current Persian year and sent to prison. The reason for their arrest was announced as holding worship services in house churches.
"Maryam Naghash" is another Christian activist who was recently called to Evin prison to serve her sentence.  Ms. Naghash was previously sentenced to 5 years in prison for evangelistic activities. She began serving this sentence on Monday, July 15, in the women's ward of Evin prison.
Limited contact with news media is a problem for the Iranian Christian convert community, giving Iranian authorities the opportunity to treat them violently, pressure and threaten them without the outside world knowing about them and their families' situation. Christian converts and Christian activists get arrested at any hour of the day which rarely happens to political prisoners. –Mohabat News