Demand Creates Second Showing on October 3rd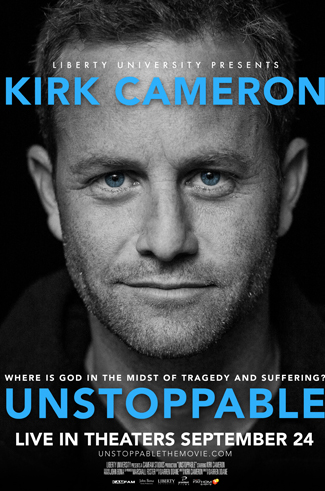 Due to overwhelming demand, a pre-recorded encore presentation of UNSTOPPABLE: A LIVE EVENT WITH KIRK CAMERON will broadcast to select movie theaters on Thursday, October 3, 2013 at 7:00pm local times.
The original live event will take place on September 24th from The Vines Center at Liberty University in Lynchburg, Va. Due to high demand from theaters that have already sold out of tickets, a second showing has been scheduled in select theaters.
UNSTOPPABLE is proving to be more than another indie-film project as it is currently trending No. 1 in tickets sold in the past 24 hours on movietickets.com, ahead of such blockbuster studio releases like Insidious: Chapter 2 and The Family.
Last week, Cameron appeared on several national news and entertainment programs including Fox & Friends, Fox News, The Today Show, Huckabee, and Entertainment Tonight.
Interest from audiences and media outlets continues to escalate since it was discovered that both Facebook and YouTube initially blocked the trailer labeling it as "unsafe" and "abusive." After Cameron's supporters rallied online support, the incident was resolved.
Cameron calls UNSTOPPABLE his "most personal" project to date as he invites audiences to join him on a powerful, visual journey to better understand the biggest doubt-raising question in faith: "Where is God in the midst of tragedy and suffering?"
Combining thought-provoking discussions with music and artistic vignettes, UNSTOPPABLE investigates the origins of good and evil and how they impact our lives … and our eternities.
Tickets are available through www.unstoppablethemovie.com or www.Fathomevents.com.
Kirk Cameron is best known for his memorable role of "Mike Seaver," a cultural icon of the 80's, with his mullet hairstyle, cool glasses, and wisecracking comebacks. More recently he enjoyed much success with the No. 1 grossing inspirational film of 2008, Fireproof, and his recent documentary, Monumental. Kirk and his wife, Chelsea, were on-screen sweethearts during their Growing Pains years and are the founders of Camp Firefly, where terminally and seriously ill children and their families are provided an all-expense paid retreat (www.CampFirefly.com). Together, Kirk and Chelsea live in California with their six children.
About Provident Films:
Provident Films, a division of Sony Music Entertainment, produces, markets, and distributes faith-based films. The company is part of Nashville-based Provident Music Group, which has been one of the world's leading Christian entertainment companies for more than three decades. Films from the company have included Courageous, October Baby, Fireproof, and Facing the Giants. More info is available at ProvidentFilms.org.