By Mark Ellis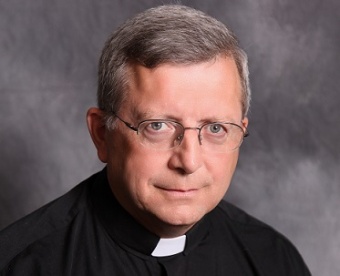 When rescuers couldn't free a teenage accident victim from her car, she requested prayer. Almost immediately a mysterious priest appeared out of nowhere, prayed, and disappeared almost as suddenly, which fed a growing urban legend he might be an angel.
Now the enigmatic priest has been revealed as Rev. Patrick Dowling of the Jefferson City Diocese in Missouri. While this heavenly hero has real flesh and bones, many still consider him a living guardian angel.
"Let's remember it's almighty God who loves that little girl so much," Rev. Dowling told ABC's Good Morning America.
Father Dowling was traveling Highway 19 between Mass assignments in northern and central Missouri when he arrived near the crash scene Aug. 4. "I was coming from 8:30 Mass and saw this line of cars," he told ABC.
The timing seemed to be God-ordained, because he walked up to the crash scene at the very moment 19-year-old Katie Lentz requested prayer.
"I absolved and anointed Katie, and, at her request, prayed that her leg would not hurt. Then I stepped aside to where some rescue personnel and the (rescue helicopter) pilot were waiting, and prayed the rosary silently. I left when the helicopter was about to take off, and before I got to my car…"
Dowling, a native of Kilkenny, Ireland, was ordained in 1982. He has served at several parishes in Missouri and in the diocese's mission parishes in Peru. He also ministers in prisons and in parish ministry to Spanish-speaking Catholics.
Rescuers said a 26-year-old driver crossed the center lane and hit Lentz' car head-on. Authorities spent over 40 minutes attempting to free her from the car, but the compacted metal on her Mercedes Benz dulled their equipment.
She asked the rescuers to pray with her and at that providential moment the priest appeared. After his prayers, their equipment suddenly cut through the metal it had been unable to cut through previously.
Adding to the mystery, Fire Chief Raymond Reed said his department took at least 80 photos of the horrific accident scene and the priest did not appear in any of them.