By Jeremy Reynalds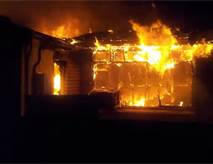 June 11 was a feeling of déjà vu for the staff at HCJB Global's Ministry Service Center in Colorado Springs, CO, as a wildfire flared out of control northeast of the city, almost exactly a year after a similar fire ravaged parts of the metropolitan area.
According to a story by Harold Goerzen for HCJB Global, at the time of writing several staff members were on pre-evacuation status or evacuated from their homes. 
They included HCJB receptionist Daunice Winters and her husband, Bob, who learned on Wednesday that their home was destroyed in the blaze.
HCJB said the Black Forest Fire flared up around noon Tuesday, June 11 and quickly spread eastward amid hot, windy, dry conditions.
"Daunice just called and told me that they lost everything in the fire on Tuesday," said Communications Director Steve Johnson in an email message Wednesday afternoon. He added, "They were able to get a few possessions out, but the house was destroyed. They are now staying with family. She said they were going to Wal-Mart to get some clothes."
HCJB Global reported that Beth Tanksley, who works as director of donor management and lives in the town of Falcon southeast of the fire, said she is in no immediate danger, but is keeping on high alert. "We know of at least a couple of families from our church that have lost homes, unfortunately," HCJB Global reported she said. "We went up to our church last night to help but ended up having to leave there as well (due to the expanding fire). We're just watching the wind."
"We are praying for the best outcome for our staff and families of our staff whose homes have been affected by the Black Forest Fire and greatly appreciate the efforts of those working towards containment," said Lauri Dennis, director of human resources. HCJB Global said Dennis added, "We will continue praying for everyone affected by this fire and the others burning in Colorado. Thank you for your prayers and support."
Black Forest is an expansive, heavily wooded area in El Paso County northeast of Colorado Springs. It is home to more than 13,000 people, most living on scenic, rural acreages. Shifting winds are now threatening homes in neighboring counties and the city itself.
As of June 19, more than 15,000 acres had been razed in what has been called the most destructive fire in Colorado history with the most homes burned ever, at 509. The fire has not been contained and some residents are still on mandatory evacuation orders.
El Paso County Sheriff Terry Maketa, speaking at a news briefing said that two residents had died in the blaze as they prepared to evacuate. There were no other reports of injuries.
HCJB said the fire is reminiscent of last year's Waldo Canyon fire northwest of HCJB Global's headquarters, forcing at least three staff members to evacuate their homes for up to two weeks. None of their homes were destroyed in that blaze, only suffering minor smoke damage.
The Waldo Canyon Fire began on June 23, 2012, but it did not affect populated areas until three days later. That was when 65-mph winds spread the flames down the lower flanks of Pikes Peak and into the Mountain Shadows neighborhood. It burned more than 18,000 acres, destroyed 347 homes and resulted in two fatalities. Investigators determined that the fire was human caused, but it's unclear whether it was an accident or arson. No suspects have been arrested.
"We were so thankful a year ago, when we saw the fires come down the mountainside, that the Lord protected our mission facilities and the homes of our staff," added HCJB Global President Wayne Pederson in the story. "This latest fire is a constant reminder that we have to depend on the Lord's protection daily."
HCJB Global shares the message of Jesus Christ through HCJB Global Voice (a network of media partners around the globe); and HCJB Global Hands (a network of healthcare and community development ministries).
Many other ministries, ministers, staff and their families were effected by this latest fire in Colorado Springs. Please continue to pray for complete containment of the fire, for the firefighters, that those who have been displaced can return home soon, that no more lives and property will be lost and for complete restoration and healing for those who have lost loved ones and their homes–ASSIST News Service
For more information about HCJB Global visit www.hcjb.org/about/about-us.html