By Mark Ellis —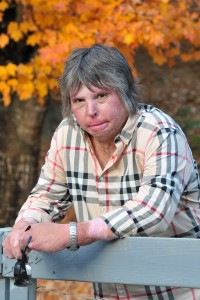 Billy Jack McDaniel knew the risks of work on drilling rigs. Injuries and death in the oil field are common, mostly due to human error. But when a pressure seal on his rig failed, which allowed natural gas to escape,  he came face-to-face with eternity in a horrific explosion and fire.
"It didn't take much to ignite," recalls McDaniel, who found himself 150 feet high on a maintenance platform when the rig exploded. "I watched the fire. It came and got me. There was nowhere to go, nowhere to run."
His body ignited like a marshmallow too-close to an open flame. But this was no Boy Scout campfire. McDaniel found himself seared by 2,000-degree temperatures. Usually, people's eyes melt at 1,200 degrees.
"The pain was intense, but there was no escaping it," he says. "It was constant, like hell."
As he watched his clothes quickly burn away, his skin bubble, and a sensitive body part catch fire "like a candle," he panicked. "I wanted to fall and die when the fire went out. I welcomed death."
From McDaniel's training as a volunteer firefighter, he knew what awaited such a severe burn. He knew he would stop breathing at any moment. He realized he was at death's doorstep. McDaniel contemplated throwing himself off the platform in a suicide dive.
As soon as the fire went out, driller Billy Humble clambered up a metal ladder to the platform, shooting past multiple rungs at a time to reach his friend and co-worker.
When McDaniel saw him, he was able to moan, "Promise me you'll take care of my wife and child."
Billy Humble nodded and said, "Yes, I will."
McDaniel was surprised when Humble suggested they pray, because Humble was not a church-going man.
A basket was raised up to the platform, and McDaniel was able to crawl into it by himself. "Nobody could touch me," he notes. "If they tried to touch me, skin and meat would have pulled off."
Most of his skin was burned off. Bone was exposed on his fingers, arms, chin and jaw.
When the basket reached the ground, onlookers were stunned when McDaniel raised himself up and walked out. "My body was pouring fluid so I was thirsty. I started to go to the drilling house to get a drink of water."
"Stop! Lay down!" someone shouted. He sat down in the dirt, and then he was placed on a gurney made from chicken wire.
When the ambulance arrived, people were again shocked when McDaniel stood up, stepped over to the vehicle, and laid himself down inside.
"I need you to call a few people," he told the nurse. He finally passed out when the ambulance hit a speed bump at the entry to the hospital.
After the explosion, rig manager Bob Quick went to the McDaniel home to inform Aleta, Billy Jack's wife. "You think about that knock on the door or call in the middle of the night," Aleta says. "But God had been preparing me for that exact moment for two years."
Aleta says God gave her a series of dreams that featured the dreaded knock. "Bob would be standing at my door in the middle of the night and say something happened to Jack," she says.
Due to her dreams, she felt more prepared to handle the shock. When Aleta arrived at LSU Health Sciences Center in Shreveport, she was informed by Dr. Kevin Sittig, director of the regional burn center, that there was a low probability of survival for her husband.
"Do you believe in God?" she asked Dr. Sittig.
"Yes, I do," Dr. Sittig replied.
"Do you believe He still performs miracles?"
"I do," he said.
"God and I had a conversation on the way here," Aleta told the doctor. "He told me he will deliver my husband alive. I'm not going to take anything less than 100 percent," she said with assurance.
"I'll be praying right along with you. I'm not trying to be the bearer of bad news here. I'm just trying to give you a realistic picture of the challenges ahead. There is a greater medical probability he will not survive," Dr. Sittig said.
"However, if God wants him to live, he will live. If God wants him to die, he will die," he added.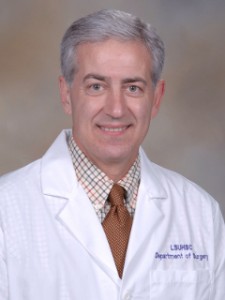 Dr. Sittig was raised Catholic and spent 12 years in parochial school. He remains actively involved in his church. "When I get burns of this magnitude, the first place I go is right around the corner from the burn unit – the chapel," he notes. "I spend a great deal of time in that chapel."
"I'm not able to make a decision on who will live and who will die," Dr. Sittig says. "That's why I put it in the Lord's hands. I'm one of the Lord's tools."
There were no available beds in the ICU burn unit, so McDaniel was left in the hall near the nurse's station for 72 hours. "They thought he would die," Aleta maintains. "They thought it was a waste of time."
Dr. Sittig has a slightly different recollection of the initial prognosis. "I don't recall saying there is no way Billy Jack will survive," he says. "I will venture to say, that probably, the vast majority of burn units would calculate his mortality rate and would give him comfort care only."
"Parts of his body were so badly burned, that to a lay person, anybody would say there is no way in hell this man will survive."
When McDaniel confounded expectations and continued to live, he had the first of 115 surgeries and 80 blood transfusions.
McDaniel woke up in ICU two weeks after the accident, when he came out of an induced coma. He panicked because the room was dimly lit, and his eyes had been sewn shut. "When you wake up and you can't open your eyes, it scares you to death," he says.
He takes comfort knowing the Apostle Paul was once blinded, and when Paul and others in the Bible emerged from darkness, they were refined.
Before the accident, McDaniel was a "run-of-the-mill" Christian who attended church, but lacked passion for God. Now, as he awakened from the coma after two weeks, he had a heart-to-heart with God.
"I can't do this," he told God. "I'm ready to die."
You don't have to… If you let Me, I will carry you, God impressed on his heart.
When McDaniel first saw himself in the mirror, it was startling. "I saw a monster," he recalls. "There was nothing to identify myself. There
was nothing of me there."
His six-year-old came to visit a week later. "Daddy, you still look real good," she said. "You can't quit Daddy."
Initially, McDaniel's family was told he could be in the hospital as long as three years. But he walked out after four months and 17 days, carrying 80 pounds on his 6-foot, 1-inch frame. Before the accident, he weighed 240.
"There may be one person a year burned over 75 percent of their body and lives," McDaniel notes. "There may be one person in a lifetime burned over 95 percent of their body and lives. But there is only one in the history of the world burned 95 percent who still has functionality. I am the one."
Today, McDaniel is often invited to conferences featuring burn specialists. "I'm a spectacle for the burn doctors. They can't explain why I lived," he adds.
His eyes should have melted at 1,200 degrees, but they're perfect, as clear as crystal. The inside of his nose, mouth, and lungs were not burned. His heart, liver, and kidneys never gave out. Even though his scalp was removed and re-grafted 13 times, his hair is thicker now than it was before the accident. His ears fell off in the hospital, but they are growing back.
"Today I was on my tractor. I can hunt and fish and make love to my wife," he says. "I live my life just like everybody."
When McDaniel considers that aluminum melted on the drilling rig in an area above his position on the platform, he has only one answer. "There is no medical or scientific explanation. It was a miracle. That's the only thing it can be."
After he first got home from the hospital, McDaniel had a rough bout with suicidal despair. "My hell didn't start until I got home, because there is no help," he recalls. "I could do nothing. There was nothing to wake up for. I was junk."
One day, three months after his homecoming, he passed through a deep, dark valley. "I was waiting for my wife to leave so I could kill myself," he recounts. Even though he was slowly improving, he couldn't see the progress himself. Despondent, he picked up his Bible and it fell open to Luke, chapter 23, which tells about the crucifixion of Jesus.
"When Jesus was on the cross, He felt everyone's pain, sorrow, and sin at one time. He did it as a man. He didn't do it as God."
McDaniel had a startling realization. Just my pain would have killed Him, he thought. If Jesus could take it as a man, then I need to shut up, get up, and get going.
"Living with scars is hard," he says. "If I go into Wal-Mart, I get stares. If I go out to eat, little kids get scared."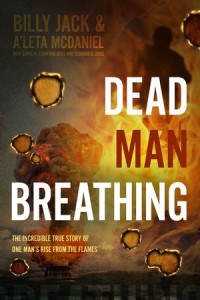 But when Jesus first appeared to the disciples after his resurrection, they too were frightened. He showed them the scars on His hands and feet to prove He was alive.
"I use my scars to prove what Jesus has done for me."
Billy Jack and Aleta McDaniel are the authors of Dead Man Breathing. They have been married 15 years and have a beautiful daughter, Carney. They often share their story with churches and other groups. They also started a non-profit organization dedicated to educating the public about the importance of personal and workplace safety. They live in the high country of North Carolina.