By Jeremy Reynalds
ZAHLE, LEBANON (ANS) — About 30 kilometers outside Syria's western border, the Lebanon town of Zahle is full of refugees. Many make it across the Syria-Lebanon border and not much farther.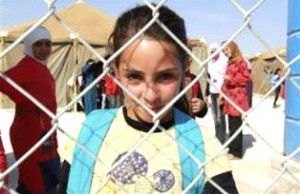 Lisa Pearce, deputy CEO of Open Doors UK and Ireland, traveled to Lebanon in April to meet with Syrian Christians who have fled the violence in their homeland. She described what she found in a story for World Watch Monitor.
With new refugees arriving every day, Pearce said, it appeared that every spare building, shed and patch of ground was being rented by families or groups of families, at huge prices. Those leaving Syria with money can afford almost nothing in Lebanon. Even before the uprising, Lebanese prices were several times higher than those in Syria.
Pearce said a colleague in Beirut, 90 minutes from the border, used to travel to Syria to shop for clothes because it was so much cheaper. Now, with more people competing for the same land, rooms or bunch of bananas, prices in the border town have rocketed, putting many essentials out of reach of desperate refugees.
Pearce said, "On arriving at a church to meet our host for the few days, I was struck by how tiny it was. All we saw was a network of small rooms. And with only 50 members, it was greatly outnumbered by the refugees flooding into the town. Even so, they started going out to sit with a few families and understand their needs." Pearce continued, "They gathered what food, blankets and mattresses they could, and gave them to the families. They arranged for a doctor to come and visit the sick. They prayed with those who wanted prayer. And they visited more families, found more clothes; more mattresses."
Pearce said two weeks before her visit, a large crowd of desperate, newly arrived refugees gathered outside the church and demanded food, mattresses and cooking materials. She said the church team was "five minutes from calling the police." Pearce said to lighten the load a bit, that small congregation has now been given funds from a partner organization (with which her organization is working with inside Syria), and is helping many hundreds of families.
Pearce said, "As we walk(ed) down the street, a refugee (came) up to our host, and embrace(d) him. He (told) us how, since meeting Christians and being cared for by the church, he (was) spiritually richer than he has ever been – despite having 'lost' everything when he left Syria."
However, Pearce said, many people were just numb. She said a family of 17 living in one room, plus a small place to cook, came to mind.  Pearce recalled, "There were no windows, just gaps where windows should be. The previous day the father discovered, from the little television that (was) constantly on in the corner of the room, that two of his cousins had been killed in Syria. The news showed a man weeping over two bodies – both the man weeping and the bodies were his cousins.'
Pearce said they had been sitting for about 20 minutes with the family, on the thin mattresses around the edge of the concrete floor, when they noticed someone completely covered by a blanket.  She said, "It was the man's teenage son, who couldn't face the day ahead. Talking quietly, the man explained his gratitude to the church for providing for his family's basic needs – but also the humiliation he felt in not being able to provide for his family; not being able to send his children to school. 'I feel like I'm dying every day,' he said."
Pearce said on the outskirts of the town, they were led up two sets of partially made stairs in an unfinished building in pitch black, emerging two stories above the ground. There three sisters, their husbands and children lived in two concrete "'rooms," with gaps where doors and windows should be. The "rooms" were surrounded by an outdoor area, with just a two foot wall surrounding it.
Pearce said, "As we sat deep in conversation with the family, one of whom had arrived from Syria only the previous day, a young girl cried out and pointed. One of the toddlers had managed to climb up and get his leg fully over the wall, and was trying to get the other over. Several people ran to grab him, because on the other side of the wall was a two story drop. The mothers have no way to protect their children.."
For so many people, Pearce said, life has "stopped." No jobs, no school for their children, no way to start rebuilding their future.
She added, "We met with Christians who had been pushed out of their towns because they were Christian, and mothers who had dressed their daughters in the hijab to avoid them being raped."
Pearce said her group met others who hadn't been specifically targeted. They left simply because of the ravages of war on their communities and families.  Pearce said, "Most of our work is with Christians inside Syria who are desperately trying to stay, and be a light in that dark place. What they all have in common is that now, God really is all they have to cling to."
Open Doors works with partners worldwide to support Christians who are under pressure for their faith.