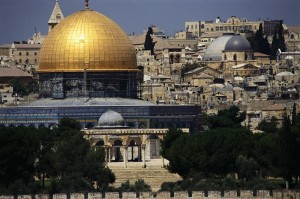 The following are prayer points and a prayer for Israel, from "Christian Friends of Israel" based in Jerusalem: 
1. Pray for God to continue to perform His Word and to bring it to pass as He has already told us it will definitely be. Pray that His Messiah/Son will be revealed in order that an immeasurable number from the nations of the world will see who He is.
 2. Call out to God for many souls of the nations, for a humbling of their spirit before the One True God of Israel, the Almighty is his Name–the Great I AM. There is no other God like Him. He is the King of the Universe and all knees will bow before Him (Philippians 2:10) even if their wills are very stubborn and evil.
 3. Pray that truth will prevail (Proverbs 12:19) and that deception will be exposed in the light for what it is, in relation to the blessing and cursing of God's Chosen People.
4. Intercede for nations who have long been Israel's close ally or friend in the past. A falling away from Biblical truth and influence from the Bible in our nations is the cause of the falling back, or away, from strong scriptural principles in the world. May many in the true Church come away from the influences of the world upon their lives and begin to live for God! This will provoke to jealousy the Chosen People according to Romans 11. 
5. Call out for a refining process to begin in God's Bridal house where He is preparing His Bride.
6. Recall Ezekiel's orders from God in Ezekiel chapter 3. There needs to be a humbling of God's Chosen People in order for them to realize that they cannot do it themselves. They cannot save themselves. They cannot protect themselves above and beyond what God gives them intelligently to create for protection (i.e., warfare, technology, missile defense systems, etc.). 
7. Beseech the Lord for the many sins of Israel (i.e., homosexuality, alcoholism, promiscuity, blatant disobedience of God's laws and commands, lack of spiritual interest, pride and violent behavior in homes and among teenagers). 
8. Pray for the shepherds of Israel, those called "the religious" here in the Land, to find the truth in the Hebrew Scriptures, to warn the People and to call them to prayer. During Passover season this year, the Western Wall became a sea of people from all over the Land who came to Jerusalem to cry out to God for prayer and deliverance from their enemies and from their sins. May this spirit of repentance fall upon the whole country to bring them into a new heart and new spirit (Ezekiel 36:26).
 Let us join with Israel to pray the following prayer: We thank you, Lord, for miracles, for redemption, for mighty deeds and triumphs and for the battles which you have performed for our fathers in the past and now. May no wicked Hellenic governments and pagan ways rise up against your People Israel to make them forget Your Torah nor to transgress the laws of Your will. Cleanse this Land of her uncleanness. Cast out the foul spirits that defile the Land and the people's hearts. You are a merciful God and You stand by us in times of our distress. You did champion our cause and brought us home to our homeland. You defend our rights to this Land. You are the One who takes away the wicked and breaks us away from their strong hands. Make the people of Israel pure as we are a people of impure hands and hearts. May those among us who are arrogant come to Your Torah, Your Word. Make a name for Yourself in this world through Israel. May all the peoples of the earth come to know the glory of the Lord, that it might cover the earth as the waters cover the seas (Habakkuk 2:14), and the Holy One of Israel exalted among men! Kindle our hearts with love for our fellow man and help us shine in the world as lights in the midst of the darkness of the nations. May all of this happen FOR THE GLORY OF YOUR HOLY NAME! In Yeshua Our Lord, AMEN." 
"…if any man be a worshipper of God, and doeth His Will, him He heareth" (John 9:31)
by Sharon Sanders, CFI